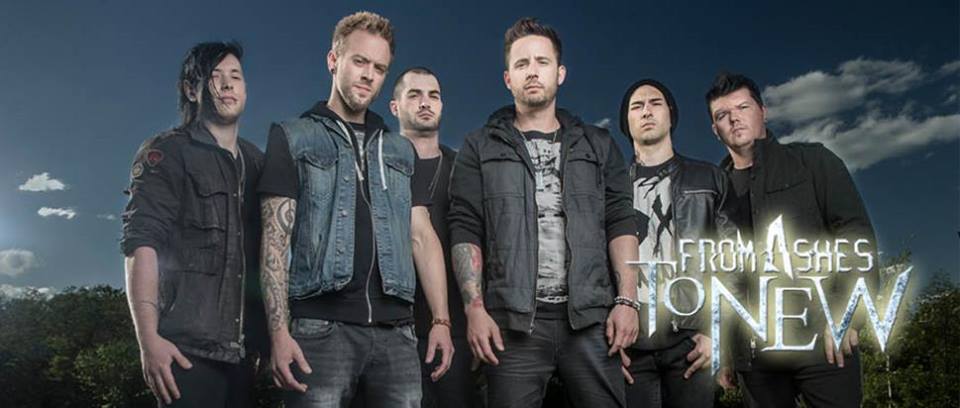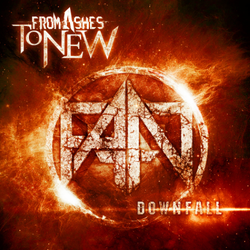 From Ashes to New classifies their sound as rap-rock/alternative metal and the band consists of Matt Brandyberry-vocals and guitar, Chris Musser-vocals, Branden "Boo" Kreider-guitar, Garrett Russell-bass, and Tim D'Onofrio-drums. They formed about two years ago and have already faced struggles that have defined who they are as musicians and continue to push them to where they want to be. They've released two EP's thus far and both have proven to be massive in their attack on your musical senses. The lyrical content is powerful with intense strength and tenacious energy. With a full length album in the works, FATN are bound for greatness as they roll up their sleeves and get ready to fight like hell for the place they deserve in this industry. Their fan following continues to soar. Turn em' up loud, piss off your neighbors; give em' the finger and rock on with From Ashes to New as they blow your mind. Though everyone in the band had been a bit sick and beat up during the tour that has now finished, Matt took the time to talk to me so we could discuss their EP, their touring, and their musical aspirations in general.
An interview with Matt Brandyberry of From Ashes To New
By Leslie Elder Rogers
Metal Exiles:
You guys have a new EP, a monster sound and you guys are hijacking the biggest tour of the fall. It must feel good to be in From Ashes to New right now.
Matt Brandyberry:
It feels surreal. I guess that's a good word. I don't think it has sunk it really well yet. Every time I'm asked that question, it's always the same answer and I guess it'll stay that way until we're done with the tour. It just hasn't sunk in. We've done two tours. We did Hollywood Undead in March. The POD one which we're getting ready to finish up now. Then we have about a month off. We have Dirtfest in August and nothing else really booked until September when we leave for that tour. It'll sink in once we start hitting them big stages, but to be with that caliber of bands and be in that lineup is just crazy. We're so new and those bands are so established.
Metal Exiles:
I was kind of pissed off that I didn't get to catch your part of the show at Welcome to Rockville this year. I didn't make it in time that morning and was so bummed that I missed it. I did hear that you rocked it hard though from one of the other photographers; a young guy that was shooting for his first time. He'd never heard of you guys before that day but was wearing one of your shirts and was sporting it proudly. What was the original idea behind forming From Ashes to New?
Matt:
There were a lot of ideas. We were all in bands, local bands that were trying in our scene and struggling. We were all trying to make a name for ourselves and the bands that we were in. They all kind of died, crashed and burned to ashes and we all kind of had to start over with our musical endeavor so we moved out of what we were comfortable doing into something new. The idea behind it for me was that I just wanted to do what I wanted to do. I was done trying to do other things. I was done trying to be part of other bands. I was like "hey, it's kind of my time. This is my last chance to make a go of it, to make a career out of it". I started writing songs. I got a hold of Chris. Dan and I were playing guitar together. Chris didn't want to do it so we had to coax him into singing the songs so he came in and sung the songs. We recorded three of them and then Octane found one of them and it's been a roller coaster ride since then. We're just holding on for the ride.
Metal Exiles:
Everything and everyone describes you as the creative one. What does it take for you to be that creative, where do you mentally have to go?
Matt:
There's a lot of different things that come into play for the creativity. I started rapping when I was younger. Everyone told me that I shouldn't so I stopped but I learned how to. All I did was listen to rap music when I was younger. It wasn't until I was older that I found metal and actually got into it. I started playing guitar; joining bands and playing guitar. When the electronics started getting really big, I really liked that sound so I really wanted to dive into what they were doing with the electronics so I started trying to do that as well. I was learning how to do different instrumentation and structuring and studying the way bands put their music together over the years. A lot of the creativity just comes from me studying what successful bands did. When it comes to the lyrical side, for me in particular, it's just reaching deep down inside and if there's something that pisses me off, it's just about overcoming it. Sometimes that's when you want to quit, but that's not what you do. Ultimately, I think that's where a lot of the creativity comes from.
Metal Exiles:
How do you feel you guys have evolved since your inception and what bands did you take some of your bigger cues from?
Matt:
Well, from the first EP, the self-titled EP to the new EP and the record that is going to come out, we've just been learning and doing everything we can to soak everything in and put it towards what we're doing. I think the first EP was a little heavier but I think that the new EP and the record have a little bit of that as well. What we did was take everything and put it together and blended it up. I like to call it a rock cocktail. We don't like to put ourselves into a particular genre. We like to take all genres and put them together. I think that we've really evolved and gotten better by being able to do that from the older stuff to the newer stuff. A lot of bands will write 35 songs and then they pick 11 or 15 of them and record them. From Ashes to New works completely different. The first five songs that we released are the first five songs that we wrote. The songs we did for the new EP were the next batch of songs that we wrote. There haven't been any songs that we've written that we've left out or said "eh, we're not recording this". I think that we've evolved a lot in that sense as well that we feel comfortable that we can write a song and that song is going to make it somewhere; like onto a record or wherever they're putting music these days. As far as other bands and stuff, I don't know. I think we all derive our own inspirations from different areas and that's what gives us our own unique sound and our unique stage performance and what we do live. We all listen to something different and at any given time I could be listening to jazz, Dan could be listening to hip hop, Branden could be listening to dub step or rap, and Tim could be listening to punk. That could switch up and everyone is listening to something different again so I think we all have a very open mind to music and if it sounds good, we listen to it. That's what we try to incorporate into what we do. I don't think there is any "one" inspiration to what we do. I think we're just inspired by good music overall.
Metal Exiles:
You've pretty much answered this next question but to elaborate a little more, with this being your second EP, do you feel that dropping EP after EP is better than a full length album and nonstop touring?
Matt:
I know a lot of people have been doing it lately. I don't think it was necessarily our intention though. The first one was an EP because we didn't have enough money to make a record. When this thing was first put together, one of the selling features to Chris was we're not making a band out of this, let's just write music. I think that everyone at that point was just sort of done with bands because it was such a grueling and grinding process over what was a 10 year period for us, trying to get somewhere with what we were doing and making it nowhere. We decided in the beginning, we were just gonna' have fun, write music, record it, put it and let people listen to it and see what they think. We didn't have any anticipations of this going anywhere. We recorded the first three songs and it kind of took off. We realized we should do something else so we wrote two more songs and recorded those and made an EP because there were so many people that were already on board by that point. We felt that we needed to give them a little bit more. We still weren't thinking about making a career out of it. We were just having fun with the fact that people were into it. For the second EP, it wasn't really a choice on our behalf that we release an EP, it was something that we felt like we wanted and needed to do for our fans. It was going to be too long of a waiting period between our first EP and our record and everyone was really hungry for new music. We wanted to get new music out and into their hands so we decided to release four songs off of the upcoming record for everybody to jam out to until we get the record completed.
Metal Exiles:
Your new EP Downfall is a monstrous piece of work but I sense some simmering hostility in the music. Am I feeling it right?
Matt:
Yeah there is and there's a lot more to come on the record as well. I'm a firm believer in the poetry behind music and the meaning behind the lyrics. I was just told to give up so many times. People just told me to stop. People that I was in bands with told me it was unrealistic to think that I could ever make a career out of this. People were being pessimists. I'm a realist and I see things for what they really are nine times out of ten. That's what a lot of those lyrics are about, they're quote my "FUCK YOU"! We were just asked on Twitter if we consider ourselves famous and if so how is it. I don't think for myself or any of the guys in this band, no matter how big this band gets or how far we go, I don't think that we will ever look at it like that. The good thing is that everyone here is all about the music. We're all about just putting the message out there and helping people. Chris, himself, had gone through some issues earlier in life and people in general have gone through problems, are going through problems or are going to go through problems and that's just humanity. That's just the way life is and we want you to know that you don't have to give up, you can fight and the grass can be greener on the other side if you believe it will be. That's' what we want people to get from our songs.
Metal Exiles:
Eleven Seven Music is a big step for you guys. How did you end up on their radar?
Matt:
I can't tell you exactly how but I can give you a little bit of a back story. It's about a song that's not out yet so I can't give you all of the dirty details on that but…our manager, Rob McDermott, he knows everybody. He really believes in us and he's putting 110% behind us and pushing us out to the right people and getting us in front of the people that we need to get in front of. When we first started this on the original EP, we were kind of on a couple different labels' radars once we met Rob but no one was really too sure. They were kind of skeptical about the direction as to what we were headed. Then we went in without label support at this point, to start our record, not knowing if we were going to have a label for it, or who the label was going to be. We just knew that we needed to start a record. So we went in and started the record. We were under the impression at that point that we were going to be with a different label and then Rob played one of the songs for Eleven Seven and it was almost instantaneous. They said "Yep, that's it. That's what we want". It just unmasked from there.
Metal Exiles:
This fall is going to see you guys hijacking the 5FDP tour. What freakishness do you expect to come from this massive trek?
Matt:
I know that they're all radio bands and they're all rock slash metal with 5FDP being a little more on the metal side and they're so big; they're veterans. They all bring unique things to the table for this tour. That's one of the things that we're excited about because we bring even another piece. It's all about the puzzle once you put it all together. We don't stop learning as a band and we feel as individuals, as people, that once you stop learning, you give up. We are excited to be on that tour to learn; to watch these bands that have been doing it for so long and that are so good at what they do. We want to figure out how to do that as well. We want to have longevity in this industry. We want to make a career out of this. The other side of it, hell, we get to come rock out with a lot of these bands.
Metal Exiles:
Speaking of touring you guys seem to have a gorilla approach to marketing yourself by enlisting your fans to tag you everywhere to get other bands to notice you. Does this approach work for you guys?
Matt:
It does, our fans are the reason we're out here doing this. We don't know who did it, but somebody posted our song "My Fight" on one of their posts on XM/Octane or Facebook and that's how they found us and all of this has taken off. Our fans have been the drive behind this thing since the start so we do what we can to give back to them as much as we can. As we get bigger it becomes much more difficult for us to be as interactive with everybody but we still try to interact with all of our fans. We just want it to be a big family. Like you said, the gorilla marketing, the tactics that we take toward social media, I don't think a lot of bands out there these days realize how important social media is to what we're doing. The internet is such a powerful tool. I'll use "Hollywood Undead" as a reference here, they were known as the "Myspace band". They became big because they pushed themselves on "Myspace" to everybody. They had a product that people liked and it went from there. They were the first band signed to "Myspace Records". Social media is everything and if you can effectively use it, it's great. We want to tour with these bands. I don't think it's marketing in a sense to get our fans to go out and tell these bands who we are, we just want to tell the bands because these are the bands we want to tour with. "Of Mice and Men" has been on our radar since the inception of this thing. We want to tour with them. That's one of the bands that's on our dream tour list.
Metal Exiles:
Any additional words for the fans just speaking matter of factly?
Matt:
I think that every band says this and I want everyone to know that it's true, WE DO LOVE OUR FANS AND WE WOULDN'T BE HERE WITHOUT THEM! I really want people to take that to heart for what it really is. I know that every band says it and it can become stale over time when you hear it but it really is the truth and without the fans we wouldn't be out there on the road with some of the amazing bands that we've had the chance to tour with or coming up with some of the bands that we are going to be able to tour with. Keep spreading the word if you dig our music or think your friends will dig our music. Tell them and tell them to tell someone else as well. We'll be here. We're gonna' keep doing what we do. Follow us on social media and all that stuff. Make sure everyone gets on Snapchat. We've got some pretty cool stuff going on Snapchat. Our stories have been the talk of the town lately so it's been pretty cool. It's like ten second videos and pictures of captions and stuff. It's basically like a reality TV show every day. We're starting to do lip syncing karaoke and stuff. Tell all the promoters to get us to Georgia too. We know we have some fans there that would love to see us there.
Band website:
http://www.fromashestonew.com
Facebook:
https://www.facebook.com/FromAshesToNew
Twitter:
https://twitter.com/fromashestonew
Instagram:
https://instagram.com/fromashestonew/
Snapchat: @FATNofficial
Watch the video to "Downfall" @
https://youtu.be/IqgzSeDTqfE
Download the EP on iTunes @
https://itunes.apple.com/us/album/downfall-ep/id973282383
---