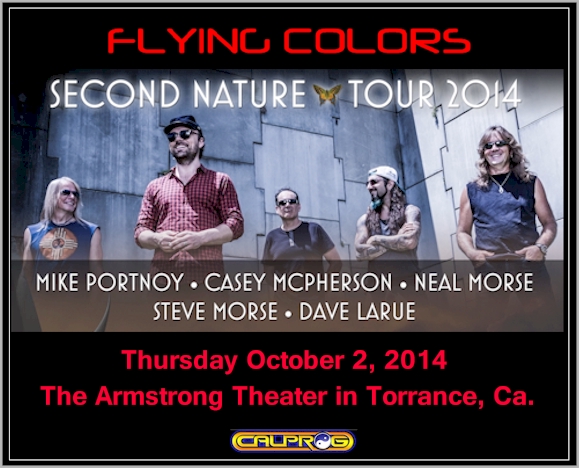 Flying Colors/Bend Sinister – The Armstrong Theater, Torrance, CA – 10/14
By John Knowles
Photos Courtesy of Ron Lyon Photo/VintageRock.com
You've got to hand it to the members of Flying Colors for their dedication to supporting their records on the road. It's one thing to get together for a brief time to record an album, but it's quite another thing to take that show on the road, across the States and on in to Europe. Flying Colors staged just three exclusive appearances in North America to celebrate the release of the band's second studio album, Second Nature. The quintet performed on October 2nd in Los Angeles at the James Armstrong Theater to kick off the tour. This theater is not what you'd expect for a progressive rock show. Nestled within a quiet community center, the James Armstrong Theater is the farthest thing from a rock club. I believe as is the case with all of promoter, Cal Prog's, venues the Armstrong Theater catered to real fans of music. There was no bar, no smoking lounge or patio, just a comfortable venue to sit back and appreciate one of prog rock's finest. Metal Exiles was fortunate enough to witness opening night of the tour in Los Angeles, and it was truly a night to remember.
Canada's Bend Sinister were lucky enough to join the band on the American dates, and fans at the Armstrong were treated to a fine opener. These guys perform progressive rock in the vein of Bigelf, but with a more fun, psychedelic rock n' roll vibe of classic late 60's/70's acts. Every song was impeccably performed and served as a very fitting opening act for Flying Colors. These guys really showcased their dedication to their craft, and what recording and writing together for years will produce. Every song was very well executed and perhaps most importantly all four guys looked like they were having a lot of fun, so it was easy to have fun with them. The band looked great, with some very Canadian attire (including coonskin hats). Bassist Matt Rhode is the consummate performer, at one point jumping over two feet in the air to sit on top of one of the stage's large subwoofers to perform one of the slower numbers of the set. These guys really pulled off a worthy performance and were one of the more professional and enjoyable opening acts I have seen in a long time. Their set concluded with a great cover of Supertramp's, "The Logical Song." For fans of progressive rock with a really fun vibe be sure to check these guys out. They were totally worth coming to the show early for.
Visit the OFFICIAL Bend Sinister page
here.
Flying Colors graced the Armstrong Theater two years ago in support of their eponymously titled debut, but this time around they were able to bring fans a set of all original material rather than having to supplement the set with tunes from each member's back catalogue. The audience was very well catered to with a great mix of new and old songs. With the exception of "Lost Without You" Second Nature was performed in its entirety, beginning with "Open Up Your Eyes." Leave it to Mike Portnoy to point out the fact that the vast majority of the audience had yet to hear much of the new record at all, since the performance took place just two days after its release. Regardless, the crowd reception was great throughout the night, and thanks to an amazing mixing job and tight performance from the band, the new songs were able to be heard with the utmost clarity and likeness to the studio recordings.
From the opening number it was clear the band still had a few minor kinks to work out. The few mistakes heard on "Open Up Your Eyes" would have likely gone unnoticed had Portnoy not mentioned it, but the band took even a somewhat flawed crescendo and had fun with it. Given the rehearsal timeframe a few mistakes were bound to happen. "Bombs Away" followed before "Kayla" and "Shoulda Coulda Woulda" brought the majority of the audience back to the same page. These songs received quite the reception, as I'm sure many were seeing the band for the first time.
Neal Morse epitomizes humility in everything he does. On stage, it is clear he is having a lot of fun, but he might be the first guy to tell you that he is not forced to hold anything back to accommodate the song. In fact, like Casey he'd be happy to admit how difficult some of their stuff is to perform. However, when you are talking about Steve Morse, Mike Portnoy, and Dave LaRue, that might not necessarily be the case. Flying Colors certainly have their moments where each player can definitely unleash, but with these guys the song always comes first. If a flashy solo will add value to the song, then so be it. In other words, showing off is not part of the equation. That said, there were plenty of moments that surely wowed the audience, and to watch all these guys perform through challenging music with such ease and grace is an incredible experience. Portnoy notably had a series of difficulties with his equipment and drum tech, but his resilience in bouncing back to the performance, even after getting caught up in a conversation mid-song, is very impressive.
Bassist Dave LaRue's contributions to this band cannot be overstated. He adds so much more than just bass instrumentation that to be without his amazing parts would be to take away from the song itself. He was mixed perfectly, and took center stage on a few occasions to showcase his amazing talents. It can be easy at times to overlook a bassists role, especially in rock music where a guitar so often takes the spotlight. But to see LaRue play in person is an unforgettable experience, and will change the way I listen to Flying Colors going forward. "Forever in a Daze" and "Cosmic Symphony" allowed him to shine like no other, and provided more memorable highlights from the evening.
"One Love Forever" received a very cool arrangement choice, with all three vocalists taking center stage to kick the song off acoustically. Only a band of this level, with only a few days to rehearse, would dare make a last minute arrangement choice like this. Flying Colors are not your run-of-the-mill prog outfit; so a little adventurous performing was bound to occur. Lead vocalist Casey McPherson then took the stage to showcase some solo material. However, this was not just a case of showing off or even promoting one's own music. Casey shared a heartbreaking story from an audience member who was going through a very tough time. Casey dedicated the Alpha Rev song "Colder Months" to her, and brought the audience to its emotional plateau. The heart, passion, and sincerity left by this acoustic number was sustained through the next song, "Peaceful Harbor." As one of the stand-outs from the new album, I can only imagine what fans experienced who heard this song for the first time that night. Casey shared with us that he was really looking forward to playing guitar alongside Steve Morse, and even performing some of Steve's guitar harmony parts. Throughout the set Casey did an amazing job of adding just the right edge to each song with his guitar style. Though he primarily added to the songs rhythms, he had many opportunities to show off his lead skills, and add something unique to each performance.
Other cuts from the debut included, "The Storm" and the night's encore, "Infinite Fire." There was not a dull moment in the set, and at 2 full hours the band gave fans a generous helping of their catalogue. It's so amazing to watch musicians who collectively have been recording and performing music for years and years. The collective experience on the stage is something you rarely find now adays.
It's understandable that the band was limited in terms of their tour exposure due to all of the member's other commitments but, as Mike Portnoy so elegantly put it in a recent Facebook post, "rather than complaining about where we are NOT playing, come on out to see us where we ARE!!" So the next time these guys are touring anywhere near you, even a couple states away, go! It will be a performance you will never forget.
Setlist:
1. Open Up Your Eyes
2. Bombs Away
3. Kayla
4. Shoulda Coulda Woulda
5. The Fury of My Love
6. A Place in Your World
7. Forever in a Daze
8. One Love Forever
9. Colder Months (Alpha Rev cover/Casey Solo spot)
10. Peaceful Harbor
11. The Storm
12. Cosmic Symphony
13. Mask Machine
14. Infinite Fire (Encore)
Music Theories Recordings/Mascot Label Group and Flying Colors will issue the new release September 29 overseas and then on the 30th in North America.
Check out Metal Exile's Second Nature album review
here.
Visit the OFFICIAL Flying Colors page
here.
BUY Second Nature
here.
Check out our
Interviews page
for interviews with Casey McPherson and Neal Morse.
---