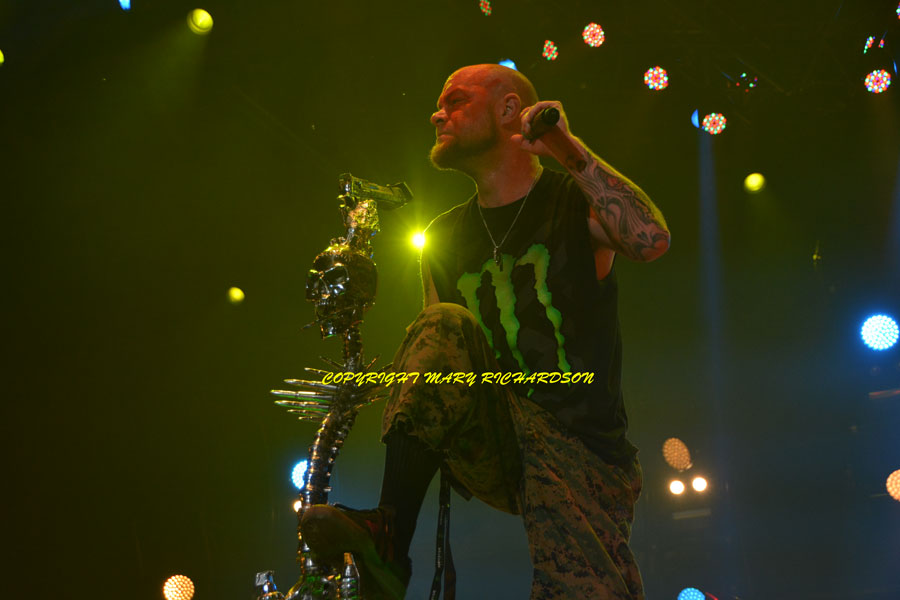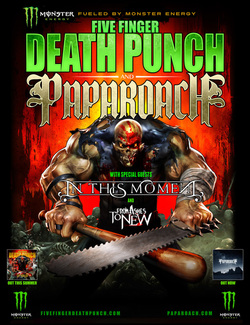 Five Finger Death Punch/Papa Roach/In This Moment/ From Ashes to New – Glens Falls Civic Center, Glens falls, NY 10/15
Words and photo's by Mary Richardson
Traffic getting to the Civic Center was insane, with good reason. This was the last night of a kick ass tour. All the bands rocked a packed house. If you weren't there, you missed out!
From Ashes to New kicked off the night. This six piece band hailing from central Pennsylvania has a rock, rap, alternative metal sound. Their set raged hard and that was just the beginning of the night!! They played a range of songs from both their self titled debut album and their new album Downfall. "My Fight", "Live Again", "Stay This Way" and "Through It All". FATN songs have messages about not getting trapped under everyday struggles or ways to uplift and/or better yourself. Be sure to check out their new song "Through It All"!
In This Moment with Schenectady local Maria Brink was up next. With a set that was a blend of Broadway show and circus from hell they had a short six song set. Playing songs from their new Black Widow Album as well as the recent release Blood, they dealt out "Sick Like Me", "Black Widow", "Blood", "Sex Metal Barbie", "Big Bad Wolf" and "Whore", all crazed pieces of their lives.. Each song was stage version of the video with costume changes and props. The fans were into their set from the word go and they entertained till the last note.
Co-headliner Papa Roach took the stage for a long interactive set. Starting with a good mix of current hits including some from their new F.E.A.R. album, Papa Roach sweated out the longest set of the night. At several points Jacoby Shaddix ventured out into the crowd to interact with the fans and He and guitarist Jerry Horton performed an acoustic version of "Warrior" from the middle of the floor as well. Maria Brink joined Papa Roach on stage during "Gravity", a track that she performed with the band on their F.E.A.R. album. They also played "Last Resort", "Getting Away with Murder", "Kick In the Teeth", and "Scars". Papa Roach delivered and did not disappoint with their louder than hell set.
Last but not least Five Finger Death Punch rounded out the night. Kicking into high gear right out of the gate, Ivan and the boys started with "Got Your Six" from their new album of the same name. From there it was right into "Never Enough", "Hard to See", "Burn It Down", "Under and Over It" ,"Jekyll and Hyde" and current radio hit "Demon". They called some kids and parents on stage for "Burn MF" and mixed things up with an acoustic version of "Wrong Side of Heaven". No matter what people might say about 5FDP, they care about their fans and deliver a show that's well worth what they put down and tonight showed as it always does.
Overall the bands and the crowd were both thoroughly enjoying themselves tonight and it showed! All the sets were well done and sounded great. I recommend checking out all the new albums that are out from all four bands. FFDP's new album Got Your Six debuted at #2 on the Billboard Chart just a few weeks ago.
Five Finger Death Punch - Official Site
Papa Roach
In This Moment Official Site: "Black Widow" - Available Now! Music, Videos, Photos, Lyrics, Live
fromashstonew
---