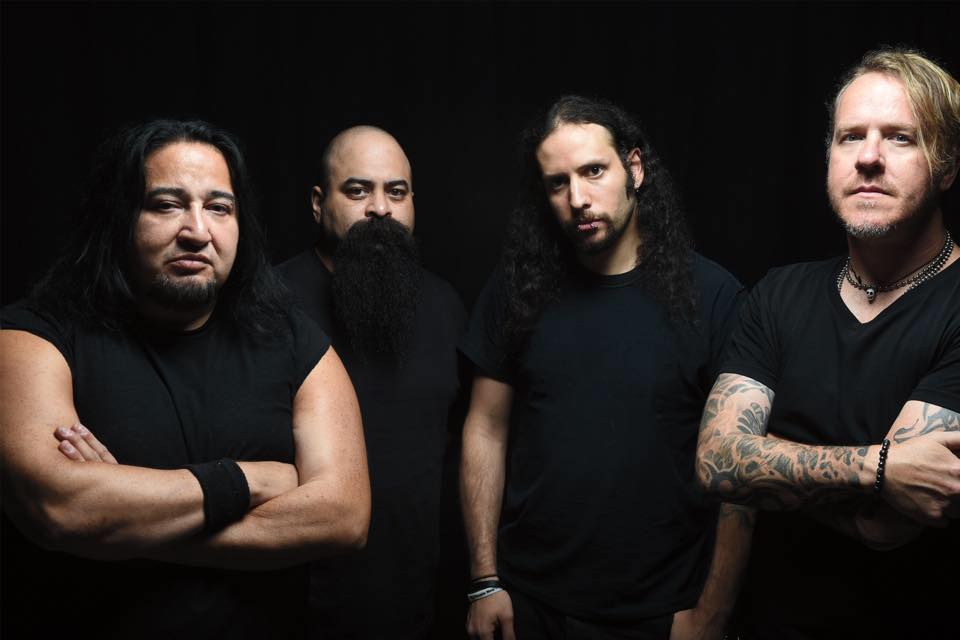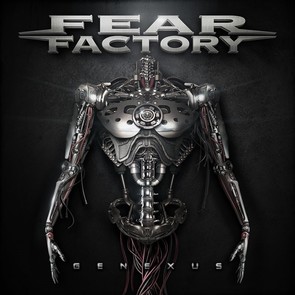 Dating back to Halloween 1990, Fear Factory has many years of contributing to the musical society. With nine albums under their belt, they have no plan to give up any time soon. Their current tour is a celebration of the 20 year anniversary of their 1995 album release
Demanufacture
. The band originated in Los Angeles, California and after several lineup changes, now consists of two original members, vocalist, Burton Bell and guitarist, Dino Cazares, as well as newer members, Tony Campos on bass and Mike Heller on drums. They are pumped and ready to get this tour underway to give their fans an experience they will never forget as they play
Demanufacture
in its' entirety alongside showing off some tunes from their newest album
Genexus
which was released last year. Both albums have a massive ability to provide an intense musical experience that fuses together their powerful rock and roll background with their love of the electronic precision that is found in the industrial music genre'. With the attention to detail that these guys show in every song, their music is abrasively perfect. After getting the chance to speak with vocalist, Burton Bell today about the tour and the albums that have made Fear Factory who they are today, I understand better now why their careers have endless possibilities.
Interview with Burton C. Bell, Vocalist – Fear Factory
By: Leslie Elder Rogers
Metal Exiles: With you guys about to jump back on the road to do the
Demanufacture
20th Anniversary Tour, how does it feel to get
Genexus
back on the road in front of your fans again?
Burton: I think it's great. The album has been out coming up on nine months now and it's a great record that people wanted to hear. I think to combine it with
Demanufacture
just makes perfect sense. Both albums stand out on their own with
Demanufacture
being a classic album and I feel that
Genexus
is a new classic. I think they stand well together so I'm really excited to see the reaction of the audience.
Metal Exiles: You guys are consistently touring worldwide so what does it take to keep a band like Fear Factory on the road in musical climates like the one we are in?
Burton: It's difficult. Like you said, the musical climate has changed and the music industry has completely changed in the time that we've been around. Touring is much harder. It's harder to get people out to your shows. One, because of their economic situation, or two, because people just really don't care unless it's some type of fantastic spectacle like Knotfest or Ozzfest or Mayhem or something like that. People want more for their money but there are die-hard fans that come out and see the shows and they're the ones that keep Fear Factory flying. It is hard but there are fantastic days and there are not so fantastic days. We just take each day as it comes.
Metal Exiles: Since this is the 20th anniversary tour for
Demanufacture
, do you think the fans look forward to it being played in its entirety?
Burton: I think it's going to be awesome and exciting. I mean, the album has been out for 20 years. There are people who were born after that they may've heard
Demanufacture
for the first time in their teenage years, two or three years ago. They'll probably be excited to hear the album played live by the band that wrote it full on in their face. There will be people that heard it for the first time when it came out and attended those shows. I have friends that still come to shows since those days and they still love the shows and still have a great time. It's going to be an incredible celebration.
Metal Exiles: When you guys first dropped that album, did you realize the impact that it would have on modern music?
Burton: Hell no! We were just doing what we felt was right. This is the story of our life at that time. This is the soundtrack of the world we were living in. We know what kind of impact it had on us. It was our catharsis to get it done. We had no idea what the future was going to hold for this album at all and once this album came out, things started happening for this band and it was a very exciting ride.
Metal Exiles: Did the tour bus accident last year put your touring situation in perspective?
Burton: Ha-ha, you mean the one in Europe? That's not the first experience we've had. That's just the first time it was posted on social media. That's just one of many instances we've had from touring in a van, touring in an RV, and other buses. That's just the breaks, you know. There's gonna' be an accident at some point and you just have to be smart and be careful. You can't let it scare you from touring. Getting in a car accident shouldn't scare you from ever getting in a car again. It's just a bump on the road. We've had a bus driver fall asleep at the wheel and drive over the median going head on into oncoming traffic. We've had a bus catch on fire and melt down completely. Years ago we were in a van driving in the middle of the night through Wyoming when we hit some black ice and did a 360 into a snowbank on the side of the road in the middle of the night. We were stuck there and had to shovel out the snow from around the guitar cases. We're lucky because we were in an RV that nearly killed us all because it's pretty much a coffin on 6 wheels so you know, there's a lot to take into consideration. It's those experiences that make the journey very interesting. It happens all the time, it's just that because of social media, people become more aware of it.
Metal Exiles: What was going through your heads at the time that enabled you to make such a monstrous masterpiece that
Demanufacture
is?
Burton: We knew what we wanted to achieve. We knew what we wanted to hear and we were learning how to get there at that time. We were still learning about technology and about our craft. There was not an urgency. It was something that we had to do. We went through so much already just trying to make it happen. We went to different studios. We had to travel across country. We were living on floors just trying to make it happen. The will to succeed and believe was the main goal. We were writing that album during and after the Rodney King trials and the LA riots and so it was part of our survival. For us to continue to survive, we had to finish this album so we could get on with our lives. Dino and I were made homeless because after that earthquake, our building was condemned and we had no place to live. We were doing couch trips and hanging out with friends. It was harsh. The will to survive is an amazing motivator.
Metal Exiles: Of course along with that you guys are playing
Genexus
as well. How have the fans reacted to this stroke of genius in the live setting?
Burton: The popularity of
Genexus
is actually pretty good and the fans know these songs. They were already singing along the last time we toured on it. Both albums complement each other very well and I feel like it's going to be a great show.
Metal Exiles: This is your first release for Nuclear Blast. What made you go in the direction of signing with them?
Burton: We are doing something different. The past couple of albums we were with labels that really did as much as they could and we felt that Nuclear Blast could do a bit more. That's what Fear Factory needed. We needed that boost. We needed that extra breath of fresh air that brought some fresh life into this band; the promotions, the marketing, and getting the band out there again to an audience that really understands Nuclear Blast. We felt that Nuclear Blast really understands Fear Factory. It was a perfect union. Just yesterday we did the final filming for the latest video for
Genexus
which is going to be "Expiration Date". It's gonna' be interesting. It's all green screen again but it's gonna be interesting.
Metal Exiles: Considering The
Industrialist
was a concept album, what was the initial thought process in writing
Genexus
?
Burton: For me, I just wanted to create an idea that would really move forward in science fiction. I wasn't creating a sequel to The
Industrialist
, I was just creating another story. One with different concepts of technology, Nano technology, bio mechanics, into the future where what would become of that if there was a generation of humanity that was basically machine. Would they be ostracized? Would they be deemed as lesser human? Would they be discriminated against? It's very relevant topics in todays' world with different types of people. I feel that a new type of person were to come into the scene, that's exactly what would happen.
Metal Exiles: Do you feel like you achieved what you wanted to with
Genexus
musically?
Burton: I do. I really do. I think it's strong in concept. I put the topics I wanted to relay in there and I feel like the really stand out. I think we definitely accomplished that.
Metal Exiles: Looking past the
Demanufacture
20th Anniversary tour, what do you see for Fear factory in 2016?
Burton: More touring! There's a lot of good things on the horizon for this band. There's a lot of new opportunities opening up. I think that Fear Factory, in our very extensive career, have had ups and downs, and we're moving up again. We're moving up to a level that our label feels that we should be at.
Metal Exiles: If you had to pick a favorite, what is your favorite song off of
Demanufacture
to perform?
Burton: My favorite song to perform? My first thought is "Zero Signal". I love that song. It's a very eloquent and beautiful industrial metal song. I just love it. What's going to be your favorite to hear?
Metal Exiles: First let me admit that I won't be attending the show in our area on April 1st because it's my brother in law's birthday celebration.
Burton: Man, and it's at The Masquerade again. They keep threatening to tear that place down.
Metal Exiles: And that's the plan but no one knows when, not even the people who work there. It's said that when they're ready to close, they're just going to close and boom that's it. Every time I see a new concert booked and scheduled I'm thankful because I know that means it's here for a little while longer anyway. With that said, my favorite probably would be "Dielectric" off of
Genexus
if you play that. The strength in your voice when you change from the massively strained scream to the melodic tone is very intriguing to me. I'm not even sure how you do that without any constraints. It's amazing.
Burton: It does. It's always been some kind of natural thing I've been doing and I can't explain what I do.
Metal Exiles: Lastly, how do you think the legacy of Fear Factory has changed the face of industrial music?
Burton: Hmmm…. I think we took the hybrid of industrial metal coming together and we set a new standard for metal music and industrial music combined with electronic music. We set a standard and maybe even helped create a new genre' where this is a template. I think that Dino's riffing is very machine-like, almost like assembly line type of rhythm and the drum beats follow that. The fact that we consider our music a soundtrack to the world we live in and also a world that we're creating just sets a standard of what it should sound like.
Metal Exiles: Having longevity and drive to continue is what it takes. Seeing bands like you that have been around for such a long time and even with the changes that have taken place over the years, you've stuck it out and kept going, pushing harder and harder and continuing to put out some amazingly outstanding music.
Burton: People point out that this band has had a lot of changes, but you know, that's life. That's any type of relationship you're in. In regular life, friends come and go, boyfriends and girlfriends come and go. Marriage has its ups and downs. Sometimes there's a breakup. Sometimes there's a separation or a divorce. That's' what being in a band is. It's a relationship with three other people and three other personalities. It's not always gonna' be perfect. Depending on how the person is, they might not really be there. If people are ostracized because you're not friends with some person anymore so they're not gonna' like you anymore, it's whatever. Change is good. Change can be hard but nothing is easy. If you can make the change, sometimes it's for the better. It's like a basketball or football team, for professional reasons, they let players go and bring in new players. In the end, you're all better off.
Website:
http://fearfactory.com/
YouTube:
http://www.youtube.com/user/fearfactorymusic
Facebook:
http://www.facebook.com/fearfactory
Twitter:
https://twitter.com/fearfactory
Instagram:
https://instagram.com/fearfactory
Watch the video for "Replica" off of Demanufacture here:
https://youtu.be/7RJsRQOneMY
---