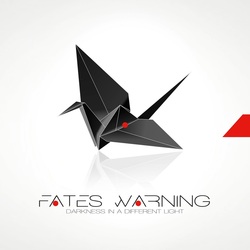 Fates Warning – Darkness In A Different Light – InsideOutMusic
By John Knowles
After nearly 10 years, Progressive Metal pioneers Fates Warning have finally returned with a new studio album! Entitled
Darkness In A Different Light
, the album is released via InsideOutMusic, and has been met with great reception so far. Rightly so, as this album is perhaps one of the finest offerings the band has ever released, and that's saying a lot from band that has written the likes of such classic metal records as
Awaken the Guardian
and
Parallels
. The eleventh studio album from the Connecticut-based metal legends is packed with great riffs, amazing melodies, and thoughtful and intelligent lyrics. This is everything you could hope for in a Fates Warning release, and these guys have delivered in a big way.
Darkness In A Different Light
is the band's first album of new material since the release of
FWX
in 2004 and also marks the first release for the band's current line-up. Ray Alder, Jim Matheos, and Joey Vera, are present again as they have been for the past three records, but they are joined this time by the drumming talents of Bobby Jarzombek and the long awaited return of Frank Aresti. Many fans were concerned by the departure of long-time drummer Mark Zonder, who many feel helped contribute to the band's creative peak in the late 80s and early 90s. Zonder is certainly an amazing drummer, who always knew how to enhance a song with his stellar creative and technical abilities. Though a much more specialized "metal" drummer, Jarzombek does not at all disappoint on this record. And for fans who desired a heavier Fates Warning, Bobby was perhaps the best fit for the bill. He molds well to the progressive subtleties of the band, and shows off a complexity this writer has not heard from him before. "Desire" and "Into the Black" stand out as some of his best performances. As for Aresti's contributions, they are many, and they are outstanding. Guitar solos have returned to Fates Warning to much avail! The guitar solo on the opening track, "One Thousand Fires," recalls memories of some of the best moments on
Perfect Symmetry
. Fans of classic Fates Warning have been hoping this day would come.
The lyrics to the album opener begin with, "So we begin, a perfect launch, a perfect wind..." Perfect indeed, as a killer riff, double bass drumming, great vocals, and as mentioned, one amazing guitar solo kick this album off in the perfect direction. According to Ray Alder, "
Darkness in a Different Light
is the result of almost two years of very hard work from everyone in the band.
I believe that this line-up is the best that Fates has ever had, and I also think that it comes through in the music on this album." "Firefly" is the second track on the album, and the first single to be released. What begins as a huge, and grooving heavy riff in 7, is soon accented by very melodic clean guitar passages over the verse. A very memorable chorus follows, and another fantastic guitar solo. This song really showcases some of the finest performances from each player, and is as catchy and accessibly as anything they have released. And that there is one of the greatest things about this band, that they have the ability to run through complex time signature changes, subtle tempo changes, and complex arrangements overall, all without sounding like they've really done any of it. These guys have never been about the in-your-face virtuosity or pretentiousness of some of their peers, and if your not paying close attention you might miss just how brilliant their songs really are. This idea could not be more true than on this album.
"Falling" is a welcomed reprieve from the intensity of the preceding tracks. This is just Ray and Jim, wearing their hearts of their sleeves. Following another great heavy track "I Am," the album takes its most experimental turn in the form of "The Lighthouse." This song really captures the spirit of some of the best moments from
A Pleasant Shade of Gray
and
Disconnected
, but with a fresh approach. This is a haunting and compelling track, and one that should warrant multiple listens to fully experience. The appropriately titled "Into the Black" is perhaps the heaviest track on the album, but with one of the catchiest choruses on the album. The vocal melodies on this record as a whole represent some of Alder's best work. Following a release like
FWX
, which failed to really interest me from a vocal standpoint, I am very impressed with what Ray was able to offer on this record.
The record closes with what this writer considers to be the absolute highpoints. "O Chloroform" is the second to last track, and features lyrical contributions from Kevin Moore. This will come as no surprise to listeners who give the lyrics to this song a few reads. Moore is quite the lyricist, and accompanied by the vocal interpretations of Alder, this song is nearly perfect. To close the album, Fates Warning has put together an epic masterpiece. I may go out on a limb here and say that this could be one of, if not the greatest Fates Warning song to date, entitled "And Yet It Moves." This 14-minute epic takes listeners on an incredible journey through many changes and moods, while showcasing the individual talents of each member, especially highlighting the genius of Jim Matheos. As a matter of fact, this could be Matheos swan song, and no one would have any right to complain, though I certainly hope to experience many more releases from this line-up. The opening acoustic passage instantly reminded me of "The Ivory Gate of Dreams," and on first listen I was completely shocked and blown away. This is followed by many more great moments, including a perfect solo section and transition into the epic conclusion of the track. This song alone is worth the price of the record. As can be said for the whole record, the album's closer demands repeat listens to fully grasp. Like all great art, investing your time in this record is a truly rewarding experience, and you're sure to find that with each time through you discover things you missed on previous listens.
The album was produced by Matheos and mixed by long time Fates Warning engineer Phil Magnotti. It sounds great, and really brings every member to the forefront of the mix. With far less keyboards than the previous few Fates releases, this album ought to be a perfect fit for the road. Mid November marks the beginning of a full American tour, which is a must see for any fan, especially those who have waited so long to see the band perform. Alder has commented that the band should be in full swing again, and that they have no plans to take another 9-year gap between albums. He went on to mention that they would like to aggressively tour on this release, and return to the drawing board for the follow-up as soon as possible. It is so great to have these guys back in full force. Be sure not to miss 'em!
FATES WARNING Line-Up:
Ray Alder - Vocals
Jim Matheos - Guitars
Joey Vera - Bass
Bobby Jarzombek - Drums
Frank Aresti – Guitars
BUY Darkness in a Different Light
Fates Warning Official Website
Fates Warning Tour Dates 2013
---