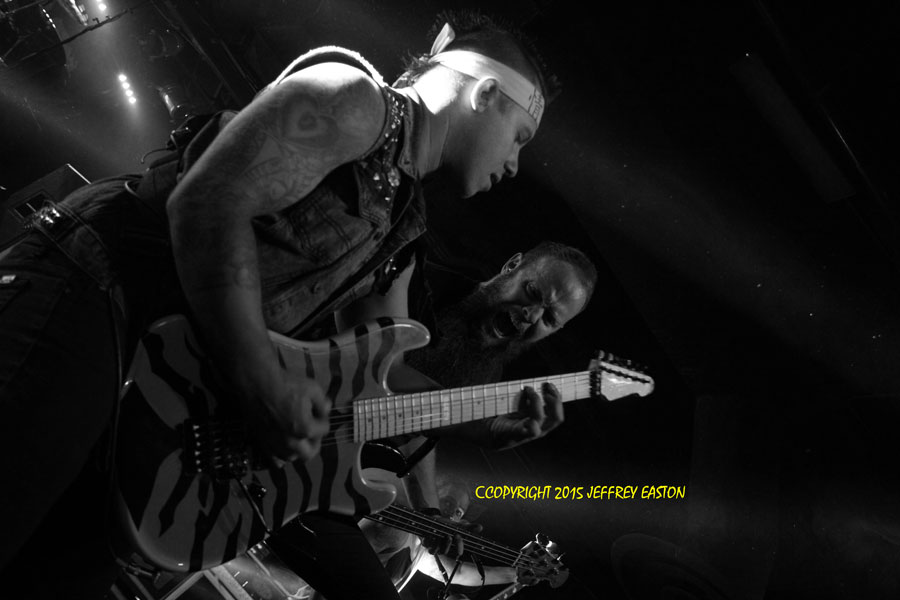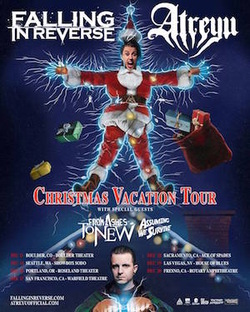 Falling In Reverse/Atreyu/From Ashes To New/Assuming We Survive – Ace Of Spades, Sacramento, CA 12/15
Christmas Vacation Tour
By Jeffrey Easton
Once again its almost Christmas and that brings the bands out for a quick tour before everyone goes back home to be with someone they remotely care about and a chance to gain a few more fans. This one, entitled The Christmas Vacation Tour, borrowed the title and tour poster art from the Christmas classic Christmas Vacation, one of the best Christmas movies ever made. Four diverse bands made up the bill to blow out the doors on a sold out Ace Of Spades and if you left disappointed you have issues.
Dropping the first notes was Assuming We Survive, the So. Cal pop punk band and they came out swinging. They have been churning some serious waves for a few years and I feel they are really getting their due now and the fans acknowledged that. Culling their material from the EP's they have dealt out, they let Ace Of Spades have it with Better Without You, Ashes as well as the show stopping 18 Days. Frontman Adrian Estrella had Ace eating out of his hand by the end of their set and this is just setting the stage for a huge 2016 for Assuming We Survive.
Darkening the stage next was From Ashes To New, the rap/rock hybrid from PA and another band showing the diversity of the tour. They are out building momentum for their debut full length album Day One that is due out in February and the crowd was enraged. Coming out strong was the title track from their last EP, Downfall which of course will be on the new LP and they were on. Matt and Chris share vocal duties and they went hard on their setlist intertwining through Lost And Alone, Live Again as well as Stay This Well. A highlight from the new album is Lost And Alone, a seemingly personal turn that they exhibited heavy passion through and only wetted the appetite for the new album further. It drops in February, do not forget.
One of the biggest surprises of the year was the return of Atreyu to the record buying public and they did not step lightly. Long Live is a massive recording that shook the foundation of the metal community and asserted that they were indeed back and were retaking their place in the metal community. In my opinion this is the comeback album of the year and one of the top records of the year. Not only are they back with a new record but they are a force to be reckoned with live. They showed that force when they ignited the stage loudly with Doomsday as they made their entrance felt. Blowing out from the new album was the title track Long Live as well as A Bitter Broken Memory and they bruised the new stuff hard. If you do not have Long Live what the F are you waiting for. One of Atreyu's biggest benefits is a strong back catalog including The Curse and A Death Grip On Yesterday and they took the fans on a bombastic journey through their past that created a massive pit and gave the security plenty to do. They dropped Ex's And Oh's, Lip Gloss And Black as well as Becoming the Bull and Bleeding Mascara amongst others and their night was cemented. It's great to have them back and hopefully these receptions they are getting will keep them back.
Falling In Reverse closed out the night but that did not mean the night was over, it was just going to go out a little more insane than usual. Ronnie Radke is a different singer, not your normal kind of human nor is his band normal. When Falling In Reverse take the stage, you know it is them, there are no fakers or imitators, it's totally FIR. Amongst the screams of Ronnie's name, they launched into God, If You Are Above and the screams only grew louder. They are out in support of their stunning new album Just Like You and the album was well represented tonight with GIYAA being a true stand out from the album. Their bombastic catalog of sick albums was laid out for the screaming faithful as Ronnie and company blasted out their darkest shit possible that included Raised By Wolves, Chemical Prisoner, The Drug In Me Is You, Guillotine IV, Just like you as well as a few of his old ETF tracks, Situations and Not Good Enough For Truth In Cliché. One of the stand outs from a FIR set is the stinging guitar solos that are absent from so many bands. What used to be so cliché in heavy music is something I would like to see more of now. As the set wore on, Ronnie seemingly immersed himself deeper into what he was belting which to me makes for a better performance. When you become one with your material, it makes you a better performer. This was a great tour to happen. Not only were the bands diverse from each other, they each performed to capacity and kept Ace involved with the show all night, a hallmark of a great set of bands.
Official Falling In Reverse Site
Official Atreyu Site
Official From Ashes To New Site
Official Assuming We Survive Site
---