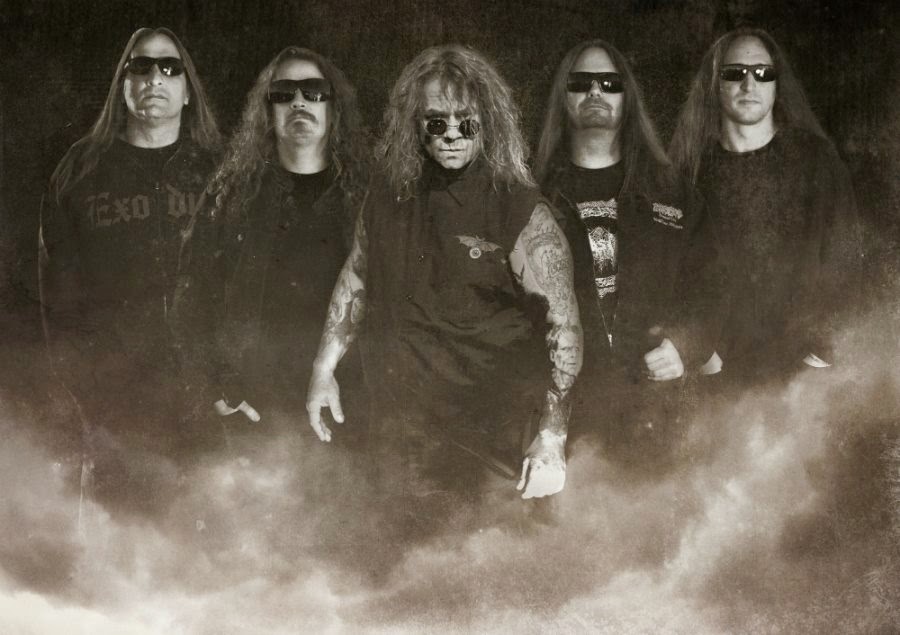 Exodus have finally lured Zetro back into the line up so it was time to get back to the business of making a true Exodus album and that they did. Blood In Blood Out is a slab of pure classic thrash which proves Exodus are still as dangerous as when they were dealing Fabulous Disaster and Impact Is Imminent. Steve "Zetro" Souza took the time out of a busy day to talk about the new album and why trading cards rule his life.
An interview with Steve "Zetro" Souza
By Jeffrey Easton
Metal Exiles: How does it feel to be fronting the most dangerous thrash band again?
Steve Zetro Souza: For me it was just coming back in, picking up the pistols and getting ready to shoot again. I know the guys really well, it wasn't awkward, it was just me taking care of business and the new album was a blast to make.
Metal Exiles: What had to happen for you to come back to Exodus?
Steve: Nothing had to happen. I received a call to do two new tracks from their management but from that angle I did not know what to expect from the band whether it was a retro thing, a new album or a tour but they liked what I did with the new songs and wanted me back in the band. A few days later I talked with the band about the past and what happened so we worked things out and got on the same page.
Metal Exiles: Blood In Blood Out is the most cohesive album since Tempo Of The Damned. What are your thoughts on the album now that it has dropped?
Steve: To me it's in your face, it is Tempo part two along with elements of Fabulous and Pleasures mixed in there as well. This being our tenth release we came out swinging, we came out swinging and its attributed to a well written record and a well played record by people who know their craft all the way around. Tom's drums sound like canons, Jacks bass is in your face, Gary and Lee's guitars are pure shred. When we recorded the album we had our bass player Jack Gibson record it.
Metal Exiles: What was behind the title Blood In Blood Out?
Steve: If you listen to the lyrics of the title track it exemplifies the old days when we were part of the thrash movement in the beginning. It was tonight we are gonna rage and make Paul Baloff proud. This is a brotherhood it is simply Blood in Blood Out…
Metal Exiles: The songs strike a dangerous chord. Where were you guys coming from with the songs?
Steve: The place we were coming from was just sheer violence. We have never sugar coated anything. Gary wrote most of the lyrics but most of his stuff is so tongue in cheek, so real and so right from where we are all thinking.
Metal Exiles: How do you think this album stands up against Impact and Fabulous Disaster?
Steve: To me this is the best Exodus record, period. In the past I could start at song one and there would be a point where I would fast forward through a few songs but on Blood In I do not do that. I listen to all eleven songs, they are that great.
Metal Exiles: Why do you think Blood In stands so far above the other albums?
Steve: It is just a well written album from top to bottom and the musicianship is unbelievable. We know what each of us is capable of doing so with this album we just came to a point that we know what is good and what sucks.
Metal Exiles: Where do you go mentally to channel Gary's song writing?
Steve: I know what he is doing and since this is my sixth album with Exodus I know what he wants.
Metal Exiles: Chuck Billy and Kirk Hammett guested on the album. What brought them to the sessions?
Steve: Everything Chuck and I do intertwines with each other. I did some vocals on the last two testament albums as well as the Dublin Death patrol and I sand in Legacy which became Testament. Chuck got the gig in testament because I referred him to the band. Chuck is also part of the management team that manages Exodus as well so having him come in and do some parts was a no brainer. Kirk of course was in Exodus so when we approached him to play on the album we got a simple "Hell yea I want to"..
Metal Exiles: One of the cooler things about the release of Blood In Blood Out is that its coming out on vinyl. What do you think of your new album being issued on vinyl as well as your older titles? (Note: The 80s releases were reissued on 180 Gram vinyl, well worth buying.)
Steve: The releases for my other band, Hatriot, were issued on vinyl and that's how I want it. When I was a kid I would go buy the record, lock myself in my room, put it on the turntable and listened to every song and read every word in the liner notes. So when the cassette and CD came along we lost a lot of that with the small artwork and now with digital you lose it completely. Having it on vinyl shows you the real artwork, you can see what's going on with it.
Metal Exiles: You guys are out on the road this winter with Slayer. How does it feel, along with Slayer, to be still one of the most dangerous metal bands out there and still be relevant 30 years later?
Steve: That is the best part of it I have done interviews all day and I am so fortunate that so many people want to talk to me about the new Exodus, they want to know whats going on with the band and I do not take it for granted by any means.
Metal Exiles: In your thirty years in metal, what is the one thing that stands out to you from all of that?
Steve: When I was a kid growing up I collected baseball cards and seeing myself on a trading card was unreal. I stared at that for hours and to this day having a trading card of myself with the hologram on the back still trips me out.
With Blood In Blood Out being the standard bearer for metal right now, it was would be a complete lapse of judgment to not own this album. Go buy it and watch them incinerate the stage with Slayer this winter.
Official Exodus Site
BUY Blood In Blood Out
Buy Blood In Blood Out On Vinyl!
---