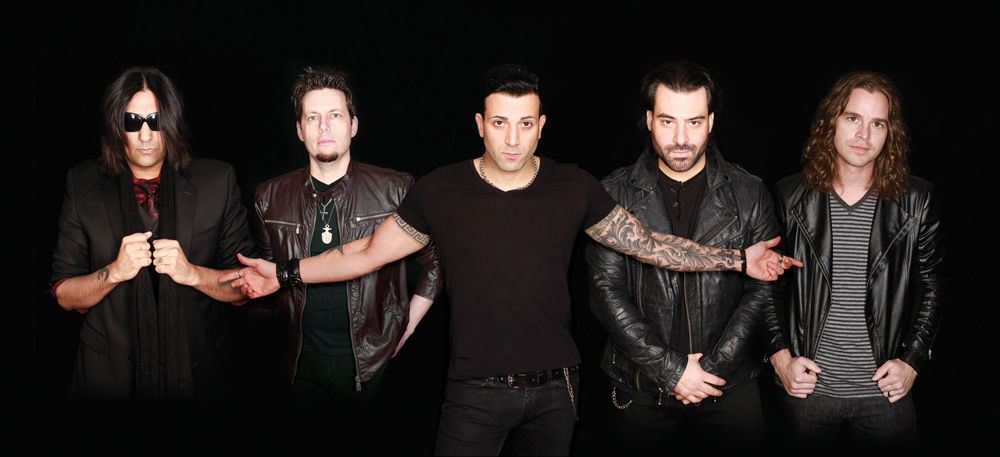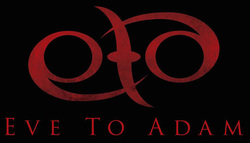 Rock got another shot in the arm with the release Eve To Adam's Locked & Loaded and with the release of their massive second single Immortal and a kick off tour with Escape The Fate, they are primed for that massive break through. On the opening night of the tour, Taki Sassaris, the enigmatic lead singer, took the time to talk new album and what it took to expose the real band to a very unaware fan base.
An interview with Taki Sassaris of Eve To Adam
By Jeffrey Easton
Metal Exiles: For the last several months it has been nothing but touring. How does Eve To Adam survive the grind of the road year after year?
Taki Sassaris: We take care of each other and pick each other up when it seems like someone is slipping. You have to watch the drinking and even though drinking is part of the lifestyle you can't let it take control. We exercise as well. We hit the gym at the hotel or if they don't have one we will work out in the parking lot because you have to sweat out the last nights excess. We got into this for a reason but you're not going to stop the party completely but you have to mitigate it so you can do your job on stage.
Metal Exiles: Most of the quotes surrounding your band are that you guys want to bring back the true rock n roll, rediscover the danger. Do you think you are doing that with Locked And Loaded?
Taki: I think we have set the tone. Singlehandedly we can't do it, you do need numbers but we can influence the other bands around us. It's an attitude that we are embracing and where it lives is the stage. You get the album and then see our show so you know it's for real. We are headed in the right direction, we are connecting with a lot of people so what happens from here on out is out of our hands but we are going to keep doing what we are doing.
Metal Exiles: Speaking of connecting with people, you are touring with Escape The Fate and they have a different crowd. Do you think they will be receptive of what you guys do?
Taki: We have a high energy show and whereas it's a little different than what they do it is still in the same ballpark. Some of their new material is a lot more melodic, its definitely a different intersection of aggression and melody so it will be fun. We do well with younger crowds, they get the intensity and they respond very well to it. It's a brand new chapter for us, we are beginning this trek with an Active Rock Top 20 single which is new territory so that's brining a new legion of fans to the table for us.
Metal Exiles: Banquet For A Starving Dog was massive piece of work. Did it seem daunting when you started writing for Locked & Loaded to try and top the last one?
Taki: It did and it didn't. Banquet was very complete for what it was so that it was very easy for us to depart that and do something different. It was to continue the honesty of the lyric and who I am as a performer but to change my clothes and wear something different. We are very proud of Banquet, it did wonders for us as far as creating a foundation with new fans and radio play but we have to keep it fresh for ourselves. There were limitations as far as production because I will listen to it and say "I wish I had of done this or that" but that has passed and we have embraced the new moment with the new album. I wanted to push the envelope, get the tunes bigger and louder and the only way for us is up. With that album we had garnered some notoriety so that producers wanted to work with us for this album. We ended up working with Dave Bassett, Michael "Elvis" Baskette and Eric Bass, these are names that you do not sneeze at. They have written hits; Eric is part of the Genre defining band Shinedown so I knew we were doing something right because after we sent some demos out we started getting this kind of response. I wanted the arsenal, I wanted to be as weapon heavy as possible and these guys were able to take our intensity and mold it what became Locked & Loaded.
Metal Exiles: By having these names associated with this album, do you feel that Locked & Loaded was a make or break album for you guys?
Taki: I do and I think it was a big surprise to a lot of people when they heard the new record. We always felt that it was always inside us ready to come out but we needed someone that could pull it out of us, a good coach. Some coaches can bring the best out of you, give you the confidence to do things that you have never tried which makes you own that moment and some coaches do not embrace you the right way and shut you down. I want to thank the guys that helped us with this album, helping us reach sonic landscapes that we have never tried before.
Metal Exiles: This album was made to be played in arenas. Do you think your just one more single away from hitting a massive vein in the buying public?
Taki: Ultimately that would be amazing and there are a few more singles on this record that we want to put out. I certainly think Fortune Teller is great, Forgive is pretty sick and the title track has a lot of power. It is all about timing, where we are at when Immortal starts descending but in some markets Immortal is just getting started so we are excited about the longevity of the single. It just keeps going and more and more people are discovering it and getting into the content of it. Even if we could get into theater size places would be great but arenas would be amazing. The era I grew up in was the arena rock era with the big metal bands selling out arenas. I do know that the band will be going abroad this year and growing our audience so if things keep going the way they are we could be headlining our own theater tour this fall. We are going to keep doing what we are doing but the rest of the factors are out of our hands, its up to the fans, they are the ones who put us where we are.
Metal Exiles: Immortal is a great track but Straight Jacket Super Model is a dark lyrically as well as a disturbing video. What kind of impression were you trying to put on the fans by going with that as the first single?
Taki: I think some of the motivation is that this is not the band you think you know. We certainly wanted to make the fans think and see that there is another layer to us that they haven't seen before. It was just something left of center that they were not expecting and we wanted to give them an idea that this album was going to have a different side to our personality that you haven't seen, you haven't seen the whole story. That was the initial motivation and it was also a chance for us to have some fun with the content and take some risks with the video. It was important for the fans to know that we aren't in some small box and it's a reminded to people you can't judge a book by its cover. You really do not know us and it's important to make statements so we can have some longevity and it's an opportunity to keep evolving.
Metal Exiles: Considering the years you have been together, it seems the first incarnation of the band is a completely different band from the Eve To Adam we have now.
Taki: I think that's part of the process if you are doing it right and you are in it for the right reasons. I think this is the byproduct of what happens when you have been around for a long time. You cannot help but get better especially if you are driven like we are. I think if vets like Chris Cornell, Jerry Cantrell and Eddie Vedder are still trying to figure it out then I certainly can keep breaking new ground and keep moving forward.
If you have yet to see Eve To Adam live then this is an amazing opportunity to witness the amazing spectacle that is the Eve To Adam live show.
Official Eve To Adam Website
BUY Locked & Loaded
---