Escape the Fate: The Dead Masquerade Tour - The Grove of Anaheim - Anaheim, CA 3/11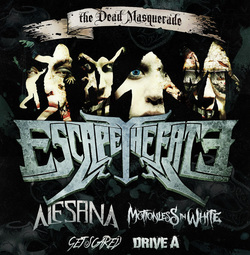 With special guests Alesana / Motionless In White / Get Scared / Drive A
The Dead Masquerade Tour pulled into Anaheim to a nearly sold out Grove Of Anaheim packed with screaming girls and the show was on. This tour matched some of rocks most up and coming bands with ever growing fan bases and it worked as thousands of screaming fans piled into venues across the nation to make this one of the most successful tours of the year so far.
Drive A kicked off the show and I have to say this is one of the hardest working young bands out there. They are still touring for their debut album Loss Of Desire while prepping for their massive spring release of the sophomore disc The World In Shambles. I have seen this band a few times before and they always deliver and tonight was no different.
Lead vocalist/guitarist Bruno Mascolo commands attention when he and his band hit the stage while the hard driving pure punk driven songs take front and center. Look for The World In Shambles to hit stores this spring.
Get Scared pounded the stage next and it was an all out assault.
Nicolas Mathews, the enigmatic front man, owned the crowd from the first moment with his "creepier than you" visage. Their ability to convey emotion was unreal as they plowed through a set list from their two records like Setting Yourself Up For Sarcasm, Voodoo, Deepest Cut and you Are What You Are. The Get Scared EP is currently available and if this is a premonition of things to come for this band they will be huge in the rock world. This is pure heavy aggression at its sickest and Nicolas' vocals make his animated lyrics come to life.
Motionless In White are a masquerade of horror packed into a rage that is a band. They have been slagging it out for a few years now with a few EPs and now armed with the debut full length in the form of Creatures they have come with blood. Creatures is a nasty surprise for the fans of MIT as it continues to expand their dark sound. Their set list was heavy with tracks from Creatures with We Only Come out At Night, Immaculate Misconception, Abigail, Creatures and Puppets. Every salvo brought the crowd closer to frenzy and until the band was done it seemed as if the screams would not subside. Chris Motionless is a near perfect front man, mixing macabre and a fiendish lead vocal, the crowd has nowhere to go but into his psyche. This band with monstrous in the future alongside their other touring mates here, expect massive things.
Alesana, after a small pole of the fans, is one of the main bands the fans were there to see. They have been around for several years and with three full lengths under their belt it seems as if their assent to the top is nearly complete. The Emptiness is a massive record and the band performs on that album as if their life depended on it. That same determination followed them onto the stage as they spilled their guts into the mics. The Emptiness was well represented as was Dennis Lee's emotions that night with Curse Of The Virgin Canvas, Artist, Murderer as well as The Thespian. A phenomenal set and while I was doing my job as photographer I had to constantly watch my back for the parade of crowd surfers.
To close the show, Escape the Fate had that honor and close it they did. Escape The Fate is one of the best metal bands going on at the moment and with their new self titled record it seems as if they will hold onto that notion for awhile. When the band came out, with one syllable sang, with one note dropped, the crowd was theirs. The band are the consummate showmen, full stage, ramps, incredible lighting, everything that makes the band come alive. Craig Mabbit was all over the place, handling every song perfectly and interacting with THEIR crowd. The other bands warmed them up immensely but ETF caused a blaze to inundate the crowd. Their S/T record was one of the best records of 2010 and with tracks like Gorgeous Nightmare, Massacre, Zombie Dance, Issues and The Aftermath being blown out live, anybody can hear why. Craig had been out sick for Fresno but he was back and better and it did not let that slow them down as all cylinders were hit and hit Hard! I have to say after seeing ETF several times that Robert Ortiz is one of the best drummers going in metal. His skills are amazing and he involves the crowd as much as possible.
In closing, if you missed this trek you missed out period. Each band gave the fans their money's worth and then some and this is why that rock still survives.
Official Escape The Fate Site
Official Alesana Site
Official Motionless In White Site
Official Get Scared Site
Official Drive A Site
---