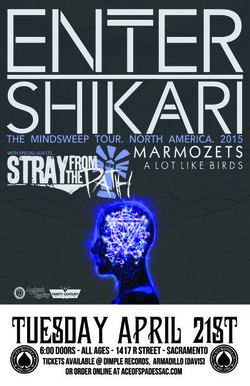 Enter Shikari/Stray From The Path/A Lot Like Birds/I The Mighty - Ace Of Spades, Sacramento, CA 4/15
By Jeffrey Easton
Enter Shikari isn't just a band that needs to be seen live, it's a band that must be experienced. On vinyl and live, the band is an aural spectacle that demands your attention. This tour was different as they set out with three bands that were so unlike them but in a world of sameness that's a relief.
I The Mighty set things off in a different fashion with their semi progressive heavy rock movements and engaging live show. I knew about them but never had I witnessed them live and from what I had heard from Satori I was intrigued. They came out and dropped A Spoonful Of Shallow Makes Your Head An Empty Space and I was hooked. They were convincing in their short amount of time and they continued to drop Satori like it was vinyl gold. Failures, Speak To Me and Four Letter Words had the crowd awe struck and then they did it, they dropped Playing Catch with .22 from the new album Connector. Such an amazing track and if this was a taste of what was to come these guys will be permanent headliners. They closed out with The Dreamer from Karma Never Sleeps and I think the band made many new fans tonight.
A Lot Like Birds were next and these guys had proved to be shred freaks and I was waiting to witness that live. Hailing from Sacramento, this was a homecoming and they did not disappoint, period. Still out supporting the massive No Place, they tore into that album like a hungry kid tearing into Cheetos. Next to Ungodliness, Kuroi Ledge and Connector were laid to waste before the rabid crowd with the time signatures flying everywhere. As if that wasn't enough, Conversation Piece was dealt with Vanity's Fair, Think Dirty Out Loud and What Didn't Kill Me Just Got Stronger. Holy mother of god what am I seeing here? The conviction of these guys is unreal and the musicianship is mind blowing. If you cannot wrap your head around this band I understand some pop bands want you to support them.
So here I am enjoying some bands from Equal Vision and Stray From The Path comes on and ruins the whole night, why.. Why did you kill my buzz with this horrid "hardcore", why did you bring me down from my musical high with the two chords you hardly know and the same vocals and lyrics as any second rate band still banging around their garage? If I wanted to hear "mother fucker" over and over I would go hang out at a high school band room. I have seen them before but I was lucky enough to escape and this time I did the same by going to the bar and watching baseball.
The Reason I was here had finally hit the stage and they wasted zero time getting the crowds attention. The Mindsweep is the new album and after hearing it I was officially slack jawed at the results. This band keeps getting better and better and I honestly feel that there will never be a ceiling for these guys. They hit the stage and after a few off the wall words from Rou Reynolds they laid into The Appeal & The Mindsweep and the attendance was theirs. The band immediately found all 8 cylinders and blew into Destabilise to unreal screams. To say this band has a catalog of different sounds and textures would be an understatement as the bands lives and dies to keep their fans on their toes. They pillaged the catalog with the disturbing tones of Radiate, Torn Apart, Mothership, Sssnakepit and Solidarity as well as dealing the new album hard. Have you heard Anaesthetist? Possibly one of the sickest grooves they have conjured up and a freakish video to go along with it and they happily laid it out live for the following. Myopia and Interlude from the new record snaked their way into the set and the masses must feel the same way I feel about the album because they freaked out. The energy radiating from the stage matched what was happening on the floor and the happy cohesion of a blitzkrieg was happening. If the world ended tomorrow I would have gone out musically happy.
Official Enter Shikari Site
Official Stray From The Path Site
Official A Lot Like Birds Site
Official I The Mighty Site
---