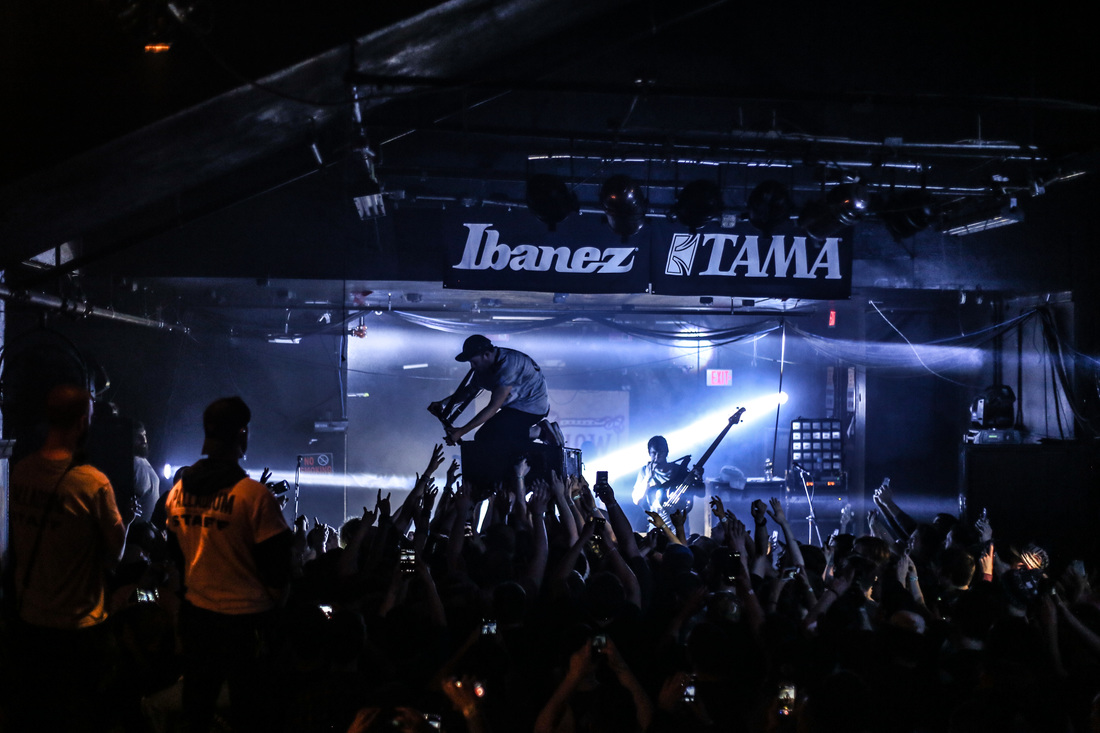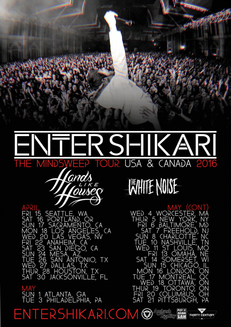 Enter Shikari/Hands Like Houses/The White Noise - Palladium, Worcester, MA 5/16
By Rickelle Tavares
This show was one to remember, I naturally went into it assuming it would be just like most of the shows I've seen at the palladium, wild and fun. Unfortunately, I had no idea how wild fans of Enter Shikari can get.
The openers of the night were The White Noise, it was my second time seeing them so I was sort of familiar with what they had in store. The show became sold out sometime during the local opening bands set and there was no photo pit. So I was on the floor with everyone else in the extremely crammed room. As soon as The White Noise got on stage and started playing, there was the infamous stage push of everyone trying to be front and center. Normally at most shows there's a few less known bands that start things off but this line up was different. The white Noise is very popular and they know how to get things going. They've got a pretty cool sound, in my opinion it's like old school punk mixed with new school metal. It works for them and apparently all their fans, once "Picture Day" off their EP titled Aren't You Glad started things got wild. Even I knew the song, it matches perfectly with the bands energetic stage presence. Lead vocalist Shawn Walker really is great to watch, he is never in the same spot for more than 3 seconds. He jumps into the pits and gets down with everyone which it's something I don't get to see too often. All of that combined with the all the band members playing side by side or making goofy faces at each other, it made the show fun for everyone. From the balcony to the floor everyone was was jumping and just watching The White Noise tear up the stage.
The next band was Hands Like Houses, they're from Australia and had just recently released their newest album Dissonant's. I've been a fan of them since they first came out with Ground Dweller in 2012, however I hadn't seen them live since warped a few years back. I was extremely excited to see how they get down in a smaller intimate venue vs the large far warped tour shows. They opened up with "I Am" and I really couldn't resist joining everyone singing at the top of their lungs. Hands Like Houses is a band that's colorful and playful, not extremely heavy but it's just good music that you can continuously listen to. The room started getting hot from everyone jumping and the people that were in the pit turning the center of the venue into chaos. Trenton the lead vocalist was at the edge of the stage the whole show along with the entire band, it felt almost like it was your own personal concert it was incredible. At times they let a few people in the crowd get to sing in the mic, and every other band member got to show off their skills right front and center. I love when a bassist or guitarist gets close to you while they play, it doesn't happen very often but that night wasn't like the typical concert. It was really sick to see everyone in Hands Like Houses shred in in front your face, watching them play so fast with such precision while they just looked at you and smiled was so sick. Before they started on the last song they took a few moments to thank us all for coming to see them and selling the show out. They even made a few jokes about how notorious Worcester was for getting rowdy and asked us to go out with a bang for them, the final song on their setlist was "Introduced Species". They asked for rowdy and they got it, one after another bodies were flying over my head and came right back to stage dive. The pits were definitely open and hands arms and people were moving around everywhere, I could only wonder if this is how it was for Hands Like Houses, how much crazier could it get for Enter Shikari?
Well I found out sooner than later. I was standing against the stage and once the lights went down and everyone in the back pushed forward, I was literally thrown and fully hunched over the stage. Once that happened I was pretty nervous about what was going to happen once they actually started playing. Soon enough their intro music started and you could feel everyone was almost tense from waiting for them to come out. They opened with the song "Enter Shikari or Reprise" and immediately I realized this was far more different from any other show at the Palladium. The tense crowd had turned into a sea of pure chaos, where people should've been standing was turned into an ever growing mosh pit. People were trying their hardest to get as close as possible to lead singer and keyboard player Rou Reynolds. He was front and center grabbing everyone's hands and smiling, he kept things going without waisting a moment. Enter Shikari is from the UK, they are one of those bands that can combine metal with techno and execute it flawlessly. Not to mention the attention grabbing stage presence, high jumps and kicks and some crazy things I've never seen before. At one point during the set there were about 5-7 people on stage and they all dove head first into the crowd screaming and cheering. When one song I was extremely familiar with called "The Last Garrison" came on, I could barely move as it was but I was jumping up and down with everyone else. For my first time seeing Enter Shikari I was very impressed, they didn't have fans kicked off stage or stay far away from the chaos. They were right in the middle cheering on the insanity and playing some incredible mixes and their own take on metal, it was refreshing. Of course Worcester wasn't ready to say goodbye, although it was a 17 song setlist, everyone shouted for an encore! I couldn't believe what I was seeing after 2 minutes of them coming back out on stage. The lead guitarist was on top of an amp playing guitar while he and the amp were on top of the crowd being carried around. It was insane and nothing I've ever seen before and something I will never forget ever. I felt like everyone had such a good time at this show, drenched in sweat maybe bruised a little but not one person wasn't smiling. It doesn't take 10 platinum hits or having millions of fans to be as good as these guys, every single band executed each performance and every setlist perfectly. It was such a good concert and I will definitely never miss one of their shows ever again.
Official Enter Shikari Site
Official Hands Like Houses Site
Official The White Noise Site
---