Sledgehammer - Heaven & Hell

Sledgehammer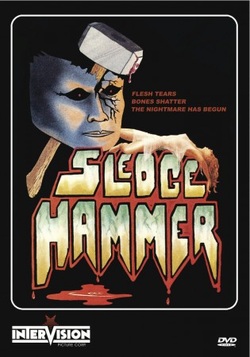 Intervision
By Jeffrey Easton
Horror movies during the 80's were a given due to the high profile that movies like Halloween and Friday The 13th gave the genre. But if course with every good horror movie there were at least a few dozen that were made and released that were so bad they were destined to go straight to home video and then to oblivion. One such is Sledgehammer, made and released in 1983, this indie horror flick has now seen the light of day once more due to the ease of putting anything on DVD. Basically the story rests around this couple who is murdered with a sledgehammer only for the case to go unsolved. Years later a group of kids rent the house for a weekend (Saw that coming huh?) only for them to get murdered one by one. I will save the ending for those who have not seen it but can kind of guess how any cheesy horror movie ends. I will say there is a few sex scenes and they are bad, I mean who can't act out a sex scene? I will tell you, these guys, and girls, can't. If you are into cheesy horror movies this is your King DVD for the month, go out and snap it up.
BUY SLEDGEHAMMER
---
Heaven & Hell - Radio City Music Hall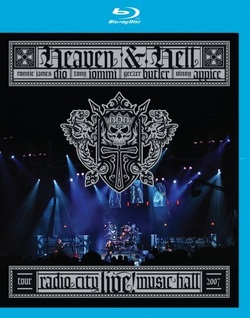 Eagle Vision Blu-Ray
By Jeffrey Easton
One year ago one of the mightiest voices in hard rock and metal, Ronnie James Dio, was silenced and his accolades are still being spoke of to this day and will for many years to come. To help celebrate this incredible voice Eagle Vision is releasing on Blu-Ray the fabled Radio City Music Hall performance from 2007 in its entirety plus a plethora of bonuses. Filmed on the tail end of the tour that saw the Heaven & Hell line up of Black Sabbath reunite, this DVD finds the band on fire while they torch the audience with such classics as Lady Evil, I, Die Young, Heaven & Hell, Mob Rules as well as Children Of The Sea and my fav track Computer God. The band sounded as if they never broke up and with their newer tracks like The Devil Cried as well as Shadow Of The Wind it just sounds like a utter continuation even though they had been back together a short while. The extras are amazing from the Road Movie detailing H&H on the road, The Wisdom Of Dio with some great pieces with Dio himself as well as Hail The Gods Of Metal detailing the four guys that make up this mammoth band. The Wisdom Of Dio it must be noted is only available on the Blu-Ray edition of the DVD. This is an amazing piece of cinematic history and with the power of Blu-Ray it comes to you with a stunning picture and sound quality that will blow your speakers apart. If you missed Heaven & Hell on their tours before Ronnie's untimely passing then you missed out on history but it is forever captured here with Radio City Music Hall's amazing performance of Heaven & Hell.
BUY RADIO CITY MUSIC HALL!!
---