Heaven & Hell - Twisted Sister - Frank Zappa - Velvet Revolver

Heaven & Hell - Neon Knights/30 Years of Heaven & Hell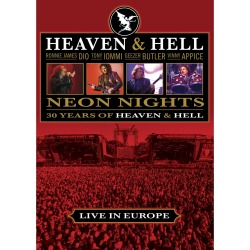 Eagle Vision
By Jeffrey Easton
It was hard to watch this DVD, knowing that I will never get to see Ronnie grace the stage again. Ronnie was the consummate performer and one of the nicest guys you will ever meet. The setting was the yearly Wacken Fest, THE festival to be at in Germany and the feeling was electric. E5150 opened the floor to an explosive show and it was on. Mob Rules was up and it was true, this Mob did rule the show and to me this should have been a whole generations anthem. The show was a mixture of old and new where as fear and Bible Black represented the best of what they were currently doing as well as Die Young and Neon Knights bringing back the old days in full force. The new material, especially Bible Black, is a stunning testimony as to how well Tony and Ronnie were still able to write together after all of those years apart. It must be stated that I feel as though the Dehumanizer record was their best effort, certainly their heaviest and it was represented by the stellar tracks I and Time Machine. I would have honestly like to have seen TV Crimes or Computer God thrown in and I honestly believe that the riff for Computer God was the heaviest in Tony's arsenal. The live show itself looked stunning, they had a sinister stage set and the quality of shots were perfect. This DVD set features some great interviews with the whole band as well as some post death interviews from Tony, Vinny and Geezer. This was a dark time for the band and they said everything that was right. I hope to see more live shows from their archives as this was the consummate form of Black Sabbath..
BUY NEON NIGHTS!
---
Twisted Sister - Live at Wacken/The Reunion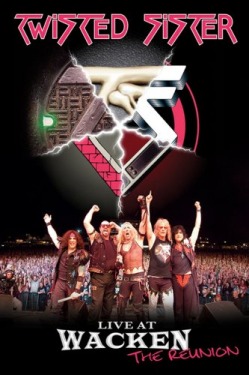 Eagle Vision
By Jeffrey Easton
Twisted Sister was the consummate band of everything that was overblown about 80's metal. The hair, make up, the oversized riffs, songs about rebellion against parents etc. They had it all and like so many of their brethren, they went down in flames. Here and their some resemblance came from the ashes, Dee had Widowmaker which performed a few Sister songs, he had his Twisted Sister cover band and then came the one off shows here and there then the full blown reunion. I mean, it was bound to happen. I mean if George Lynch can play with Don Dokken again then anything can happen, right? So this DVD documents the rise from the ashes with footage from the one offs, detailed interviews with each member of the band and all of this is set in the live footage of the huge Wacken Open Air date they had in 2003. They stormed the stage of Wacken and did not let go until each member of the crowd had been Sisterized in the worst way. The show showed that they had not lost it in any way, they still had the primal urge to slay the crowds and burn through their catalog to the screams they were getting. If you want a trip through your hair sprayed past then this is just for you because you know you just can't stop rock n roll….
BUY LIVE AT WACKEN!!
---
Frank Zappa - The Torture Never Stops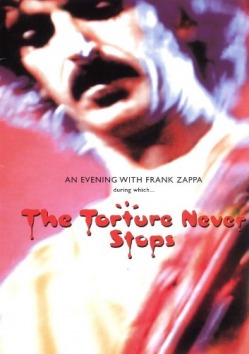 Eagle Vision
By Jeffrey Easton
Frank Zappa is the consummate entertainer, he knew his audience and he knew exactly what they wanted to hear. He never gave into trends in music and that always shown brightly through his diverse and often off the wall compositions. This DVD, The Torture Never Stops, showcased some of Frank's better material, whether it was You Are What You Is, Strictly Genteel, Bamboozled By Love or my two favorite songs by Zappa: Flakes and Broken Hearts Are For Assholes. The first Zappa record that I ever listened to Was Sheik Yerbouti and because of Flakes and Assholes I was hooked. Frank did not bow to anybody's wishes but his own and it shows with yet another stellar performance that this DVD captures. His band here is nothing but a force to be reckoned with, always on the cutting edge and with Stalwarts like Steve Vai continuing the legacy he created here Frank will always be present in the musical mind. To gaze upon this amazing DVD and see such a talent perform with a well executed setlist it boggles the mind at how we lost that talent in the prime of his career but yet captured forever with these great images. Any self respecting Zappa Fan has to own this otherwise you should indeed eat the yellow snow.
BUY THE TORTURE NEVER STOPS!
---
Velvet Revolver - Live in Houston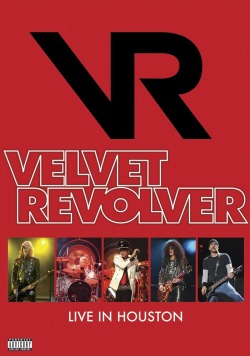 Eagle Vision

By Jeffrey Easton

Velvet Revolver should have been massive. They had all of the ingredients for a major act: members of two superstar bands, GnR and Stone Temple Pilots as well as amazing songs. Sucker Train Blues, Slither, Headspace as well as Do It For The Kids they had what the fans wanted, angry streetwise songs that did not speak down to the fans but found them on their level. Their performance sang the same song as they displayed a sweaty, grinding stage presence that soaked every last bit of sweat from the band members as they tore the stage apart. This DVD, Live In Houston, displayed such a show. Filmed on tour after the release of their debut record, Contraband, this caught them in the prime of their onslaught as the newness of the act was still intact. This is the grimy, sweat soaked stage show that they needed for their first tour and this is the reason why they should still be together. I will throw in that this was a well shot DVD, almost having the feel of a James Bond flick with its boxing of the frames, it made for quite a different watch. If you miss the dangerous side of rock n roll and you need a visual fix then this DVD may cure what you are feeling.
---