Chimaira - Janes Addiction - Megadeth - The Who
Chimaira - Coming Alive DVD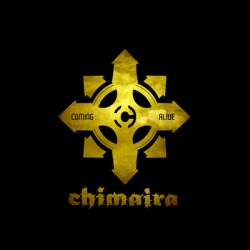 Ferret
By Jeffrey Easton
Chimaira spell brutality with excellent riffs and sickening vocals but with THEIR own ideas. The Infection was their best record to date and with this DVD it all comes alive (no pun intended) before your eyes. With Coming Alive you get to go in depth with their studio work in making The Infection and then whisked off onto a tour into the abyss. Touring with this band is an interesting proposition and this DVD puts you there. Want to know how a band exists on the road? Then this DVD is for you and that's just the first DVD in a three disc set. The second DVD is their 10th annual Christmas show in Cleveland and it is intense. The show is stunning to look at and the set, which includes Empire, Power Trip, Severed, Nothing Remains and Dead Inside amongst others. The third disc is the Live CD version of the show and it rips your head off. Purely live and seemingly not fixed in the studio. This is a sick Chimaira experience and you need this set to experience it yourself.
BUY COMING ALIVE!
---
Janes Addiction - Live VooDoo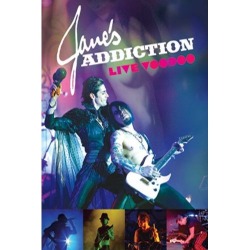 Eagle Vision
By Jeffrey Easton
Janes Addiction made a triumphant return to their early 90's form and it is captured here in this splendid DVD for everyone to see. Janes Addiction to me were one of the most influential bands to come out of the late 80's Alt scene and they still are to this day. Recorded live on Halloween 2009 at the VooDoo experience in New Orleans, they were in all their vampy slender and glory. Perry Farrell came out in in a silver outfit and cape which to me speaks of his self imposed outrageousness and the show was on. Their setlist was heavily influenced by the first two records which included Been Caught Stealing, Jane Says, Ted Just Admit It, Mountain Song, Up On The Beach amongst others. The band was as tight as ever and Navarro showed off why he was such an influential guitar player. The show was a multi angle shoot and it is breathtaking to watch and they did you give you something you wanted to watch. This visual is a must for Addiction fans because you know you can never have enough.
BUY LIVE VOODOO!!
---
Megadeth - Rust in Peace Live
Shout Factory
By Jeffrey Easton
20 years ago this year was a monumental year for metal, so many great records came out that year and Rust in Peace was at the top of that heap. So many songs on that record became classics that on its 20th Anniversary it was a must to revisit that record. So the scene was set, The Palladium in Hollywood, sold out by several thousand rabid Megadeth fans and the energy was intense. The band came out to the loudest screams I have heard in awhile and it was on. The band opened the show with a few non Rust tracks in the form of In My Darkest Hour and Skin O My Teeth but then they got down to the reason everybody was there. They launched into Holy Wars and the place went into chaos. Hangar 18, Take No Prisoners, Five Magics, it all sounded so fresh that this could have been a new record. Tornado Of Souls, Rust In Peac.. Polaris, insanity ensues and at fever pitch. My fav song from the record, Dawn Patrol, sounded so intense live. I still recall driving around 20 years ago playing that song over and over and it's still sickening. This DVD sells the intensity perfectly, conveys what the crowd was giving giving off for the band and what the band was giving back. The set closed off perfectly with Symphony Of Destruction and Peace Sells, another maddening show by Megadeth. Usually as a reviewer has to get into the feel of the show being presented by the DVD but I was there so I can still see the show in my head as well as on my TV. If you missed this tour you missed a moment that was carved in history but fear not Shout Factory has it wrapped up nicely. Also available as a live CD as well.
BUY RUST IN PEACE-LIVE-
---