Black Sabbath - Paranoid & DVD & When You're Strange: A Film About The Doors

Black Sabbath - Paranoid DVD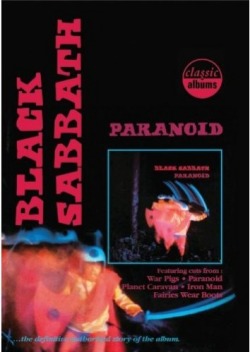 Eagle Vision

by Jeffrey Easton
Eagle Vision
There are legendary albums and there is Paranoid. Paranoid, like its S/T predecessor, started a genre of music that has not let up. Before Sabbath there were guitar-oriented bands but nothing that made the spine shutter the way the riffs on Paranoid did. The opening riffs of War Pigs gravitating to the specter of Planet Caravan to only be beaten back by Iron Man; it was THE record of the year. Here we have the all-important chronicle of that LP, how it was recorded, the writing process, and the thoughts behind every move. The interviews are important as they reveal where the heads were going into making this record and you hang on every word, even if you feel as though you know already. Once you are done watching this you feel as though you were there when it was recorded, when it was released. You can feel the original power of the album and even though it came out a year before I was born, I can as well when I spin the record. The early Sabbath albums are timeless and when the next generation comes along, they will notice Sabbath as well. This DVD is a must have for complete - ists of the Sabbath chronicle and you will own this...
BUY IT!
---
When You're Strange: A Film About The Doors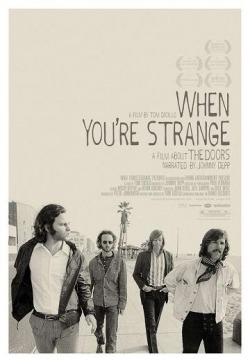 Eagle Vision
by Jeffrey Easton
Strange is in the title and it sets the tone for the film. It opens with odd but real footage of Jim in the desert hitchhiking after a wreck. The footage that was acquired is nothing short of spectacular and the fact that this stuff was archived is amazing in itself. Excellent show footage as well as personal "Jim hanging out with the fans" footage mingles with one another throughout the flick. Johnny Depp narrates the proceeding and his constant monologing gives clever insight into what the viewer is witnessing. The Doors were the consummate 60's band in that they took in all of the inspirations that the 60's gave; they never played one type of music, as well as taking in the entire scene. This DVD takes you there as nothing else could, unless of course you were there yourself. It took a special person to "get" The Doors as their music and culture was not the norm but for those who did they were treated to possibly the best band to come out of the 60's. If you were not there, like me, you need this DVD, the performances are amazing and the intimate scenes with Jim "being himself" are worth the price of the DVD. When You're Strange is not a line you can tag on anything, it takes something special and this DVD is it.
BUY WHEN YOU'RE STRANGE!!
---