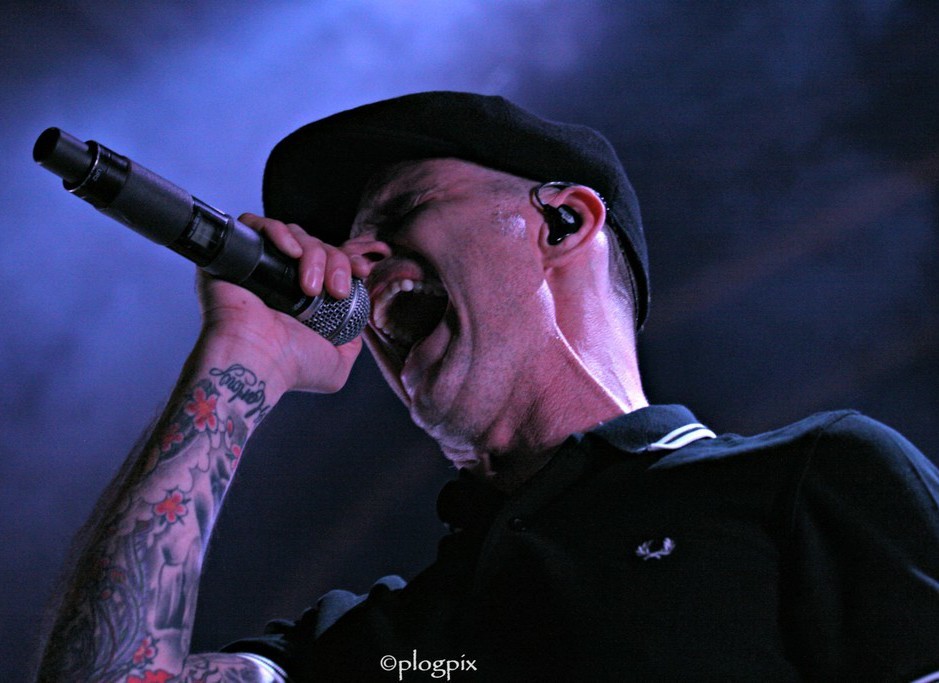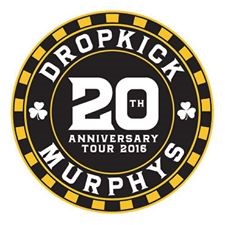 Dropkick Murphys/Tiger Army/Darkbuster – The Tabernacle, Atlanta, GA 3/16
By Leslie Elder Rogers
Every once in a while, you get to witness a part of history that will forever be etched in your mind. This show is one of those historic moments for me. As a DKM fan, it was a honor to have the opportunity to photograph and give my thoughts on this amazing sold-out show. Atlanta was just one of many stops for them during this 20th Anniversary tour. As I arrived at the venue tonight, it was clear that DKM still has a huge following. The line to get in was wrapped around the building and up the neighboring street. The end was not in sight and as fans poured in. Many people came dressed for the occasion in their irish and celtic attire; kilts adorned both young and old. What a wonderful tribute to such a truly amazing band to see this much love and loyalty from their fans.
Opening for DKM were two genuinely talented bands. Darkbuster was first to take the stage. They are a punk rock band from Boston, Massachusetts, that originated in 1996. They have been around a while and over the years they have tweaked their sound a bit from where they started to where the are now musically. They came out ready to show their stuff. They played hard and they played steady showing off their tried and true older music as well as a taste of the new music from their latest album
No Revolution
, that was released last year. Their set started with "Many Moons", followed by "Punk's Not Dead", both from that album. Their first album
22 Songs You'll Never Want to Hear Again,
debuted in 1999. This album was packed with extremly rapid paced tunes that are the epitome of punk rock. From that album we heard "Happy Days" and "Cheap Wine". In 2005, they released
A Weakness for Spirits
, which gave us songs like "Rudy" and "Stand and Deliver" that were also a part of tonights arrangement. With the punk sound that they embody , Darkbuster was a perfect opening band for an act such as DKM.
Second on stage was Tiger Army…not nearly an army by way of numbers but I must say, holy shit, they brought an army of musical ability and true agility to the stage that cannot be denied. The talent of Nick 13 and the rest of the band has is mind-blowing. Their music style is classified as psychobilly which is spot on. They started their set with "Prelude: Signal Return" from their 2007 album
Music From Regions Beyond
. Nick 13 continued pleasing the crowd with songs songs like "Cupid's Victim" and "Twenty Flight Rock" that date back to the bands' earlier years. Their new album is set to release this Spring, 2016. This tour is giving them a chance to dangle small morsels of what the new album has to offer. "Prisoner of the Night" and "Firefall" were two of the songs from that album that we got to preview tonight. Much like the rest of their music, the new songs kicked ass and prove that the new album cannot dissapoint. The antics of the band bouncing back and forth across the stage weightlessly were both entertaining and exciting to watch. They proved themselves to the crowd here tonight as they listened with admiration. Though Tiger Army has had their troubles in the past with lineup changes and years between albums, they shined bright and fully validated themselves tonight. As they concluded their set with "FTW" and "Never Die", I can say without a doubt, that Tiger Army provided myself and the rest of the crowd and awesome show and I personally, will forever be a fan.
The room swayed as people moved in anticipation while they waited between sets for their beloved band to appear on stage. Before the band came on, we were taken on a trip down memory lane with a video memoir of the past 20 years as Dropkick Murphys; a very well received touch that created an even more eager crowd. By the end of the video, the fans were beyond euphoric. Behind the curtain, a shadowy figure appeared, beckoning the crowd as they cheered and screamed. The curtain dropped as the band played "Johnny, I Hardly Knew Ya", and the fans went freakin' crazy. Hell broke loose in The Tabernacle tonight; a good kind of hell, full of excitement and overwhelming energy. As fans jumped and sang with their cups full of beer held high in the air, they created mini showers for everyone standing nearby.
Ken talked about his surgery on a torn tendon just before the tour and how he thought things were going good until he put his arm near the crowd the prior night. He said a fan practically ripped his arm off and he thinks he tore his tendon again (he laughed). As a result, he continued, the doctor told him not to play so he said his plan was, for a few songs here and there, to follow Al around hump his leg all night and make him feel uncomfortable. Kevin was his fill in on bass for most of the night. By now, we'd gotten to "Famous for Nothing", the fourth song of the night and the energy in the crowd was just getting stronger and wilder. Jeff, on the banjo was killing it. This song brought such a true Irish styled tone to life.
By the time "Sunshine Highway" began, we had learned that Dropkick Murphys got its start on a thirty dollar bet. Ken told how he had three weeks to get a band together to open for a friend. He had no band and didn't own or know how to play any instruments. Needless to say, three weeks later, they opened for the band and the rest is…history. Twenty years' worth of history with proven talent and ability year after year, album after album. As "Rose Tattoo" was sung and played, looking around the room, the fan participation was immense. The musicality of this song is amazing with each and every instrument getting its chance to shine for brief moments. The mandolin arrangement was incredible and even better live than in the studio version. "The Auld Triangle" gave the crowd a renewed rush as the bagpipes forced itself loudly above lyrics. It's awesome to see a band that puts so many instruments to use in such a way that it entertains and stimulates. They nailed "Heroes from Our Past" and got hellacious crowd approval during "21 Guitar Salute". It seemed almost like an anthem for the fans. Once again, the bagpipes concluding the song had a powerful impact and totally kicked ass.
Looking around, everyone was plastered, or close to it and having the damn time of their life obviously. Aside from the annoying male fan in front of me that kept jumping on my feet, twerking into my front side, and turning around to shake my hand every five minutes, the show could not get better and yet, it did. "Forever" was about as close to perfection as you can imagine with the bagpipes solo and the constant request from Al for the fans to sing along. This was another shining moment. The accordion played by Tim Brennan, proves to be a significant musical sensation in just about every song and watching Tim handle the instrument left me in awe of his skill. The room was wildly active as "Flannigan's Ball" bounced off the walls and led into "The Ghosts of Rock and Roll" before toning it down slightly as an acoustic set began with "Barroom Hero", undoubtedly a fan favorite even without all of the backup instrumentation. Everyone raised their hands, beer in tow, and festively praised and shouted and danced their own, drunken version of Irish dances. It was a magnificent sight. "The Gang's All Here" triggered some deep and heavy stomping and clapping as it was dedicated to the men and women of our country. No one missed a beat. Another favorite, "Sandlot" was next. Obviously being a young little shit, without jobs, or girlfriends has its way of inspiring great music.
The drive and commitment of each band member cannot be denied. Al had a constant and unwavering liveliness as he hopped on and off stage, toward the crowd, losing himself in the moments from time to time. His ability to command the stage truly me chills. Watching the band members act and react to the music and to each other on stage gave me a new respect for each one. They played so flawlessly off of each other. During "The Boys are Back", the energy in the room was astounding. The crowd below attempted a mosh pit but it was never fully executed. The amount of alcohol consumption in this crowd may've played a part in that. Paying homage to their home state, "State of Massachusetts" was dynamic and lively during which we bore witness to Tim and Jeff having an accordion and banjo duel on stage. They lead us through many of their brilliant works of art and one of the best concluded the official show. "Shipping up to Boston" has a musical intro that is pure genius that gets everybody moving. It perfectly embraces the sound and tone of each instrument. It has a true "Irish" appeal and creates massive crowd interaction. Song after song, DKM stimulated the dedicated crowd tonight. They exited the stage leaving us all begging for more. No one was prepared for it to end. Need I say "encore"?
The room was completely dark. Stomping, clapping, and chanting "let's go Murphys" consumed the crowd within seconds of their stage departure. Though it seemed like a lifetime, it only took moments for the band to light the room back up as they struck the first chord of "Worker's Song". Right away, the crowd was back to full-force vivacity. They continued with an amazingly fun and lengthy version of "Kiss Me, I'm Shitfaced" during which Ken began pulling children, men, and women onstage to finish out the night with them. They ended with "Skinhead on the MBTA" and "We're Having a Party". They all sang, and swayed, and simply hung out together onstage. It was such a meaningful event for everyone. There was a mutual appreciation between the band and the fans. Their facial expressions and smiles left me happy to have witnessed it. While the last song played, the fans slowly exited the stage but not before they were all given personal attention from Ken and the band as they took selfies with each fan onstage. Once the stage was clear, Ken came down and managed to make the night of many of the remaining fans that did not make an appearance onstage. Though it may be an every night occurrence during this 20 Year Anniversary Tour, it was a perfect end to a perfect night. I walked out tonight a bigger fan than I was when I walked in. Seeing them perform is a guaranteed good time from start to finish, without doubt.
Band website:
http://www.dropkickmurphys.com
Facebook:
https://www.facebook.com/DropkickMurphys
Twitter:
https://twitter.com/DropkickMurphys
Instagram:
http://ink361.com/#!/users/194064975/photos
Listen on iTunes:
https://itunes.apple.com/us/artist/dropkick-murphys/id2928220
---