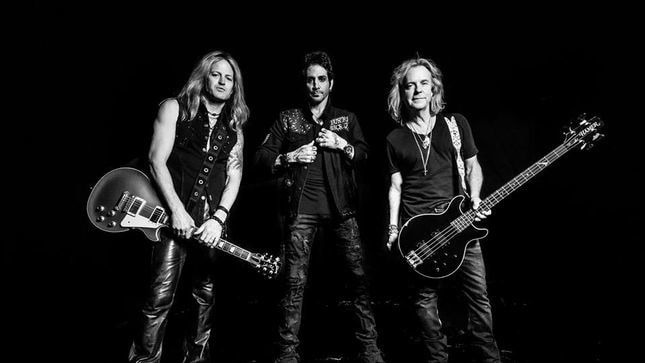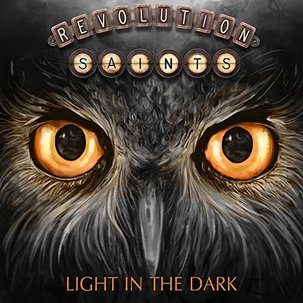 Doug Aldrich is one of the elite guitar players in the hard rock/metal industry. He is widely known for being a guitarist for Dio during the
Killing the Dragon
era, and for 7 plus years he was the lead guitarist for Whitesnake. With Whitesnake he helped produce two full length studio records, as well as several live releases. Doug has also been in a slew of other bands though out his very long career, most recently following his exit from Whitesnake, he helped form a supergroup of sorts called
Revolution Saints
with fellow great rock musicians Deen Castronovo, (Journey, Bad English) and Jack Blades (Night Ranger).
Revolution Saints
released their debut self-titled album in 2015 to critical acclaim, and now 2 years later the band is set to release their sophomore album titled
Light in the Dark
. This time around the band members themselves were heavily involved in the songwriting and it shows, as the 2nd release by this immensely talented melodic hard rock band has more of an edge, more of a heavy raw energy, and quite simply comes from a more personal place. Metal Exiles had the privilege to talk to the great Doug Aldrich about the formation of one of the best hard rock releases of 2017.
An interview with Doug Aldrich of Revolution Saints.
By Michael Knowles
Metal Exiles: To start off it's a real honor to talk to you I've been a fan for a long time and have to say that I think your time with Whitesnake was the best era of the band
.
Doug Aldrich: I appreciate it, you know I love those guys and I always hope they do good and I was really happy and proud of what David and I did together. So, it was great, it was just you know I had to spend some time with the family.

Metal Exiles: We are really glad you guys got around to making a new Revolution Saints album and of course the first record was a tough act to follow but I think Light in the Dark is right up there with the debut and even better in some ways, what would you say are the stand out differences between the records?
Doug: You know I think it's just got a flair of, it's got a little bit more of a band quality to it because we cut it together you know. We recorded it at the same time plus we wrote it together, so pretty much it's got a little bit, you can't put it in to words really, but it's got a little bit more of a natural energy.
Metal Exiles: So you mentioned you wrote the record as a band, was there sort of a thought that if you were going to make another Revolution Saints record, you wanted to write it yourselves?
Doug:. It really started off to be Deen's solo project is what it was and so they had songs all together. For this one we kind of decided at the last minute that we were going to do it, we were talking about it, but it wasn't until then that we decided. So, we wanted to put songs together that we were involved in, and sometimes it's just easier to write what you want to do as opposed to taking someone else's idea and changing it into what it needs to be. It's just, those are the two things, I think the record is a little bit heavier, It's maybe got a little bit more of a, it takes a few more chances than the first one, and I agree with you I like it better myself too.

Metal Exiles: So what was it like writing with the other two guys this time around, what was the chemistry like?
Doug: It was great, we sent around basic ideas to each other, and when we got together in Italy and recorded them we formulated everything.
Metal Exiles: One of my favorite tracks is the opening title track Light in the Dark, it really gets the album off in rolling with that awesome riff and great vocal exchange between Jack and Deen. Can you talk a little about how that song came together as well as the recording process?
Doug: Yea that's kind of in the same vein as the last record, and so it's kind of a good transition song, it's catchy, it's got a positive message. It relates to somebody who has been through a rough time, and they have to look for a light in the dark to keep them going, and that theme kind of runs through the record.

Metal Exiles: Definitely, I would say especially the song Freedom carries a similar theme, that's probably my favorite track on the album. Did Deen write those lyrics, it seemed like a very personal song?
Doug: Yea he did, he wrote those and actually that guitar riff started out as Deen's riff. He sent me an mp3 of him playing guitar, he was just jamming for like a half an hour on a bunch of stuff, and I heard a riff that was kind of like that, and it gave me an idea for a couple things. Originally, I envisioned the song to be more mellow, more keyboards and more like Phil Collins "In the Air Tonight," and I was going to start it out with heavy keyboards and have Deen sing and then he heard the riff, it was the riff that he inspired me to work out and then he was like all man I love that riff we should start with that, and then it turned into that kind of a song.
Metal Exiles: Deen is kind of one of those best kept secrets in rock as far as a singer, the guy truly is a world class vocalist, can you talk about his performance on this record as well as perhaps his growth as a singer?
Doug: His performance is amazing, when people hear it they are going to be blown away because it's even better than the first one, but I think you know I think he found even more of his own style on this one. He's got a lot of elements of Steve Perry in his voice which is bizarre, that's an amazing voice you know, but on this record I think he found a way to kind of put it into more of his own style.
Metal Exiles: What I love about your guitar playing is that it is very emotionally expressive, and your solos fit so perfectly and seamlessly with each song. Would you talk about your approach to this record?
Doug: Well the main guitar parts, the rhythm parts, that stuff, we wrote the stuff so I knew what I was going to play but I kind of checked over it again to make sure everything was the best it could be. Then Deen and I kind of jammed through stuff in the studio, and then Jack came in and we all tracked together and there was just a good energy on the tracks. When it came to the solos, I did like 4 solos while I was in Italy recording, but then I had to go on tour with the
Dead Daisies
and I had to finish the rest of the solos and overdubs on the road and so I would basically set up my pro tools system wherever I could. Sometimes I'd be on a train, I was on the bullet train in Japan for like 3 hours and I did a solo on there. And then I did editing on planes, I did solos in buses, there was a gig in England called Download that we played and before the gig I started this guitar solo, played the gig, spent all day there and then came back and finished it when I got back. And I had an opportunity to see Aerosmith play from the side of the stage that night, but I was like no I've got to get this solo done you know, I just took a rain check. You know I play to the song, whatever the emotion of the song is that's how I play. If a song was a punk song I'd probably find an aggressive approach to play, and if the song is melodic I end up playing a little more melodic, it's just the song is sometimes fast and aggressive, sometimes it's a nice contrast to play melodic with emotion over that, but sometimes you've just got to let it fly you know.
Metal Exiles: As the guitar player what were your favorite songs to perform on the record, and as a listener, what are your favorite songs to just listen to?
Doug: I would say as a listener I kind of like some of the different ones that haven't gotten as much attention yet like "The Storm Inside", "Ride on" was really fun to play, that song had a different intro before, but I wanted to find something that kind of, it was called Ride On, I didn't even know what the lyrics were but the chorus was Ride On, and I thought about being on a motorcycle, and you start it up and you're kind of letting it warm up and then you kick it into gear and hit the throttle and go. And so I was thinking of a song that kind of starts off easy and then jumps into the full blast, and I came up with some chords that reminded me a little of Highway Star, and Highway Star is a great driving song so I was like yea I'm just going to go with that. So "Ride On" is cool, "Freedom" I really like, they're all really good, they fit together really nice and it covers a lot of really good territory.

Metal Exiles: Were there songs that you wrote that didn't make the record, or did you guys just write the 11 songs?
Doug: We just wrote up until the 11th hour you know, once we were in the studio and we had songs that were approved by the record company we stopped writing, but yea there were a couple of things actually that we never worked on. I sent them to Alessandro and we got caught up in other things and we didn't really get to it, so yea there were a couple things.
Metal Exiles: Wasn't sure how much touring you did for the last record, but is there a chance that there is going to be some extensive touring for this new album?
Doug: I'm not sure if it will be extensive but I think we'll do something. We didn't do any touring last time because our schedules just didn't match up because Deen was in Journey at that time, Jack is full board Night Ranger all the time and I was kind of, after Whitesnake I needed to spend some time at home. I had been away for a long time and I got, at that time he was 4 and he needed his Dad you know so I was so happy to spend a lot of special time together with him, and it still goes on, he's 8 now and it's still hard to go away on tour. I would say that we got some great offers last time, if we get that kind of interest again I think that we will. We'd like to do like a week or 10 days in Japan, do 4 or 5 shows would be great, and it would be great to do a couple weeks in Europe, and we talked about maybe doing some one offs and benefits, or maybe some corporate gigs in the States.
Official Revolution Saints Site
BUY Light In The Dark
BUY Light In The Dark On Vinyl
---