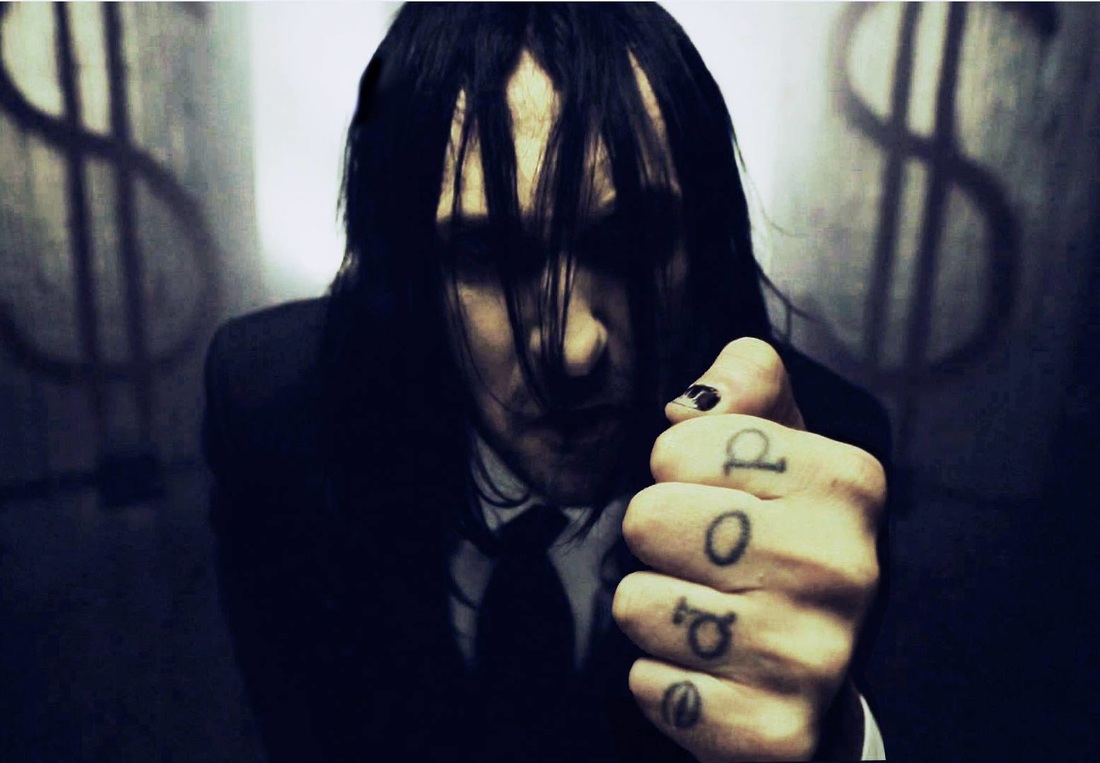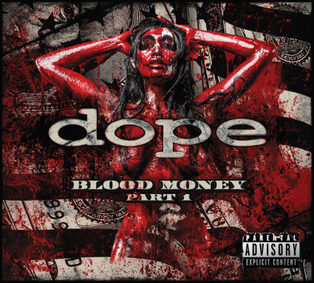 Dope - Blood Money, Part 1
By: Leslie Elder Rogers
Edsel Dope formed his band, Dope in 1997. Through the years, he's suffered through many lineup changes, but he has never stopped pushing forward. In addition to vocalist, Edsel, his current band members include, Acey Slade, Virus, and Racci Shay. They are currently performing their reunion tour as their unwavering fans continue to admire and adore them. Their sound truly engulfs their personalities; personalities so vast that they spill onto the stage during live performances. In a time when some musicians are choosing to mold themselves to what they think will grow their fan base, Dope chooses to stay true to who they have always been where musical style and execution is concerned. Though the band has consistently been active, it's been seven years since their last album release. Their new album,
"Blood Money, Part 1"
is set to release October 28th, and it is proof that this "down" time has not been in vain. Edsel himself played a huge part in the every aspect of the creation and production of this album. His shows us just how limitless his talents really are.
Right out of the gate we get heavy riffs that lead us into the title track "Blood Money". It's a fast paced thrill ride. The video for this song has already been released and is grabbing heavy attention as it models exactly what is loved about Dope as it is; their satisfaction of being comfortably dissatisfied. "Should've Known Better" is yet another quick and catchy tune that is easy to find yourself bouncing to. With "Lexapro", Edsel slows it down quite a bit, giving us a peak into what it's like to feel torn and depressed from a relationship gone wrong. This leads into "Hold On" which picks the pace back up with its heavy riffs and persistent drum beats all the while making it clearly known that the broken heart is not invisible. Deep and dreary bass playing takes us into "Razorblade Butterfly", and "1999", where we see, yet again, that life isn't always what it seems or what you think it will be. You question how you get where you are and why. It's clear to see that music is therapeutic for these guys as it is for most of us. Spitting out the lyrics after they've been written is sometimes the hardest part but Edsel and his crew make it work brilliantly without losing the appeal of the beat that lies within each song. Edsel can twist his voice so that his tone, though still recognizably his, has many variations. "Drug Music", "A New Low" and "Hypocrite" continue with the old school sound that has continued to work for the band while keeping with the apparent theme of the album…that life, and love, is brutal and bloody, but worth the ride. The techno, dance club style that follows with "The End of the World" was not my favorite on the album but I can see where it would appeal to others. The reality of Dope is that they can get away with these many styles on one album because they are just that good. "Selfish" brings us back to reality as the instrumentation is broadened. The sick drum beats aid to the impact of this song while the bass carry out those massively deep undertones giving this song a hell of a punch. "Numb" tinkers on the edge of that techno style once again but also throws a bit of an orchestral sound that is quite pleasing and easy to fall in love with. As a bonus, Edsel pitches his own version of "Violet" which was originally recorded by Hole. There is something a little darker about this song when the voice behind the lyrics is the voice of Edsel Dope. Certain songs just don't need to be redone or covered and I was skeptical on this one but it was recreated and delivered with absolute perfection in a way that could only be done by Dope. Enough said.
Follow Dope @:
http://dopearmy.com/
https://www.facebook.com/Dopetheband
https://twitter.com/DopeTheBand
https://www.instagram.com/dopetheband/
---