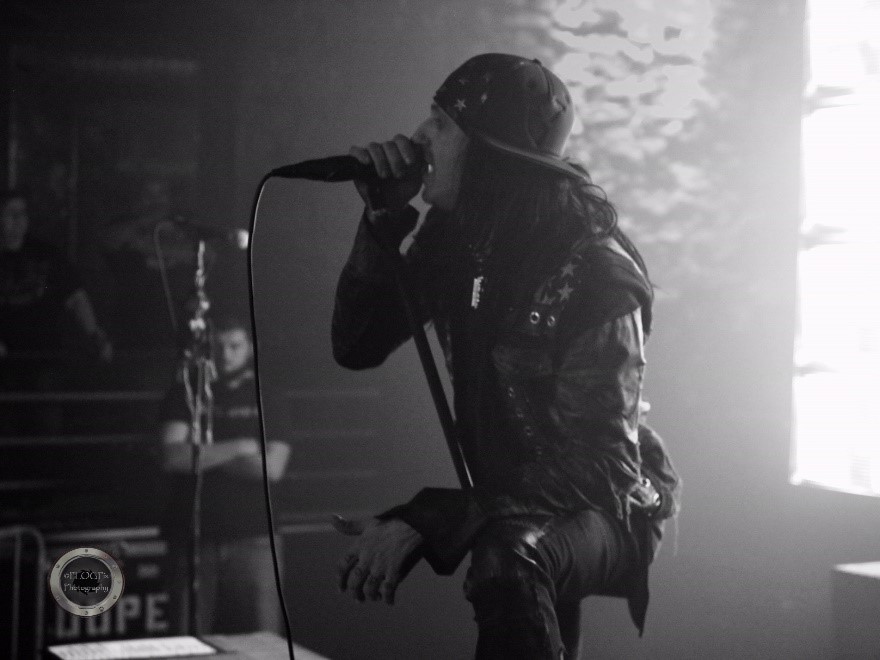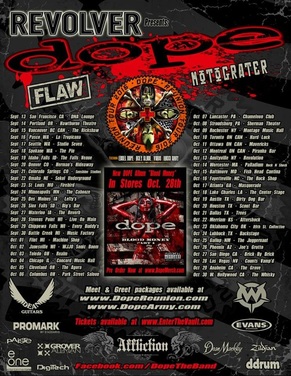 Dope/Hellbent/Floored/Motograter/FLAW - The Masquerade, Atlanta – 10/16
By: Leslie Elder Rogers
Arriving late is pretty common when dealing with driving from out of town into the Atlanta area but tonight it was even worse as a result of set time changes due to an unfortunate and life changing event within the family of Hellbent. As a result, Hellbent did not perform tonight, but I was told that Floored totally killed it. For many in attendance, they'd never heard of Floored and though I did not make it in time to see their set, nor did I catch Motograter until their final song, I can attest to the fact that both bands made a huge impression on the crowd that gathered here at The Masquerade tonight.
Motograter definitely gets a thumbs up for best body paint/costumes of the night. These guys had the crowd totally intrigued. Due to the size of the band, two of the band members were set up on the actual floor with the fans. Though the fans poured in around them they were allowed complete control and ability to perform without fan interference. After hearing only one song, I knew right away that the rest of their set had to have been fantastically brutal.
FLAW consists of vocalist, Chris Volz, guitarist, Jason Daunt, bassist, Ryan Jurhs, and drummer, Corey Sturgill. They've been together since 2013 and are staying strong and steady as they carve out their path in this industry. I was first introduced to FLAW in early 2015 when I heard "Bleed Red" which I fell in love with right away. They performed it immaculately tonight, along with some of their other great songs such as "Amendment", "Live and Breathe", and "Only the Strong". Vocalist, Chris Volz has an amazing tone and is able to captivate the audience with his magnetic demeanor on stage. The enthusiasm of the fans did not waiver as "Fed Up" and "Payback" closed their set. Though there were technical difficulties with the bass toward the end of the set, tonight FLAW proved that nothing will slow them down. They have a very successful future ahead of them.
Dope, a band that can be described as high feisty, took the stage with a bang. As the big screen behind them showed the lyrics to the songs performed, they jumped around the stage like madmen. I haven't seen that much movement on one stage, much less one of this size, ever. Edsel Dope formed this band almost 20 years ago. As vocalist of the band, he is brilliant, but he has amazing band members that help him create what we know as Dope today. They are lead guitarist, Virus, bassist, Acey Slade, and drummer, Racci Shay. Now it's been seven years since their last album but this reunion tour is to help ignite desire for their highly anticipated 6th album,
Blood Money Part 1,
which is set to release October 28th. Edsel says the band is one of the more evolved bands from their genre and time period. Tonight, it was obvious he knows what he's talking about. Dope has been popular among its' loyal fans and the news of this tour and album release had those very fans ecstatic and eager. They are fearless, playing heavily to the audience as they bounce back and forth from each side, almost leaping over each other to meet their next destination on stage. They played a wide variety of their most popular songs, including "Violence", "Bitch", "Bring It On", Take Your Best Shot", and "Now or Never". In addition to those, they also gave their own interpretation of "You Spin Me Round (like a record)" originally recorded by Dead or Alive, but none of the covers I've heard of this song have quite compared to Dopes' live version. It was a significant highlight for me tonight. Dope puts on a purely hypnotic show and if you've never witnessed their genius on stage before, I suggest you find a way to make it to one of their concerts. You will not be disappointed. Sometimes we forget that even though the bands love doing what they do, they still fans' support. Show these guys just how important they are and how deeply their gift of music impacts you.
Band websites:
https://floored.bandcamp.com
https://www.facebook.com/flooredatl/
http://hellbentmusic.bandcamp.com
https://www.facebook.com/hellbentmetal/
https://retargotom.com
https://www.facebook.com/motograter/
http://flawband.com
http://www.facebook.com/flawband
http://twitter.com/officialflaw
http://dopearmy.com
https://www.facebook.com/Dopetheband
https://twitter.com/edseldope
---