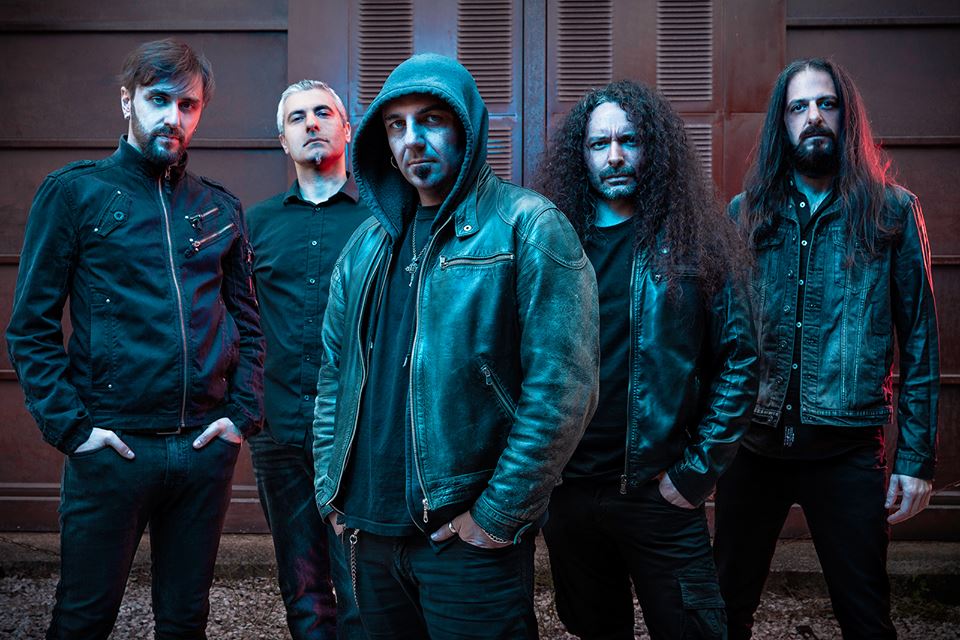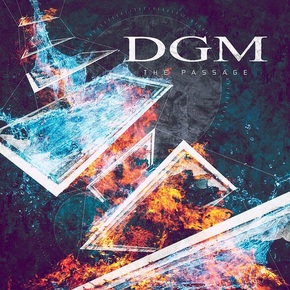 Simone Mularoni is one of the great virtuoso guitar players in the world today. For over 10 years he has been the lead guitar player/producer/songwriter for the Italian prog metal band DGM, releasing four stellar records with the band. DGM is revered in the prog metal world and have done several somewhat extensive tours around Europe for at least the past decade; and have even opened up for the prog metal titans Symphony X on their 2011 European Iconoclast tour. DGM has just released a brand new record titled The Passage, which Simone and his fellow bandmates have called their most ambitious record to date. There is no doubt in this fans mind that The Passage is the strongest and most emotionally driven and conveying records of this bands 20-year career. Of course this band has gone through several line-up changes and features no original members, however this especially great line-up has remained unchanged for the past 8 years; and with their 3rd release together they have shown that 3's a charm, as they have taken the band to greater heights than ever before. Metal Exiles had the privilege of interviewing guitarist Simone Mularoni to discuss the formation of one of the highlight metal records of the year, and to take a somewhat behind the scenes look at the guitarist himself.
​
By Michael Knowles
Metal Exiles: Truly feel The Passage is your best release to date, to me the album contains the best melodies, instrumental breaks, solos etc. that DGM has ever constructed. You guys called this album a culmination of 20 years of hard work. Was there a different writing/recording approach to this record, or is the album merely a product of this particular line up hitting their stride creatively?
Simone Mularoni: Thank you! We also feel that this is our best effort. I joined the band in 2005, so I can actually speak "only" for the last 10 years. The writing process was actually the same as the previous works if you consider the actual way we compose. But inspiration-wise it is a new thing: you know, in the past we always looked to what other bands were playing and writing... I wouldn't say "follow trends" but mainly we've been inspired from the bands we loved during those periods. This time was completely different, I basically wrote all the songs only thinking about the songs without external influences so that's why this is the most "DGM" sounding records and probably the most personal I hope. Recording wise it's pretty much the same as always, but being this my main job in everyday life I always try new solutions like new microphones, new guitar/bass amps, trying to improve the overall sound and trying to be a little different every time.
Metal Exiles: Can you explain the decision or elaborate on the vision behind using a reoccurring musical theme rather than a full on concept record?
Simone: When we started to write this album we thought it was the right time to go with a concept. But after analyzing all our ideas we thought they were not so strong so we went with a "standard" collection of single songs. But after we wrote "The Secret Part 1" we had this little melody (the one you can hear in the very beginning of the record) that was very catchy and we tried to play it over the rest of the songs we had. You'll then hear this melody pretty much all over the record, of course sometimes it will be "hidden" under some choruses or some riffs, some other times it will be more audible but the sense of this thing is to give to the listener a sort of recurrent path that make the record sounds as a "musical journey". It's like you're listening to a one-hour record but you always have the impression that the songs are all "familiar".
Metal Exiles: Really like how there appears to be a classic rock sound mixed in with the main heavy prog metal sound, did that come about organically or was that a conscious decision by yourself and the rest of the band? Also which guitar players did you sort of channel when writing those specific sections, and what are some of your other main rock guitar influences?
Simone: It was not "planned" but it came naturally when the songwriting was finished. We're all BIG lovers of AOR and mainly of rock and hard rock music from the '70s or '80s and we always had this background in the previous records but they were probably more hidden given the heavier sound and atmosphere. This time we thought that it was the right moment to let these influences to come out more during the record, since I think that nowadays DGM are a mixture of hard rock and heavy metal stuff. My main rock favorite players are without any doubt Richie Blackmore and Steve Lukather from Toto. You can easily hear all these influences during the whole record... Kansas, Whitesnake, Rainbow, Deep Purple, Journey and Toto are still nowadays our main influences when it comes to writing melodies, songs structures and guitar riffs.
Metal Exiles: I would imagine a band like Symphony X had an influence on yourself and your fellow bandmates, what was it like to have Michael Romeo perform a solo for the album, and how did that decision come about?
Simone: Of course they are one of my (and ours) main influences! Amazing musicians with amazing songs and melodies. We know the guys in SyX since we played together in Gods Of Metal festival in 2007 here in Italy and later when we supported them during their Iconoclast European tour in 2011. I spoke with Romeo a few times about doin' something together but you know, we already had Russell singing on the song "Reason" in the previous album so I thought it was not the right time to have him too. This time I had this fast song, "Dogma", that is basically the most "SyX-influenced" song of the record and when it came the solo section I thought: "why should I play LIKE him if I can easily call him and ask him to play??" So that's what I did, picked up the phone and directly asked him if he wanted to play a solo on this song. I was a little bit worried you know, he's one of my heroes and he did really few session solos over his career. But He was really kind and he liked the song so I got the solo back after 2 days!
Metal Exiles: Album also features the great Tom Englund of Evergrey on guest lead vocals for the song "Ghosts of Insanity," definitely a huge highlight on the album, could you discuss how that partnership formed, as well as how the song came together?
Simone: Sure! Tom is a great friend of mine, since a few years now. We both played on a record called "Epysode – Fantasmagoria", out for AFM records a few years ago. He sang on a few songs and I played guests solos for the whole album. After a few months it came the possibility to play live the album in a big festival in Belgium and we were in the same room rehearsing and talking about music and life. We got along in a minute and since then we constantly stay in touch, he's one of the BEST singers in the world but also guitar players and songwriters! Great person and friend also! So I had this song almost done, with this little Evergrey's touch on it and it took me 2 seconds to ask him if he wanted to sing on it dueling with Marco on vocals. He then flew to my hometown to record the song in my studio: it is so great when you can record guests like this, since it's the best way to enhance the performance and to talk together about arrangements etc etc, so glad about the result!
Metal Exiles: You had the honor of producing this great record, not entirely sure if you also produced the previous record Momentum, but could you talk about what it's like to wear so many hats so to speak for this band, and what specifically did you want to bring to this album as the producer?
Simone: I actually produced Momentum too and even Frame, the previous one! It's so time and mind consuming that sometimes it's really stressful. You know, for me it starts from writing, demoing, playing, recording, editing, mixing and mastering. But it's hard for me to give our music to an outside producer since it's difficult to explain my vision of my music to an unknown person. That's why until I'll be happy with the results I guess I'll keep recording and producing my own stuff, at least I'll try if my mind won't explode first!
Metal Exiles: Album starts out with a bang with the two-part epic The Secret, definitely a prog metal masterpiece, is there a story concept behind these songs?
Simone: Yep, actually the two songs were born without having in mind a specific lyrical theme, they were basically a single 15 minutes long song that we split in two later. When it was the time to write lyrics we chose to go with a sort of "love song" but with darker atmosphere. Since the songs have a strong hard rock feel we thought it was the best scenario to write down a "classic" love song but less mellow stuff in it.
Metal Exiles: Thought this album was the most diverse and emotionally driven sounding record you guys have produced. I was especially moved by songs like The Passage, Daydreamer, the opening tracks of course, and the closing ballad In Sorrow for not just the powerful melodies and musical arrangements, but also because of the emotional weight they carry, what would you accredit that to, and do you feel this album will have a special connection to fans unlike any other album you've done?
Simone: We strongly think that this is our most intense album. I'm not saying that it contains the best songs ever (every band think that with their last album!) but we're pretty sure that the atmosphere here is way more melodic and epic. This is driven as you said by the emotional side of the songwriting, really inspired more than ever. The majority of the songs and of the vocal lines were written like a stream of consciousness, in really short time. We felt that every note was going in the right place from minute one!
Metal Exiles: Of course one of the stand out performers on the record is vocalist Marco Basile, feel he improves with every record, and he did a masterful job on this album, curious to know if he is the primary creative force behind the vocal melodies and lyrics?
Simone: Yep, mainly with vocal lines. We usually sit down after the music is finished me and Marco and we start to improvise some lines in the songs, choosing which ones are the best for every piece of music. He's an amazing singer and as you said, he's improving album after album, gaining credibility and awareness of his skills. Lyrically speaking is more a band effort, we usually split the album above all of us, but mainly whoever has a strong feeling with a certain song goes with a lyric theme.
Metal Exiles: Was there special attention paid to the vocal melodies this time around, because I feel the songs are especially catchy on this record?
Simone: We always put heart and soul in vocal lines, since we think they're one of the most important part of the band and of our music. With every release we try to go further and better, and this time we really listened to the demo version of the songs over and over again, just to be sure that every note we wrote was the perfect one! I also think that this time is different because the music is less claustrophobic and "busy" so there's more space for open and big vocal parts.
Metal Exiles: I feel you are one of the great virtuoso musicians the guitar world has to offer, and I am especially impressed with your ability to write such unique melodically driven solos, they are so much more than pure shredding, what is your approach to writing solos?
Simone: Thank you very much!!!! You know, 10-15 years ago I was really in the "super technical virtuoso" thing, trying to speed up every solo and challenging myself with the difficult stuff. But year after year I'm becoming more aware of the musical side of playing guitar. I'm so tired of playing thousands of notes without sense so I always try to improvise on solo sections over and over until I have a strong melody or a solo you can basically sing. Obviously I'm still in love with fast stuff and I enjoy to play them from time to time, but I really care more about the melodic aspect of solos rather than the "wanking" side of it.
Metal Exiles: Andreas Blomquist from Seventh Wonder recently commented in an interview that he would love to do a tour with fellow prog metal bands on Frontiers; Withem, Circus Maximus, and yourselves DGM. Could you see a tour like that ever coming to fruition, and does the band have any plans of doing shows in the United States?
Simone: We're planning all the live gigs for this new one and for now nothing is planned in USA, but we'll definitely come back. It would be AWESOME to join forces and play together with all these wonderful musicians and friends! Never talked with them about this but I'm sure something will happen in the future!
Official DGM Site
BUY The Passage Now!
---