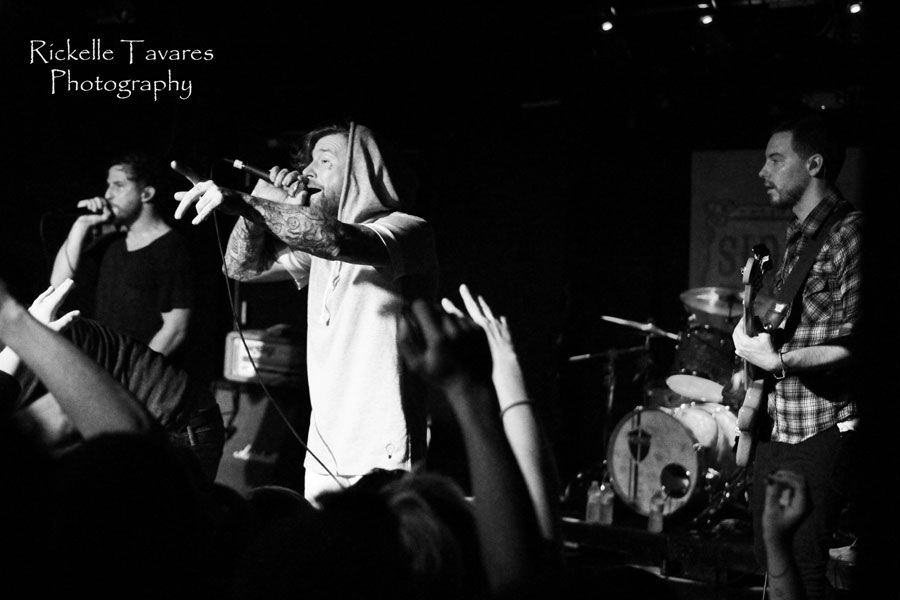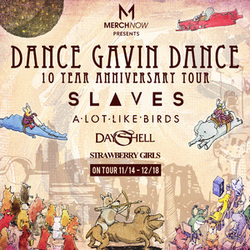 Dance Gavin Dance/Slaves/A Lot Like Birds/Dayshell/Strawberry Girls – The Palladium, Boston, MA 11/15
By Rickelle Tavares
Waiting outside of the Palladium at this sold out show held so much anticipation, not only because it was the 10th year anniversary for Dance Gavin Dance but all the original members were present. After the local acts warmed up the already excited room Strawberry Girls took to the stage. Zac Garren (Ex Dance Gavin Dance guitarist) along with band mates Ben Rosett, and Ian Jennings started off the night with a refreshing look on instrumentals. With a popular album titled French Ghetto, they immediately got into playing material from it. The response from the crowd was amazing not one person was standing still, everyone was bobbing and swaying to the incredible guitar riffs Zac Garren was producing. He along with the band was so in tune with the music it was rare to catch them with their eyes open and looking at the crowd, they along with everyone else were lost in the music.
Immediately following SG, Dayshell took the stage! Dayshell is a band that is extremely popular not only because they have a unique sound but also because they came out with their first top hit on their own before signing with Sumerian records. With their self-titled Album "Share with Me" and front man Shayle Bourget (Ex Of Mice & Men) Raul Martinez (Drummer) and Jordan Wooley (bassists) they set out to create their own version of music without rules. They have a unique sound that seemed to ignite the entire room with singing and it also opened the pit. Every song they played was getting the crowd more and more rowdy, everyone sang as loud as they could to "share With Me" and "I Owe You Nothing". Dayshell set the crowd for what was to come and we were more than ready to see what was coming up next!
A Lot Like Birds is simply described as beautiful chaos. The second they took to the stage it felt as if they allowed 900 people in to the already jam packed room, everyone was fighting to get to the front stage. As they began to preform it became easy to see just why they are so popular with an extremely devoted fan base. Numerous people floated over my head right on to the stage to grab Kurt and Cory so they could sing and scream along with them! After a few songs it became apparent that their stage presence had captivated the entire crowd, from the balcony to the floor people were consumed and crazed by the sound's they were producing. They had set the tone for what was about to come for the night.
If I previously mentioned how packed the room was, Slaves made it feel as if breathing room was nonexistent. With an ever growing fan base and an extremely popular album with "Routine Breathing" Slaves packs a brutally honest punch. Jonny Craig (Ex Dance Gavin Dance) went on a new level with this album bringing out personal and social topics, during the set he took a minute to thank all the fans for brining Slaves to where they are now. He touched bases with the fact he wouldn't be alive if fans didn't help him with his previous Heroin addiction and how grateful he was to every fan for believing in him. This moment was so raw and touching something you'd expect from a band like Slaves that has deep interaction with their fans, moments after the small speech Jonny and a fan embraced in a hug while everyone just seemed to take the moment in. That did not by any means slow the night down, they played "The Upgrade pt2" and everyone immediately resumed jumping and singing along with the band. It had seemed the whole venue had become enslaved to Slaves.
By the time Dance Gavin Dance took the stage, it was so hot the palladium staff were dumping water bottles on people in an effort to cool off the room! The band hit the stage and immediately numerous girls were screaming for Tilian who seemed to effortlessly move with precision to their opening song "Stroke God". Being a fan myself I couldn't help but to scream with Jon Mess, along with the endless supply of crowd surfers trying to get their chance to scream along with him on stage. After Dance Gavin Dance finished with "Variations" Jon and Tilian left the stage which confused me but seconds after Kurt Travis ran out to sing "Tree Village". Now that got everything moving at light speed it's as if the pit was opened so wide no matter how close to the stage you were you were in the pit. He sang and people on all sides were screaming the words with him. It was an intense moment to see how many people knew older the Dance Gavin Dance. The next thing that happened was honestly one of the highlights of the night Jonny and Jon came together and sang "New Times Roman" another older song that was a huge hit. The reaction from the crowd was amazing, it was a combination of moshing and singing as loud as possible to the person next to you. Kurt, Jon and Jonny came together to sing "Uneasy Hearts Weigh The Most" personally watching that and seeing Zac playing guitar and Will Swan as well was like being a child and going to Disney. This tour was without a doubt the best tour I've ever been too, as a ten year reunion I can say without a doubt Dance Gavin Dance still has it and I don't see them or their fan base dying down any time soon.
Official Dance Gavin Dance Site
Official Slaves Site
Official A Lot Like Birds Site
Official Dayshell Site
Official Strawberry Girls Site
---