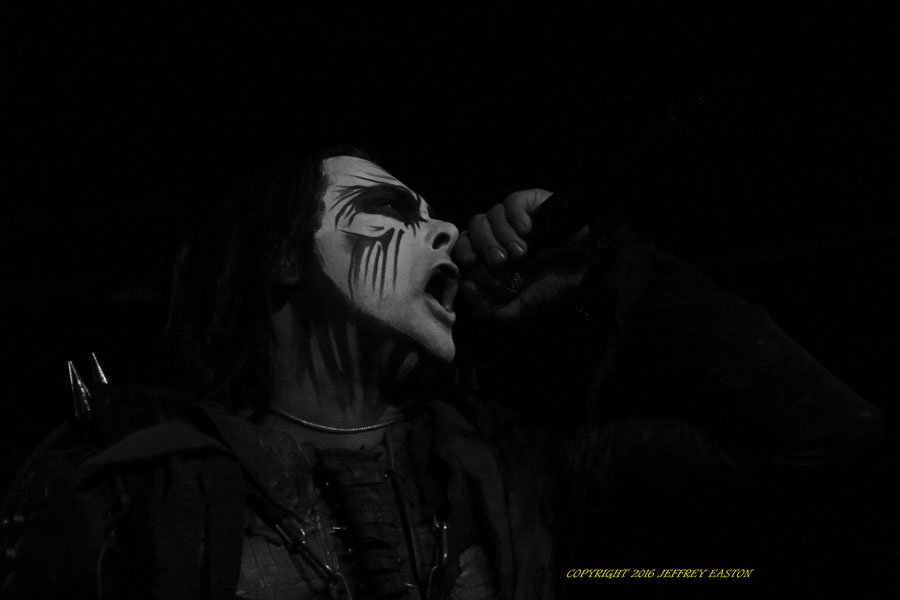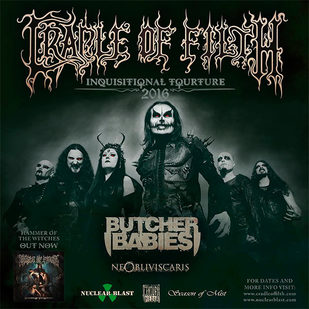 Cradle Of Filth/Butcher Babies/Ne Obliviscaris – Ace Of Spades, Sacramento, CA 2/16
By Jeffrey Easton
When Cradle Of Filth announces a tour it means an instant packed theater that will be waiting for their intense presence to grace the stage. Cradle has been doing this for over 20 years now and seemingly there is no stopping Dani Filth and his freakish troupe. Joining Cradle on this outing were none other than the Butcher Babies who create a freakish noise in their own right as well as the Australian progressive black/death metal band Ne Obliviscaris, who were a definitive highlight on this tour.
Opening the night was a slice of darkness that I had yet to lay my eyes on, Australia's own Ne Obliviscaris. They are out supporting their sinister LP Citadel and were a refreshing site to behold live. Coming out with Devour Me, Colossus Part 1, they had the attendance on their ears and completely enthralled with what they had to offer. Whereas they are perceived as a death metal band, they have so much to offer musically. Mixing elements of prog, black, death as well as classical, this band is brandishing a huge sword that will pave the way for more bands like them to follow suit. Also gleamed from Citadel was the monstrous Painters Of The Tempest(part II), a palette that was well painted on and left jaws dropped. You NEED to explore Ne Obliviscaris, period.
Butcher Babies, now that is a different animal all together. Fronted by Carla Harvey and Heidi Shepherd, this troupe of villainous metal freaks literally decimate every stage they come in contact with and leave nothing behind but the bloodshed and broken bodies in their wake. For the last several years they have been paying their dues and it has culminated in the form of their 2nd full length album, Take It Like A Man, an album full of anger and rancor that will bow even the heaviest of metal head. They mean business when they deal out an album and with the likes of Monsters Ball, Dead Man Walking, and Blood Soaked Hero they did just that. Opening up for Cradle Of Filth gave them a challenge to be darker and edgier and they took that and ran. Unleashing Igniter, National Bloody Anthem as well as Magnolia Blvd and Axe Wound, they made their ominous presence felt and metal was a lot heavier with them slinging it out.
Cradle Of Filth, what can be said that hasn't already been said, or screamed, about them. With Cradle you either love them or hate them and I fall on the side of the former. I have been covering Cradle for about 15 years now and I have never been disappointed with their live set, ever. They have always delivered their brand of darkness well and tonight was no exception. Dani and Cradle have absolutely one of their best albums out right now in the form of Hammer Of The Witches and what they unleashed on Sacramento from that was just brutal. Blackest Magick In Practice along with Right Wing Of The Garden Triptych and Yours Immortally brought the new album to life on stage and the new guys in the band cemented their place in the COF legacy. Now COF would not be able to be a live band without the stuff their fans need them to deliver and that is the sinister Gilded Cunt, From Cradle To Enslave, Nymphetamine as well as Lord Abortion and The Principle Of Evil Made Flesh. Dani has built so much into the band and the way he delivers the classic Filth is immeasurable. The stage tonight was barren sans the band which to me speaks volumes about Dani's faith that the fans are there to see them, hear the dirges and not wanting to be distracted by a bunch of secondary hype.
Official Cradle Of Filth Site
Official Butcher Babies Site
Official Ne Obliviscaris site
---