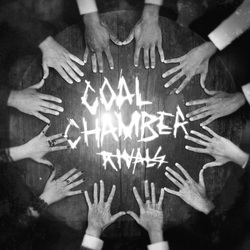 Coal Chamber is back and the musical world is better for it. Dez Fafara gathered the band back up, the blood was dried up and they spewed out one of the most dangerous metal records of 2015 in the form of Rivals. This is a nasty record and you will come away from this experience a changed person but if not then you are seriously without a soul.
An interview with Dez Fafara
By Jeffrey Easton
Metal Exiles: Considering the past, what did it take for you guys to get back on the bus together, much less make a record together?
Dez Fafara: Well we broke up in 2002, in 2006 Meegs Rascon came on stage and did Loco with DevilDriver and from there we talked here and there but by the time 2009 we wrote a few songs that harkened back to the old stuff but nobody wanted to go back and do that stuff. See the way we do things is that our second record did not sound like our first album and out third album didn't sound like the 2nd, we had that record to record progression and we wanted to keep that progression. So we got to 2012 and we started talking and by that time the communication channels was wide open and it seemed that everybody had a different maturity level. It seemed appropriate to get some rehearsals and with the first few all we did was laugh and have a good time. We were having a great time, the hatchets were buried but at that time we were still not intending to do a record, ever. I did some press at the time and I stated we would not do an album but what happened was when we were in Australia I hears some stuff that Meegs was working on and I asked what was it. It had a fresh new sound, the tones were amazing and I wanted to be a part of what he was writing. I knew we were doing the reunion tour and you can only have a reunion once so if we were going to continue to tour and have a good time we had to have some new music behind it. Since the music was fresh and not some nostalgia trip back to the 90's I wanted to be a part of it. Cut to about a year ago, we were done with our 6th DevilDriver album in 12 years, no breaks, just busting our ass, I decided I needed a break. I was going to take a few years off but right when I decided to Coal Chamber said since you have a home studio would you mind doing a new album, you can stay home with your family, no problem. I loved the music so I wanted to do it so we hired Mark Lewis and we did the album here at home. That is how we are rolling on tours, I still have my time off from DevilDriver and they wanted us to do Monsters Of Rock, sure. Do you want to go tour the U.S. for a few weeks, sure. I can do that and still be home. This way we can do it and still be fresh, some short tours, not like the old days where we would do an album and relentlessly tour for three years straight. After we are done with this we will decide if we want another tour and then another album.
Metal Exiles: I remember the break up and the bloodshed with Meegs so is that wound completely healed?
Dez: People have to realize when we got together in 1990 we had been in a band previously and livimg in an apartment together stealing top Ramon. We had toured so much that by the time 2002 hit everything that was cliché, from fame, money, drugs and alcohol, it had all broke us up as friends and bandmates. I became such a recluse I would stay in the back of the bus in the background just trying to stay away from it. It was just time to go and for my sanity I left and went and formed DevilDriver. Luckily I love to build things or otherwise I would not have gotten back into music. Building DevilDriver was a learning experience and so was getting back into Coal Chamber and it taught me this: If you take one thing out of this, if you have a chance to make up with someone in your life you need to so you will not live with that regret in your life. Karma put us back together for a reason, we made good music back in the day and we managed to make music that was different from anything else and that was hard to do back then.
Metal Exiles: The album to me is hypnotic, mean, aggressive, there are a lot of nuances throughout the album that put you in another headspace.
Dez: I think it is important to vary the tracks so you aren't hearing the same thing and we did not record into a click either. The feeling that you are feeling is the feeling of ebbing and flowing, almost as if we are playing it live because it basically is. I could not sit there for hours cutting and pasting vocals into the song like a lot of others do. So every chorus is different, every song has a different lyrical value. This record is very special and I know a lot of people say that but this has an extra shine on it, its glowing.
Metal Exiles: Let's talk about you because the titles to the songs sound like you are venting. With titles like Suffer In Silence, The Bridges You Burn and Bad Blood Between Us what pissed you off so much for you to want this out?
Dez: It is not just anger when it comes to those songs, there are so many emotions that you can tack onto those. With Bridges You Burn you might feel anger but I feel sadness. You watch someone go out of your life and you can see all of the bridges that he burns and he cant get his shit together. You have to get people like that out of your life because all they do is bring negativity into your life and you feel more positive once they are gone but you still feel sad because you were a good friend and you watch them fall apart. I.O.U. Nothing is about karma, about sleeping well. You lay your head on your pillow at night knowing you owe nobody anything. You need to be clean with your karma so you can sleep well at night.
Metal Exiles: I read somewhere that this was the first album where you weren't writing abput your band mates. Care to elaborate?
Dez: Back in the day there was so much going on with each other so it was easy for me to pick up lyrics, Dark Days is predominately about the band itself. With this record I did not have to tap into those places about the current members of Coal Chamber at all. Within my head there is a house with a lot of rooms so I have all of these rooms to go into and gather lyrics and emotions to write from and it just so happens with this record I had some dark places to crawl into that I haven't been into for a while.
Metal Exiles: How do you feel after you get this out of your system?
Dez: If you want to know how I feel then listen to the track Over My Head and listen to the end of it. Even though the music is over, I am still in it.
Metal Exiles: I know that people say that vinyl is still a niche thing but your pre orders of it sold out. What are your thoughts about Rivals dropping on vinyl?
Dez: I started collecting vinyl again awhile back and its very cool because when you listen to a record its so much warmer and I am very stoked about the fans selling the album out on vinyl but I am lucky because I had one of the gold vinyl editions sent to me.
Metal Exiles: What are the plans for shoving this record down the fans throats?
Dez: We are touring the states in July and August, make it to Australia before the year is over and go back in and record the next DevilDriver record.
Metal Exiles: Now that the album is done and out what are your thoughts on it?
Dez: It is heavy, unique and noncompromising. We did not write this album for the media or the radio because it could have been very easy to come out with five tracks for radio but that is not what we are about. I think we came up with something diverse in a musical culture that needs it.
Well Dez summed it up with one paragraph, what more do you need to make you go buy this album?
Official Coal Chamber Site
BUY Rivals
BUY Rivals On Vinyl
---