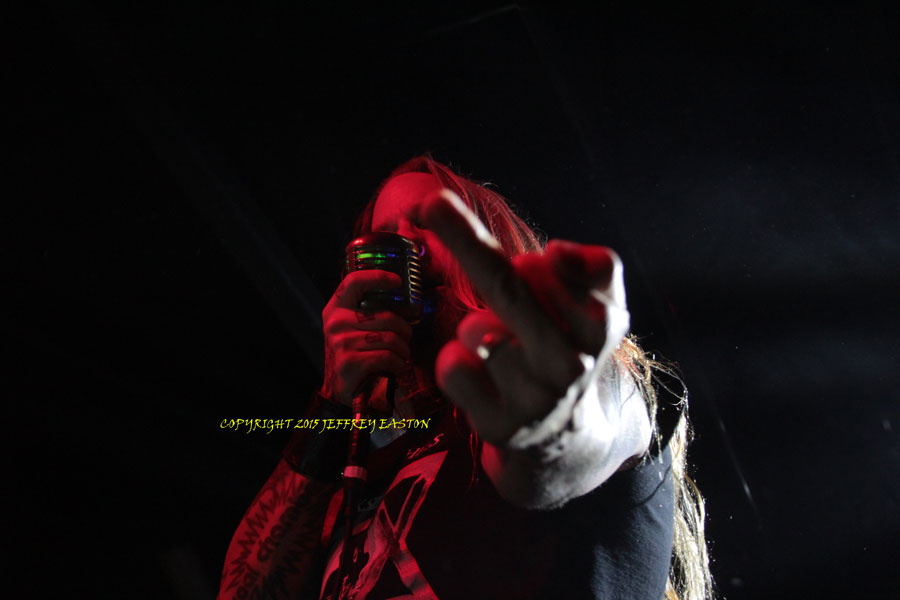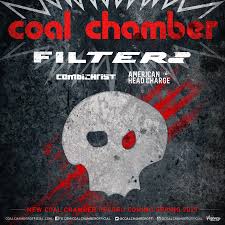 Coal Chamber/Filter/Combichrist – Ace Of Spades, Sacramento, CA 3/15
By Jeffrey Easton
Not too many bands can make the leap back into notoriety like Coal Chamber can but they have. After Dez Fafara put the band on the shelf in favor of DevilDriver and much more success he made amends with Miguel Rascon and resumed touring and now plans to drop a new record. So with the second tour after reforming they take a few legends out with them, Notably Filter and Coal Chamber and the evening was set for a night of dark music.
Setting up the evening for me was Combichrist and this was a first for me. I have been a fan for years but I had yet to catch what they can deliver live and I left their set with my jaw on the floor. Andy Laplegua is the sinister leader of this sinister gang of industrial and a showman he is. He comes out in a lighted mask and has the attention of everyone from first sighting and his first growls. Sharpening his attitude with We Were Made To Love You from the We Love You release, Andy and his band were ass deep into an electronic warfield that was is their set. Cant Control from the new album followed up and as dangerous as this is its insane to imagine a calm moment on the new record, anger is nothing but anger. Throat Full Of Glass, holy shit, the purest song in the Combichrist arsenal and they are unleashing it again. If any track out is unsettling, its Throat and they put it out in its finest fury and the crowd responded insanely. After hitting Making Monsters it was back to We Love You for more bone breaking darkness with Maggots At the Party and Love Is A Razorblade. If unsettling was part of a phrase, it would be put in a line describing a Combichrist set, they live up to the hype.
Filter, another band I had yet to see live, was something I was waiting on pins for. I wanted them to live up to my expectations but those hopes were dashed. They are still out in support of The Sun Comes Out Tonight and where as that is an exceptional LP, the tour is not. Opening the set with you walk away from The Amalgamut release was a great start as I feel that album needs more attention but it just fell about and became disjointed. Even though they played We Hate It When You Get What You Want and What Do You Say from the new album The Sun Comes Out Tonight it seems as though the energy just dissipated. The newer album is quite good and it would have been great if the emphasis stayed on the album and not Richard just standing on stage pandering to the crowd in some disillusioned manner as if he really had nothing to say but just wanted to ramble. Also what doesn't help is that the band is a revolving door, with the hired guns just seemingly hanging out and exactly zero energy put into the performance. As the set lingered it became increasingly obvious that this was not the tour for him even though he exclaimed he wanted to be in front of a heavier crowd because he has heavier music but for some reason did not really play it this time around. He did emphasize that he was in Nine Inch Nails and proceeded to play Hey Man Nice Shot which was the highlight of the set for most fans because that was the only time they made any noise, seemingly as bored as I was. If you are a classic band and you have nothing more to offer than some half ass performances of barely known material until you get to the hit then you need to stop.
And so the stage was set for Coal Chamber and a return to the fans being excited again for a band on stage. Coal chamber are legends amongst the darker corners of metal and it is a relief to have that back on stage. Dez and his freaks wasted no time and pumping up the horde with a sickening version of Loco from the debut album as well as Big Truck and the pits just opened up. Coal Chamber is so beyond heavy it doesn't take more than a few notes to destroy the floor and tonight was no different. It was then it was announced a new record was about to drop and with that they dealt O.O.U. Nothing and the fans ate it up, they are ready for a new album and this taste set them up for the rest. That being said, the catalog was attacked once again with Fiend from the heralded Dark Days album and the title track was injected into the set as well. Personally I am glad they are playing the material because so much happened to the band around the release that this album should have its due. The main focus of course was the classic first two album and they did bash heavily through Sway, Oddity, I and the immaculate No Home. I know Dez splits his time between two bands but the fire burned so heavily during this set I see a bright future for Coal Chamber.
Official Coal Chamber Site
Official Filter Site
Official CombiChrist Site
---