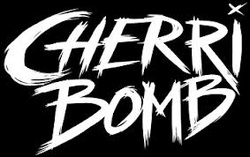 Cherri Bomb has exploded out of the Hollywood scene onto the world stage and they are not holding back. With the release of their first full length in the form of This Is The End Of Control, they have ignited the stick of dynamite that is their sound and now there is no turning back. Miranda Miller, their uber talented guitarist, took the time from band rehearsals to give Exiles the lowdown on what makes them who they are..
An interview with Miranda Miller of Cherri Bomb!
By Jeffrey Easton
Metal Exiles: When did you first pick up the guitar and what has pushed you this far?
Miranda Miller: My grandfather started teaching me guitar when I was younger as well as piano and considering how much I loved music it became a part of my everyday life. When I joined Cherri Bomb is when I first picked up the electric guitar and the way it felt to me, it felt so powerful and I felt I could get everything out through my guitar.
Metal Exiles: To you, what is the best part about being in your band?
Miranda: It is the bond that is created between you and the band members as well as the fans. Music is something that brings us together and the fact that we can all relate to the same thing is a really good feeling.
Metal Exiles: This is The End Of Control is a great record and it is played with a ton of conviction. What emotions did you possess to record this album that way?
Miranda: When we write songs we talk about the life experiences that we have had and we have all gone through so much even though we are still pretty young. It is all the emotions that we share, it is confusion, anger, hurt, happiness; whatever we feel at the time we write about. What is nice about the songs we put on the album is that you can attach any emotion to them so when we perform them live it is different every night.
Metal Exiles: What makes it different every night?
Miranda: The song that I sing on the album, Paper Doll, every time I perform it, I have something different going on in my life that I can relate to that song so I can get that emotion out of me.
Metal Exiles: it seems as though some of the material on the album is intensely personal, like Sacrificial Lamb and Heart Is a Hole. Are you guys ever concerned that the fans will read too much into what you feel or do you like having what you feel out there?
Miranda: We like putting what we feel out there as much as possible because what is missing in music is honesty and openness and it is good that we can be so close to our fans that we can put ourselves out on the line like that. Sacrificial Lamb and Heart Is a Hole, with those songs people have messaged us saying how much they mean to them and thanking us for writing them.
Metal Exiles: How long did this album take to write?
Miranda: It took a few months to put it together because we collaborated with our producers and we were writing for hours and hours each day for a few months and we were also recording them at the same time.
Metal Exiles: How much did you write for the record and how much input did you have on the album?
Miranda: I think we had about 25 or 30 songs written for the album and I had quite a bit of input. It was our album and it was up to us on what we wanted to put out to our fans.
Metal Exiles: I know you are an all-female band and a lot of people see a lot of the pop artists being controlled by managers or labels. Nobody controls what Cherri Bomb does, correct?
Miranda: That is correct. We put our foot down and we made them realize that we know what we want and they have been great to work with so far, they know we are artistic.
Metal Exiles: You are a great guitar player and produced some great tones on This Is The End Of Control. What guitars did you use on this album and who endorses you?
Miranda: We are endorsed by Schecter guitars and the one that I play every night is the Ultra 3, which is pretty much my baby.
Metal Exiles: What made you decide that Schecter was for you?
Miranda: We tried out some different guitars but our guitar tech recommended them so we went to their warehouse and they looked great, played and felt great so we talked about an endorsement which ended up happening.
Metal Exiles: Cherri Bomb has come a long way in a short amount of time with playing some great tours and festivals. What are some of the best and worst experiences from the road so far?
Miranda: WARPED Tour was the best experience to happen to all of us. Travelling with the same group of bands, you make all of these great bonds with others, it's just a great summer camp for bands. The whole tour was a great story. I do have a funny story from last year from when we were in Australia opening the Soundwave Festival opening for Bush and Stained. We were playing Shake The Ground and a vibrator flew up on stage with a phone number on it. We found out later that two guys had made a bet that if we had called the number one of the guys would have to get a Cherri Bomb tattoo but we had lost the number. The guy got the tat anyway and posted a pic of it which was awesome.
Metal Exiles: What might be one negative thing about touring that the fans might not know about?
Miranda: With the WARPED Tour, the heat can be awful. You walk outside and you just feel exhausted already and then there's the scheduling in which you never know when you will be playing or what they have lined up for you that day (interviews, signings ect..) in which this can be exciting as well.
Metal Exiles: Cherri Bomb are all under 18 and most of the clubs are 21 and over. How do you overcome a tour of America in which this is an obstacle?
Miranda: A lot of times we have played venues that we were not allowed in and it would take a few hours to get into because we had to explain that we were playing it, not trying to see the bands. We would have to talk to the right people to get in and make it happen, if at all. We did a tour with Buckcherry and we couldn't play in some of the venues so we would play acoustically outside for the fans waiting in line.
Metal Exiles: Did you still get paid?
Miranda: (laughs) No..
Metal Exiles: How do you survive on the road like that?
Miranda: We try to turn it into something fun where we say "ok, we are going to play outside to the people waiting to get in" and it ended up being a blast, we had a lot of fun, we would gather a nice crowd and we could still sell our merch.
Metal Exiles: How did you get Hollywood records interested in the band?
Miranda: We were showcasing around L.A. which they found out about and they came out to check us out. We met with them in which we told them the direction we wanted to go. They agreed with it and they have treated us like family so far.
Metal Exiles: You have played around the world but I know it must mean something to become so big on KROQ in L.A. What is it about Cherri Bomb that the station has taken a liking to that another band might not have?
Miranda: We have been listening to KROQ for years, it is always on in the car. It is something that is so surreal that we grew up on play our music now, it's a great feeling that no matter where we go it is close to home and we have always looked up to them.
Metal Exiles: On the touring piece, It must be surreal to be on the other side of the barricade of the fans knowing they are your same age..
Miranda: It is pretty crazy because I never expected to be doing that. It is cool knowing what it is like being on both sides as it brings us closer to the fans because we still go to concerts to check out our fav bands.
Metal Exiles: Last words for the fans?
Miranda: We have a video coming out for Too Many Faces which we are excited about and we are so appreciative for our fans because without them we would not be able to do this at all.
Cherri Bomb are proof that no matter the gender, you can still blow the roof off with an uncompromising sound that can peel the paint off a car.
Official Cherri Bomb Site
BUY This Is The End Of Control
---