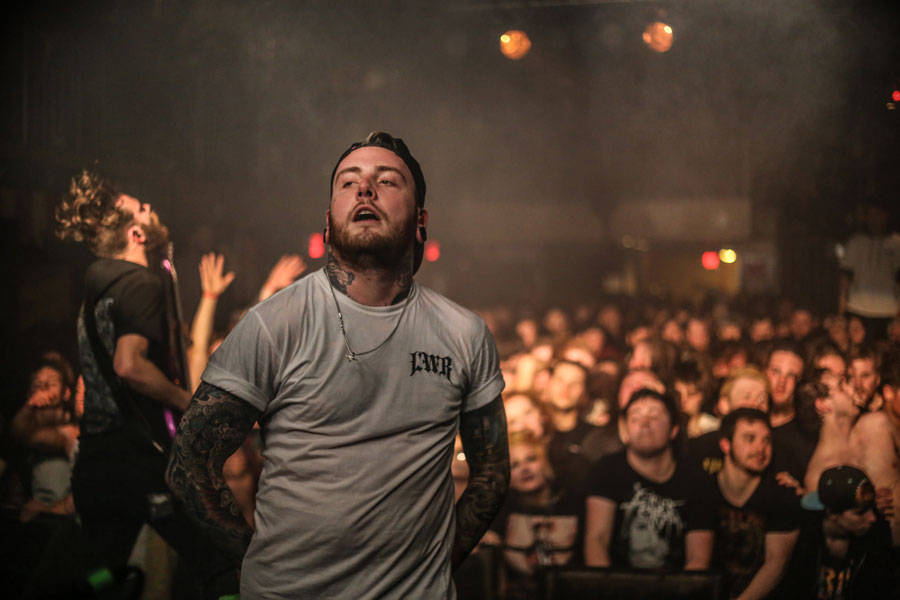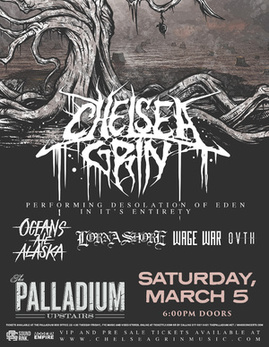 Chelsea Grin/Oceans Ate Alaska/Lorna Shore/Wage War/Ovth - The Palladium, Worcester, MA 3/16
By Rickelle Tavaras
The initial excitement I always have for every show at the palladium was at an all-time high for this tour. Chelsea Grin was on its 5th year anniversary tour for its album The Desolation Of Eden. If you've ever listened to Chelsea Grin, been to one of their shows, or even watched a video of their shows online then you know how crazy things were expected to get. Opening the night was a band called Ovth or pronounced Oath, they had a super vintage grunge sound with a new style twist that had everyone literally screaming their names. They are new to the scene but they have nothing to prove, everyone immediately fell in love with them and they were honestly so incredible for an opening act.
Shortly after that was a band I've been watching rise to popularity for a while, Wage War is also seemingly new to the scene. They combine soul touching lyrics with beats and power vocals that can motivate anyone to thrash around! Everyone else seemed familiar with them as well as they screamed and cheered when they took the stage. There were a large number of people that were singing word for word with every song they had in their setlist, one song that particularly struck me was Twenty One which is one of my personal favorites. You can honestly just see how much they love playing for everyone and watching the fans sing along with them it was such a good performance and as a newer band they proved themselves as a band that's sticking around and only going to become bigger and better. Their new album is Blueprints and I suggest you go buy it!
Up next was a band that every single person was anticipating, regardless if you were a hardcore fan or not you couldn't say you weren't excited. Lorna Shore is from New Jersey and they have that jersey attitude and that new style of metal that just combines everything perfectly together. From the way they walked on the stage and greeted all the fans you could tell that they were humble and appreciated the opportunity to be playing for all of us which isn't something you really get to see. They started their set and for the first time in the night the pit got extremely intense extremely fast, it was crazy to watch the seemingly calm room turn into a gigantic mosh pit. Then one after another crowd surfers came on to the stage and were warmly greeted by a high five or a hand shake before jumping right back into the crowd. Lorna Shore is so heavy and hits so hard but they are so much fun to watch live, it almost made me want to jump into the crowd just to get a chance to be on stage with them. Unfortunately their set ended after what seemed like such a short time and before they left the stage the went to the edge and shook and high five'd everyone's hands which was an awesome personal touch.
My personal favorites Oceans Ate Alaska, they came to show us how the UK gets down. It was my 3rd time seeing them live but never at the palladium, I was so excited it was a small venue and I could get up close and personal. They played my all time favorite song Floorboards which shows off how unique they are, they have the most incredible vocals that tie in perfectly with the guitar shredding, bass riffs and sick drumming. They're not the cookie cutter metal band that most would expect of a band coming from the UK, they have something rare that they've made on their own and so many of us cannot get enough of it. Everyone was going absolutely crazy to get a chance to sing into the mic with front man James Harrison, once they got up to him he let them sing as loud as they could. At this point the room had probably went up about 20 degrees due to the fact that it was sold out and every single person in the room was jumping and screaming along with OAA. It's impossible to not love a band with some incredible music, some great British accents and breakdowns that make your souls leave your body!
The main event had arrived; the entire room was still almost as if it was the calm before the storm. This was an extremely intimate small show for such an incredible band and for a 5yr anniversary celebration, everyone was almost on the tips of their toes waiting for Chelsea Grin to come out. If you've ever been in your car and blasted an album as loud as possible and just listened to each song perfectly flow into the next, then that's the only way I can describe what was about to happen. The entire room almost started to ache with anticipation then the chants started "CHELSEA GRIN, CHELSEA GRIN!". Moments later everyone except front man AK Grin (as fans refer to him) they screamed at the top of their lungs for him to come out, as soon as he did they started off with the beginning of the Desolation Of Eden. Each song flowed effortlessly into the next, the crowd on the other hand was nothing but a huge pit and people repeating every lyric word for word. Having no barricades meant everyone could get up on stage and get a second to take in the glory of the entire concert then dive back into the chaos. The entire club was almost dripping with condensation from the sold out venue and every single body present jumping around and screaming to every single song. They flawlessly finished every single song and surprisingly we were all still intact and ready for more and they were ready to give us exactly that. They ended up playing my all-time favorite song Clockwork and everyone including myself went wild, jumping, moshing, screaming, singing, crowdsurfing! We did it all and every single word to that song was sang so loud you could hear it from outside the venue room perfectly. They then played the popular song Crew Banger which combines some intense lyrics and the breakdowns only Chelsea Grin can deliver. It was the perfect way to end the night, everything from the line up to even the lighting and the entire rooms atmosphere was perfection. It was a tour I will never in my life ever forget and I wish I could've been in attendance for at least 3-4 tour dates, it was honestly that incredible.
Official Chelsea Grin Site
Official Lorna Shore Site
Official Oceans Ate Alaska Site
Official Wage War Site
---