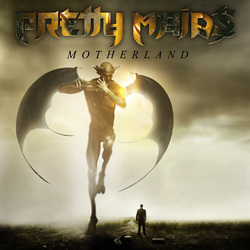 Pretty Maids – Motherland
- Frontiers
By Michael Knowles
Three years after the release of their critically acclaimed album
Pandemonium
; described as their best record in the past 15-20 years by singer Ronnie Atkins at the time of its release, Pretty Maids, Denmark's hidden gem of melodic metal, return with their new studio album release
Motherland
. Fans will be happy to hear that even with the pressure of releasing a successful follow up to 2010's
Pandemonium
, and an at times chaotic recording schedule due to a well-received European tour, Pretty Maids 13th studio album does not disappoint.
For starters
Motherland
features the same lineup as the previous record with the exception of a new bass player Rene Shades, who accompanied Pretty Maids on their last European tour, and was featured on their first ever live DVD entitled
It Comes Alive
. Shades proves to be a very nice addition to the band, as he delivers memorable bass lines throughout the new album, most notably on tracks like "Mother of all Lies" and "Who What Where When Why." With most of the previous lineup in tact Pretty Maids maintains their modern heavy riff/synthesizer driven sound that seems to have come hand and hand with the revitalization of the band. Jacob Hansen also returns as producer for the new record, again clearly providing his veteran level guidance to a band still searching for that next "big break."
Much like the case of
Pandemonium
,
Motherland
opens up with a very intricate sounding heavy tune that really sets the tone for the entire album. "Mother of all Lies" is undoubtedly the stand out track on the album containing a huge catchy guitar riff (one of Ken Hammer's finest), harmonizing synthesizers that give the song an even bigger sound, a very driving, clean sounding drum groove from Allan Tschicaja, Ronnie Atkins powerful vocals, and a chorus that you can't help but sing along to. This song was chosen as the first single for the album and rightfully so. The tempo of the record slows down just a bit with the next track "To Fool a Nation," as the keyboards come to the forefront providing a soaring riff. This paves the way for Ronnie's melodic and emotion filled vocals. The mood of the album takes a darker turn with the next two tracks: the first being a short emotional synthesizer piece titled "Confession," which features a series of troubling quotes from the notorious American mafia contracted killer Richard Kuklinski. The next track titled "The Iceman" dives into the life and mind of the famous killer, and while this song falters a bit with the lack of creativity in the lyrics it is more than made up for with musical content, featuring an almost progressive like break that shows off the true supreme musicality of the band.
Of course a Pretty Maids album is not complete without a series of ballads. To be exact there are 4 emotionally charged love songs featured on
Motherland
. In order, the titles are "Sad to See you Suffer," "Infinity," "Bullet for You," and the very memorable almost Foreigner-like closing track "Wasted." Like "Little Drops of Heaven" was for
Pandemonium
, "Sad to See You Suffer" is the most stand out ballad on
Motherland
, and one of those songs that fans will not be able to avoid playing over and over again. Although a very solid track, "Bullet for You" comes across as perhaps the worst out of the 4 due to its overly fantasized chorus that just doesn't seem to quite create that emotional connection for the listener. Each ballad on
Motherland
however contains a classic 80's Pretty Maids sound made popular on albums like
Red, Hot, and Heavy
,
Jump the Gun
and
Future World
, showcasing Ronnie Atkins emotionally-charged and versatile voice that few singers in the metal genre can compare to. At the same time each song maintains a very modern feel due to keyboardist Morten Sandeger's (ex-Mercenary) use of very powerful in-your-face synthesizer sounds, and Ken Hammer's heavy guitar riffs.
Some of the more metalhead friendly tunes featured on
Motherland
are the tracks "Hooligan," "Why so Serious," and "Who What Where When Why." All of these tracks contain super heavy almost thrash-like riffs, huge choruses, and Ronnie Atkins more aggressive vocal style. In fact these songs more so than the others display Ronnie Atkins incredible vocal versatility as he transitions from a real melodic way of singing into a much more raw aggressive style. These heavier songs blend nicely with the slower and more melodic tracks keeping the album gratifying after several listens.
The remaining tracks on the record, the title track "Motherland" and the following track "I See Ghosts," are both very satisfying catchy songs with memorable riffs, but like a couple of the other tracks, they falter just a bit in lack of lyrical creativity in the chorus.
All in all Pretty Maids' new album
Motherland
is a terrific record that is comparable if not better in a lot ways than its predecessor
Pandemonium
. With the increased use of keyboards, darker tone, and increase in melodic consistency, it is clear that even after over 30 years into their career Pretty Maids is only moving forward in their song writing ability, forcing fans to continue to question, why isn't this band more popular?
Motherland
is a must own for fans of Pretty Maids and the melodic metal genre in general.
http://www.prettymaids.dk/
BUY Motherland
---