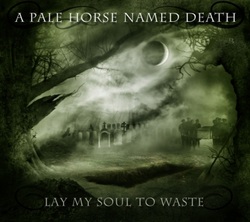 A Pale Horse Named Death – Lay My Soul To Waste – SPV
By Jeffrey Easton
When I die, I can only hope the miserable soul that has to bury me plays this at my funeral. The debut APHND was a miserable journey into the deepest regions of your psyche and I felt they could not top it but I was wrong, dead wrong. Lay My Soul To Waste does just that and in spades. My jaw still has not come from off of the floor after my first listen to this massive dirge, I am shocked. How can you crawl deeper into the depths of a wasted soul, what else was their left to pick through after the massive undertaking that was And Hell Will Follow Me. How can you possibly come out of this album without a razor to your wrist or downing a bottle of Excedrin PM from the excruciating depression that sets in after drowning in the track In The Sleeping Death or Shallow Grave? Sal Abruscato, founder, singer, guitarist, writer ect has found new depths of misery to mine for this surreal piece of work and it shows lovingly with the dirge like Growing Old and the painfully down tuned but heavy Day Of The Storm. Sal, you and your band completely out did yourselves. One of the best albums of the year, it depressed the hell out of me and with the closing track, Cold Dark Mourning, I feel as though I have nothing left to live for. So, when you go out and buy this record, go to the liquor store and get some strong stuff to down with Lay My Soul To Waste, it will help.
BUY LAY MY SOUL TO WASTE!!!
BUY LAY MY SOUL TO WASTE ON VINYL!!
---