Iron Maiden - Combichrist - As I Lay Dying - Exodus

Iron Maiden - The Final Frontier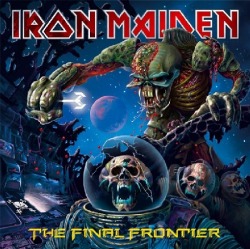 UME
by Jeffrey Easton
What has happened to the Iron Maiden that created Wasted Years, Fear Of The Dark and The Evil That Men Do? Also why have we been susceptible to a second rate band Calling themselves Iron Maiden over the past decade? It is my belief that if you have a legacy and you cannot uphold that legacy then stop. Step away from the limelight and find something else to do. The Bruce Dickinson studio CDs, especially Accident Of Birth, are far and above more of top shelf entrée than what Maiden as a whole is producing. The Final Frontier is as weak of a release as the past 3 studio albums but each time I feel as though they will step back in time, rediscover said legacy and create what they are known for, brash galloping heavy metal. I know they are much older and their age is showing but again if you cannot do it any more then don't do it. The songs are tired, no life, no action, nothing to them but a plodding rhythm that never picks up. The worst of the bunch is the LP closer, When The Wild Wind Blows. This "epic" nearly 11 minute track explains what I mean about this album. The instrumental guitar jams that infect this song are mind numbingly slow as if they cannot play above this speed any more. The other down point of this record is the production. What happened to Kevin Shirley? Has he gone deaf, can he not hear anymore? Bruce Dickinson is one of the best vocalists that metal has offered and it sounds as if he is singing behind a filter? There is no brightness to his voice, as if he was across the room trying to be heard. Listen to the record, you will hear it as well as I am not the only one that I know that has voiced an opinion. I respect what Iron Maiden brought to the metal genre and I respect that without Maiden many bands would not exist but that train has left the station and it is time for them to go home.
BUY THE FINAL FRONTIER (link is to the LP version, if you buy it at least you will have a collectible)
---
Combichrist - Making Monsters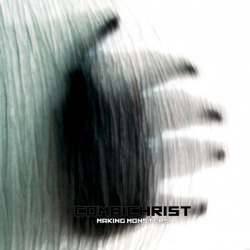 Metropolis
by Jeffrey Easton
Gear up you nuclear war fiends for your soundtrack is here. The start of WWIII can commence because the music to nuke the world to is within grasp. Combichrist has unleashed onto the world a sickening display of guttural sounds that will make the purist of industrial maniacs understand that this music is not done evolving. Andy LaPlegua is seemingly the consummate creator of demons to infiltrate your innermost thoughts and turn them into disgusting wants and needs. There are contrasts on this record that show Andy's range and it is nice to hear rage to cold and calculated within minutes. From the "lets destroy a country" rage on Follow The Trail Of Blood to the decidedly cold swagger of Throat Full of Glass, Combichrist owns it all. If I may say that if Lou Reed did industrial, Throat Full Of Glass would be it as it seems as Andy is channeling the streetwise sensibility that Lou did 40 years ago. Emotions run high through the disc, Slave To The Machine, Just Like Me and Forgotten, all unleash a rage that can only spell the march of destruction that WWIII will cause. Monster:Murder:Kill is a twisted turn into electronic vocals and even more disturbing music and one of the best tracks on the record. Combichrist DO NOT disappoint and with the closing tracks, They and Reclamation, make YOU want more, not want to turn it off. Along with the new Front Line Assembly, making Mosters is set to turn the industrial and techno world on edge. Remember, before you put your finger on the button, cue Making Monsters and let the horrors commence.
BUY MAKING MONSTERS!!
---
As I Lay Dying - The Powerless Rise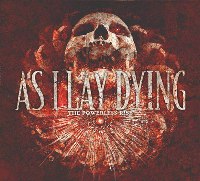 Metal Blade

By Miguel Blardony

Having outlasted the very genre they helped create, As I Lay Dying return to preach their melodic gospel with an eleven song affair that retains the band's timeless ingredients without resorting to breakdowns and 'hardcore' B.S. This time a round, the quintet feed us the grit of honest-to-goodness bare knuckle thrash metal. That said, prepare for a torrent of jagged rapid fire riffs and the impeccable seismic percussion rumbling from Jordan Mancino, who's quite the demon behind the kit. Eschewing a dull intro, As I Lay Dying unleash hell for the opening salvo "Beyond Our Suffering" whose otherwise encouraging message (oh right, these guys are Christians) is crushed under the weight of the band's overwhelming aggression.

A generous helping of melody courses through the uplifting "Anodyne Sea," which is a better song than its predecessor for several reasons; chiefly because it has distinctive character, or call it catchyness. But woe to the listener, because As I Lay Dying perform on auto pilot during the album's forgettable stretches. It's when those familiar riffs, thrash metal tempos, harsh vocals, and clean tempos just reek of been-there done-that? Guilty of rounding the wheel they may be, however, the less sterling cuts on "Powerless Rise" are saved by several impressive anthems. Chief among these is the vibrant "Parallels," the epic "The Only Constant Is Change," the raging thrash metal bombardment of "Condemned" and the farewell adieu "The Blinding Of False Light."

Ever a professional unit, when it comes to matters involving production only the best will do for As I Lay Dying. Call them trendy or whatever, but they've endured the worst barbs with admirable grace and come out a better band. As I Lay Dying are a reliable and talented group who just proved they've got staying power on their side. This new album may not be pushing any boundaries (why bother?), but what AILD do, they do perfectly.

That said, the band themselves deserve to be singly praised. Foremost is singer Tim Lambesis, whose songwriting talent is fast making him the genre's Tobias Sammet, especially after the success of those inane Schwarzenneger inspired albums. The Nick Hippa-Phil Sgrosso guitar tandem aren't to be trifled with either as elegant guitar are well within their repertoire on the present material. Let's not forget the rhythm section, because Jordan Mancion and Josh Gilbert are a tight pair. In a nutshell: it's all peaches!
---
Exodus - Exhibit B: The Human Condition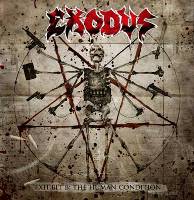 Exodus-Exhibit B: The Human Condition-Nuclear Blast

By Miguel Blardony

Some say there are good and bad years for metal. Like 2008 was way better than 2009. But without a doubt, every time a fresh Exodus album reaches store shelves and those pestilential download blogs (thanks for the music anyway), it makes all the other humdrum releases bearable. For this much hyped sequel to the definitive "Exhibit A" from 2007, the Exodus lads have decided to balance their repertoire with epic seven minute chunks of blistering thrash and modest cuts that deliver the goods quick.

"Exhibit B" gets started on a powerful note as the soothing hum of acoustic guitars sets the foul mood for the ensuing musical carnage. "The Ballad of Leonard And Charles" doesn't get underway till a suitable segue of bubbling guitar leads ignites our appetite for its manifold delights. As the guitars rip and drummer Tom Hunting hammers away behind the kit, Rob Dukes, Gary Holt, and the rest of the gang rampage at 250 mph. Observant ears will note how the song's opening riff was actually premiered at the end of the last album. In case you missed it, pop in "Exhibit A" and keep it at play mode past the closing track. There. Can't miss it. It's indicative of how long Holt has been noodling around with the present material.

Too bad the material at hand does run pretty thin at times. "Exhibit B"'s problems surface on its first track when the incinerating pace gets rather tedious. The same disappointment pays a visit to "March of the Sycophants," "Democide," "Burn, Hollywood, Burn," the brutal "Nanking," and "Hammer And Life." Even on the album's high water mark "Class Dismissed (A Hate Primer)" Exodus' talent for musical violence doesn't save your attention from wandering as the riff-driven whirlpool lumbers towards a screaming climax.

On the flipside of such passable cuts are the glittering beacons of extreme metal that are, well, "Class Dismissed," the vitriolic "The Sun Is My Destroyer" where the band spin a terrifying yarn about the undead and their nocturnal activities, plus the two hit finisher "A Perpetual State of Indifference" followed by "Good Riddance" pissing on the flames that incinerate every last vestige of humanity on earth. Oh right, there's still a bonus track called "Devil's Teeth." Meh.
---