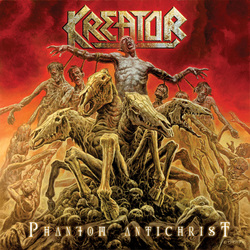 _
Kreator – Phantom Antichrist – Nuclear Blast
By Jeffrey Easton
Violent storms often begin peacefully and Phantom Antichrist is of no exception. Opening in a calm manner, Mars Mantra lulls you right before the title track grabs your ears and splits them in two. Since coming back with Violent Revolution, Mille and company have progressively put out one thrash masterpiece after another and Phantom is no exception. Aggressively attacking the material with deafening blast beats and spinal cord shredding riffs, Kreator blitzes through the manic From Flood Into Fire, Your Heaven My Hell as well as the monumental United In Hate and The Few The Proud The Broken. Anger is a nasty fuel for a metal record and it is abundance here as felt throughout the album. United In Hate is the darkest Kreator track to date, I can feel Mille's wrath through the speakers as he spews the lyrics to this decibel bending anthem. Kreator explores the problems we are facing as a united planet as only they can do it and sets it to a bombastic yet melodic tapestry of blistering metal. Look deeply into the lyrics of this album, this is just not a thrash assault, it's a thought process of our epic downfall as a human race. As dark as the album opens, it closes with the somber Until Our paths Cross Again, a mental journey that you need to take with the band. A massive horns up for this record as Kreator have outdone themselves again with what I feel is the best record of their career. I can also Guarantee you this will be the number ONE metal record of the year.
BUY Phantom Antichrist!
BUY Phantom Antichrist on Vinyl!
Official Kreator Site
---