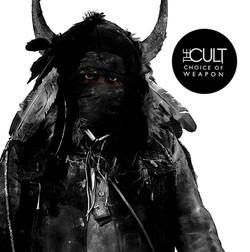 _
The Cult – Choice Of Weapon – Cooking Vinyl
By Jeffrey Easton
Finally, not since Ceremony has The Cult released something worthy of their name on it but with Choice Of Weapon they are finally back. Ian Astbury along with longtime running partner Billy Duffy have cranked out one of the best if not The best record in The Cult discography as the songs and the sound is solidly there. Honey From A Knife is a head rattling opening cut as Ian firmly puts his foot on the gas that is Choice Of Weapon. The Wolf, with its churning guitars and heavy as hell backbeat, is an intoxicating piece of hard rock mastery. For The Animals recalls The Cult of yore, that classic sound that drew you into The Cult to begin with when they were churning out the likes of Edie and She Sells Sanctuary. The Cult always had that dark moody side and with Elemental Light they have reached nirvana, possibly one of the best songs that has come from the pen of Billy and Ian. Slowing down is never an issue and with Wilderness Now is a nice respite from the full throttle that was Amnesia before it and it shows they can still balance out their sound. This Night In The City Forever closes out the album and it seems as if the Doors reincarnated themselves inside Ian's persona as it is a dark brooding track that resembles the Doors at their bleakest. After a few albums that did not reach their potential it is great to see that The Cult still has the fire in their core and Choice Of Weapon is what their arsenal needed.
BUY Choice Of Weapon
BUY Choice Of Weapon on Vinyl!
Official Cult Site
---