Ill Nino - Halford - Carl Palmer - Haarp

Ill Nino - Dead New World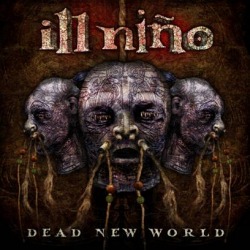 Victory
By Jeffrey Easton
If there was only one or two riffs known to man this band would be king of the world but that is not the case. Ill Nino specializes in not changing their sound and with this being their 5th album you would think diversity would start creeping in. After one spin through Dead New World I felt as though they were going through the motions to get a new CD out to get paid and go back on tour. The song titles are so reused as well, "The Art Of War", "Against The Wall", "Ritual", I am glad they were as inspired with song titles as they were with creating the music. Listen, there is a reason their record sales have been sinking with every release since Confession and it is the one dimensional tripe like this that's doing it. I wish they would get reinspired again and try something out of the norm rather than playing it safe to the kids that will like them no matter what. There are better records out than this, go find one.
Dead New World
---
Halford - Made of Metal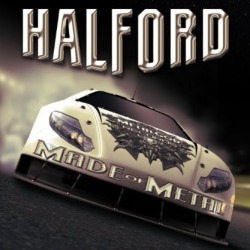 Metal God Records
By Jeffrey Easton
With Rob Halford's new venture into his solo career, he has come up with his most diverse solo CD to date. Made Of Metal is a solid piece of metal and is worthy of the Halford name in every way. The opening track, Undisputed, has an Iron Maiden flair to it with the galloping guitars and the melody lines that are so metal. Rob does Maiden better than Maiden is doing themselves. The gears are shifted to a full raging power metal romp with Fire And Ice, his fastest and heaviest offering outside of Fight in my opinion. In keeping with the aforementioned diversity, Made Of Metal, the first single, is a solid rocker ala Turbo and is a nod to NASCAR if you will and the need for speed. The gears again shifted with tracks like Like There's No Tomorrow, We Own The Night and Heartless as he takes his own version of commerciality to the brink while still being the Metal God. Another corner is turned with the bluesy Till The Day I Die that features an amazing guitar exercise I have yet to hear in a Halford disc. It is good to see Rob step back into his solo forum and taking familiar shredders like Metal Mike and Roy Z back with him. If you have a need for metal from the classic vein then you NEED made In Metal and with 14 new killer tracks you will have your fill here. Rob Halford is THE Metal God and he still proves it after 35 years.
BUY MADE OF METAL!!
---
Carl Palmer - Working Live Volume 3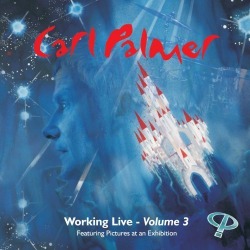 Eagle Records
By Jeffrey Easton
Carl Palmer, the innovative drummer from Emerson Lake and Palmer fame, has issued his third Working Live disc and the results are phenomenal. His live attack features stellar musicians in the form of Paul Bielatowics on Guitar and Stuart Clayton on bass. His take on ELP material has nothing short of phenomenal and his take on Bitches Crystal and Pictures At An Exhibition follow suit. Their instrumental takes go deep and bring out the true feel that only the original drummer can tap into. They up the ante further with their takes on Nutcracker suit with their own Nutrocker and the Palmer arranged Romeo And Juliet is surreal. The theme to Peter Gunn is given a reworking and the amazing Palmer original In A Moroccan Market. If progressive music moves you then this will amaze you. I have always had respect for what ELP did and for Palmer to take it further with his Working Live series is nothing short of spectacular.
BUY WORKING LIVE VOL. 3!
---
Haarp – The Filth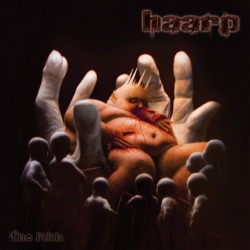 Housecore

By Jeffrey Easton

As the years roll on it seems every dark band wants to take a stab at the doom genre but sometimes we just come a little short. Haarp, who are signed to Phil Anselmo's Housecore label, have the makings of a good doom n gloom band but they never quite arrive at the right destination. Each of the Nine tracks keep the same flaccid pace, the same vocal pattern and the same grooves. There is no interesting variation at all as if the band was only inspired enough to go into the studio to turn the mic on. The lyrics contained in tracks like A New Reign, Peerless and Here In The Dark are interesting enough but the musical accompaniment is just not there. Shaun Emmons needs to find a diversity in his voicings or risk not having a long career. Sickening doom for those who like the same pace and zero innovation.


---