Angels of Babylon - Kreator - We Wish You a Merry Xmas
Angels of Babylon - Kingdom of Evil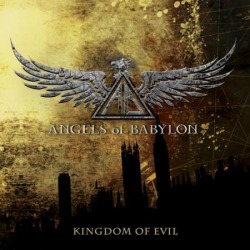 Burnhill Union
By Jeffrey Easton
Power Metal has many different forms but it usually falls under the idea of good or bad, no inbetween. This falls under bad. There are 13 tracks of pure boredom teaming on this disc and even with the musicianship that is displayed here it just never takes off. Plodding song structure, overused themes, uninspired guitar lines and flaccid vocal tracks all make for an uninspired CD. Megadeth's Dave Ellefson makes an appearance on this CD and not even he can save it from the delete bin. These days you HAVE to catch the metal fans attention to make a splash in the music market and this just doesn't do it for me. This genre is just so overdone and where as there are good bands, this is not one of them.
Buy Kingdom Of Evil
---
Kreator - Hordes of Chaos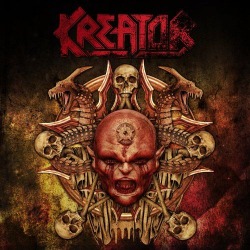 Ultra Riot Edition – SPV
By Jeffrey Easton
Kreator has been, continues to and always will be the premier German thrash band. They started releasesing records at about the same time as Megadeth, Exodus and Metallica so they were there at the beginning and they are still here terrorizing fans worldwide. That being said we have one of their best records to date, Hordes Of Chaos, released in 2009, rereleased as a sinister box set. This dark piece of work was maddening enough with tracks like Destroy What Destroys You, Amok Run, To The Afterborn and Radical Resistance amongst others. Why should you buy this album again considering this is still new? For starters it has a great demos disc featuring a cover of You Are The Government by Bad Religion, Hordes, Radical Resistance and a World Without Religion in the mix. There is also a poster of the new artwork, a sticker, a postcard and a photo book from the recording of the record. This is deluxe packaging at its best and a true collector's item. It is more Kreator than you asked for but it's all the Kreator you need. This is maximum violence on a few CDs and it is worth adding to your collection.
BUY HORDES OF CHAOS!!
---
We Wish You a Merry Xmas - Various Artists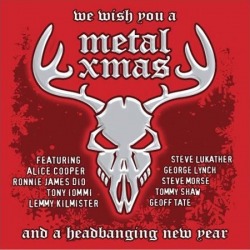 Armoury
It is almost Christmas time again and you what that means, you are getting a great dose of metal in the Christmas vein! Once again Armoury has released THE Christmas record to have for all metal heads. This year is different though with the passing of our beloved Ronnie James Dio, his wife took the role of executive producer and his role as singer of "God Rest Ye Merry Gentlemen" is preserved forever on this series. Dio is not the only stand out on this disc as so many singers rise to the top with their performance. Take Geoff Tate with "Silver Bells", Joe Lynn Turner on 'Rocking Round The Christmas Tree", Jeff Scott Soto on "We Wish You A Merry Christmas" and Tim Owens on "Santa Clause is Back In Town". These are classic singers but they stay true to themselves and deliver steller performances. Chuck Billy, the thrash titan, turns in an incredible performance with "Silent Night' and Alice Cooper reigns as king with his version of "Santa Claws Is Coming To Town". Now this is just not a singer's affair in no way shape or form. The shredders are present with the likes of Steve Lukather, Bruce Kulick, George Lynch, Carlos Cavazo, Tony Iommi as well as Craig Goldy. This year there is a bonus CD with four extra tracks being added to the CD pressed list this year. They are featured as O' Christmas Tree with Doro on vox and Michael Schenker shredding behind her, Auld Lang Syne: performed by Girlschool, Frosty The Snowman with Steve Kudlow from Anvil and Rudolph The Red Nose Reindeer with Dez Fafara and Doug Aldrich manning the controls of the song here. This is the perfect package for those who are not resigned to the traditional Christmas mix but need something different, a kick in the butt if you will. This is a needful thing for the metal completest and now Christmas time is your time.
BUY WE WISH YOU A METAL XMAS!
---