Pearl - Magni - Chambers - 13th Floor - Eyes Set to Kill - Front Line Assembly
Pearl - Little Immaculate White Fox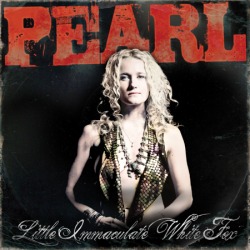 R.E.D Distribution
by Jeffrey Easton
The female vocalist, many versions exist but the problem is many lack soul, just like the male counterpart, you just cannot feel the what they are singing. It seems most modern singers lack feel, they just vocalize what the label puts in front of them and get their paycheck. Pearl Aday, front woman for her band Pearl, has arrived to change that. Her debut record, Little Immaculate White Fox, drips of soul and has enough passion to rip your soul out. Imagine a cross between Bonnie Bramlett and Janis Joplin set to a blooooozey hard rock backdrop and you have the sound. Her husband, Scott Ian, is in her band but not a single Anthrax riff in site. He showed a different side of his guitar skills, tasty guitar sonics do ensue. If this was 1972, this record would fit right in as it does right now, this record drops into any taste for feel. The tone of the album ranges from the balls out fire of Rock Child and Check Out Charlie to the slow heart wrenching burn of My Heart Isn't In It and Worth Defending. Check Out Charlie features the guitar snarling of ted Nugent as a guest and My Heart Isn't In It should have come with Kleenex. Nobody, another standout, has that mid 70's feel and the choruses are as catchy as a cold. What I am I trying to say with these accolades? Buy this record, that's what. This is what solid rock n roll is about and she belts it as good as anybody can…..but with gut wrenching soul. This will not leave your CD player for a long time.
BUY IT!!!
http://www.cheersloverock.com/
---
Magni - S/T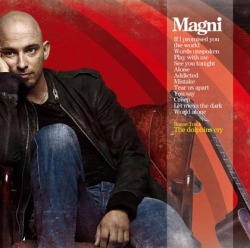 Spectra

by Jeffrey Easton

What defines AOR these days? Is it still the mellow rock attitude on the ballads and the "I can turn my guitar up to" on the rock to radio tracks? If that is the case then Icelandic singer/songwriter/guitarist Magni Asgeirsson has the AOR album of the year. Magni has been around, fronted bands in his native Iceland and was on Rock Star: Supernova and toured with that as well. He has the resume down but does he have the pipes to pull it off and go further? If this record is any suspect I would say he would be a worldwide superstar. The opening track, the acoustic based If I Promised You The World, is possibly the prettiest, most sincere track I have heard in ages. If there is a love song compilation in the near future, this is the lead off track. The acoustics laced with a stunning electric fill sets the tone for his haunting vocals.. The album does let loose and turns the volume up with Addicted as well as Alone, two songs that could dominate rock radio, so we go back to the AOR thing mentioned above. Words Unspoken and Tear us Apart bring us back around to his more thoughtful side so the bookends are never ending. The commercial aspects of this album are limitless, the musical ability of his band and his talents are endless so it us up to you, the record consuming public to make it happen. Check him out if you are up his alley, this is an event not to be missed.

Buy It!
---
Chambers - Old Love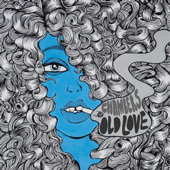 D.I.Y.

By Rob "Bubbs" Harris

These days, the media has us pretty much convinced that everything coming out of New Jersey is pure filth. Look at all those television shows about bright orange wierdos with horribly annoying accents who spread disease from bar stool to bar stool. Seeing shit like that makes me think that the Garden State is withered and dead. However, I have recently been turned on to something from New Jersey that is quite filthy and dangerous, but in as positive a way as possible. It would seem that the five whitest dudes in all of "Joyzee" have come together to form a coalition of musicians dedicated to eradicating the vile disgusting rumors that everything from the area is grotesque douchebaggery.

Chambers aren't in the least little bit concerned about whatever trends and scenes surround the sleepy little town of Union, they just want to rock the fuck out. I've been trying to find some bands to compare these guys to, and I came up with a few that sort of fit the groove like Sweet Cobra, Cancer Bats, Clutch and Bison B.C., but even then, it still didn't seem as if making comparisons would do any good here. The music contained on "Old Love" is as aggressive and violent a beast as you are likely to encounter when venturing out to find gnarly music. "Pig" kicks things off with a Hudson Hawk uppercut to the face and puts you on your ass to make sure you don't go nowhere until Chambers are done with you. There's something irresistible about good old fashioned three chord rock'n'roll a la AC/DC, and these dudes know it to be true also. The riffs on this album aren't the kind that will have prog nerds busting their balls to learn the tab, but they are heavy and hard enough to put a serious dent in the ego of any aspiring rocker who thinks they can just pick up a guitar and make it sound this good.

The need to pound beers comes naturally as you listen on. I don't care if you're the snottiest punker, or the most elite metalhead, there is no good reason you will be able to give me as to why you wouldn't love this fucking record. There is no categorizing this band unless there is an aisle in the record store labeled "Fucking Gnarly". I have no idea why these dudes aren't signed, but it doesn't matter anyway. This album sounds much better than a lot of the crap that the majors are churning out from all those bloody hardcore bands. My only complaint on this band is the fact that they aren't playing in Florida any time soon. Other than that, I couldn't be happier with the sweet felling of "Old Love".
---
13th Floor - S/T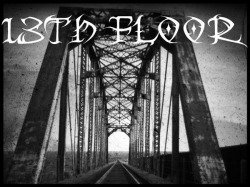 by Jeffrey Easton
I lived through the 90's, barely, and I survived. Grunge was king but at least I had my Alice in Chains and Soundgarden to live by. So many bands ruined the scene, made it unbearable to turn on the radio and Seven Mary Three was one of them. Now, it is 2010 and I have to live with another band hitting the scene trying to sound like a worthless 90's band? 13th floor? Nice name, if you keep this sound at least you will have a tall enough floor to jump from and off yourselves by. Again, the 90's were bad for me, dark times, dark times, nothing seemed to drag me out musically so here I am a music critic per se and I get a CD rehashing that? Five tracks of post Pearl Jam, Post AIC, post lets dawdle in what's left over let's just shove whatever is shot out by the labels and play on the radio. It's nice to be nostalgic but hey let's wait another decade before we look back on the 90's, maybe by then I will be out of the business and will not have to listen to this crap. They are catchy, so if catchy does it for you then I guess you will listen to anything…..
http://www.myspace.com/13thfloormusic
---
Eyes Set to Kill - Broken Frames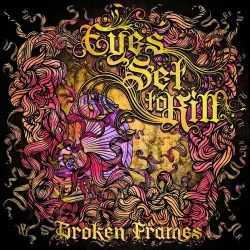 Break Silence
by Jeffrey Easton
Wow, three records in and they sound like veterans. This band from Arizona is about to own the music scene in more ways than one with beauty, sick riffs and a musical armament to kill anyone in their sites. They come prepared with the best songs to date, these two fems know their business. Anissa and Alexia create a bass , vox and guitar duo that belt out tunes that make the lower form bow in their presence. All You Ever Knew, The Listening, Play The Part, Falling Fast etc etc it goes on and on…. A hardcore female fronted so to speak act that breaks the scene open wide. Every Song on this third release grabs you by the throat and does not let go at all. Do they pull back a little? Yes, once, with the track Ryan….. Alexia bears it all in a heart felt vocal and she does so admirably. She has a stunning voice and it makes you wonder, do they need the hardcore vox to make an impact? I guess in their realm they do and they do make a massive impact overall and overall I love their third release. This is a band going places and if you miss the boat you will drown. Get on board while you can, this band will be around for a long time to come…….
BUY IT!!
http://www.myspace.com/eyessettokill
---
Front Line Assembly - Imrpovised Electronic Device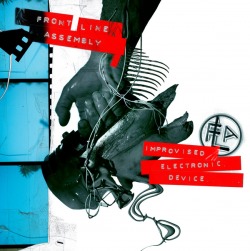 Metropolis
by Jeffrey Easton
Now lets get this straight! Front Line Assembly ARE Electronica, ARE Industrial, ARE Metal! Now that we have that out of the way, we can continue with this review. This record has sent me to another place, out of my God Damn Mind. An industrial piece in 2010? Unlikely as the genre is worn down UNLESS it is Frontline Assembly……. Their new record, many into their illustrious career, does not let down. I find it hard to sift through the electronics to find something that stands out because it all does. There is not a single track that lets this journalist down, period. The aggression, the fact that he included Al Jourgensen for the massively demonic track Stupidity, must highlight. Bill Leeb has created yet another monstrous album that could be at home at a rave or playing with a metal band. The sheer onslaught of riffs from Pressure Wave compliments the dance floor rhythms of Shifting Through The Lens perfectly. The musical elements that were used to put this record together transports the listener to an alternate dream state, it sucks you in and puts you in your own fantasy, a psychotic trip if you will. This is THE industrial record of the year, let that resonate, period.
BUY IT!!
http://www.mindphaser.com/
---