The Cardiology Tour with Good Charlotte and Forever the Sickest Kids - House of Blues, Anaheim, CA 3/11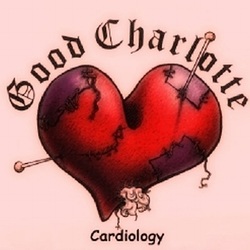 By Jeffrey Easton
The Cardiology Tour was coming to an end but not before Forever The Sickest kids and Good Charlotte laid a disarray to the stage in Anaheim. FTSK took the stage and it was on and the crowd went bat shit crazy. Touring in support of their second full length record, easily titled Forever The Sickest Kids, they had a lot to give the fans and that they did. Hitting the stage with Keep On Bringing Me Down was a massive intro and it did not let up as they plowed through Life Of The Party, Whatever Happened To Emotion and Crossroads. All great stuff from their new record which if you are a true fan you own by now but if you have not bought into their brand of hard driving rock this is your admission to the party. The older material of course was injected into the set with cuts like Woah Oh, My Worst Nightmare and Believe Me I'm Lying amongst a few others. They kept the fans screaming for more as their set went on as their fan base is uber dedicated to their band.
Good Charlotte closed the festivities and close them well they did. They are touring on a huge sounding record in the form of Cardiology and they had the House Of Blues packed! From the onset they hit the back catalog with raggers like the Anthem, Girls And Boys, My Bloody Valentine before they hit the new record with the tracks Silver Screen Romance, Like Its Her Birthday and Sex On The Radio. Joel Madden had the crowd in his grip has he convey his appreciation on the crowd and told stories from his past that connected with the songs. He is one of the true front men in his genre which is why Good Charlotte continue to sell records and sell out venues, because he can make those crowds his and keep the fans into the band. They closed the show out, expectedly, with Lifestyles which sent the fans home still in a frantic mood, go out on top they say which is what they did…
BUY FOREVER THE SICKEST KIDS!!
BUY CARDIOLOGY!!
---