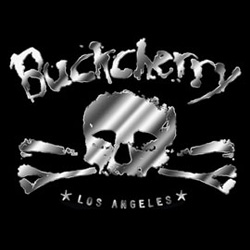 Buckcherry is this generations Aerosmith. They have the albums, the songs and the chops to keep them going for years and become a staple of the Global rock scene. On a recent festival stop I had the chance to get into the mind of Jimmy Ashhurst, bassist extraordinaire of Buckcherry, for a quick chat behind Confessions and what keeps them going.
An interview with Jimmy Ashhurst of Buckcherry.
By Jeffrey Easton
Metal Exiles: What do you think of Cali finally getting a Midwest type of festival like Aftershock?
Jimmy Ashhurst: I think it is wonderful. This is the one area when we are touring the states where we have trouble finding venues that are adapted to what we do. We live in Los Angeles where we have watched many of the clubs shut down and that's a shame because the live venue is what creates a social scene for bands to start out of. The fact that there are so few of them left is probably why we are not seeing many new scenes pop up. It is encouraging to see something like Aftershock happen, I wish something like this would happen in Los Angeles.
Metal Exiles: I used to live in S. Cal and I know that the Key Club just shut down.
Jimmy: It is a shame because the Los Anegels scene was so great because of the amount of venues to play and there was an active viable scene where like mined people would gather and bands would form. To me it is hard to form bands out of social media and I think that is why we are seeing a smaller crop of bands coming out.
Metal Exiles: To me Confessions is the best Buckcherry album to date and one of the darkest. What made you guys do a concept album like this?
Jimmy: Josh really wanted to explore a story that was related to his childhood. He had some family issues and emotions that he wanted to get in the songs, subjects that weren't along the party themes. We wanted something deeper and with substance, we tapped into Josh on this album and it all came out at once.
Metal Exiles: What did you bring to the album?
Jimmy: I spent a lot of times working on the bass parts and in this band you have a lot of room to explore creativity on my parts. You can fall into a rut of everybody playing the root and the same chords but we try to play off of each other and find some depth in what we do.
Metal Exiles: The Seven Deadly Sins are explored on Confessions and those are basically the life of a rock star. Are there first hand experiences on this album?
Jimmy: I think everyone in the world has violated one of the seven deadly sins at some point. I think even without the rock and roll and the touring we have managed to violate all of them with lust having the most extreme results. Sometimes that's the best and the worst as well.
Metal Exiles: is there anything that resembles you personally on this album?
Jimmy: I contributed to the writing and I am really proud of the song Pride, that song resonates with me lyrically. Josh tapped something that is universal but it does relate to me quite a bit.
Metal Exiles: I know there was supposed to be a movie coming out of this. Will that ever happen?
Jimmy: that was the plan but at the same time there were business changes going on but with our tour schedule constant we could not find the time to do it nor find the financial backing. We did not want to go for the crowd funding that some bands are doing these days, we would have wanted to do it ourselves. It might be something that surfaces in the future but at the moment it is going to be on the back burner.
Metal Exiles: The original incarnation of Buckcherry seemingly came and went in a heartbeat but the comeback that you are a part of has lasted several years now. What is the difference between that side and this one?
Jimmy: I have been in bands in the past as well as the others and it makes you aware of what it takes place to get along in such close quarters. It is about patience and respect for others space and I do not know about the guys that were around before, maybe they had different expectations. This is what it is, it's a marriage, you have up and downs and you need to work through them because the sum of the parts is greater than each guy.
Metal Exiles: It just seems they were white hot and then done and here you guys are several albums and years later and still moving along.
Jimmy: At a certain point we just reached a certain a level of consciousness with the band itself. The fans know the band after years of touring nonstop and we have a viable road business. We do not rely on record companies to much and never take tour support as we are self sufficient which I think has a lot to do with it.
Metal Exiles: What comes up next for you guys?
Jimmy: Next we have a break, which we need and then it is off to Brazil to open shows for Aerosmith along with some other cities and South America and then to do the Euro's as well as Australia.
Confessions dropped on an unsuspecting crowd and with that monumental release they have only grown in stature as one of the world's most dominate road bands.
Official Buckcherry Site
BUY Confessions
---