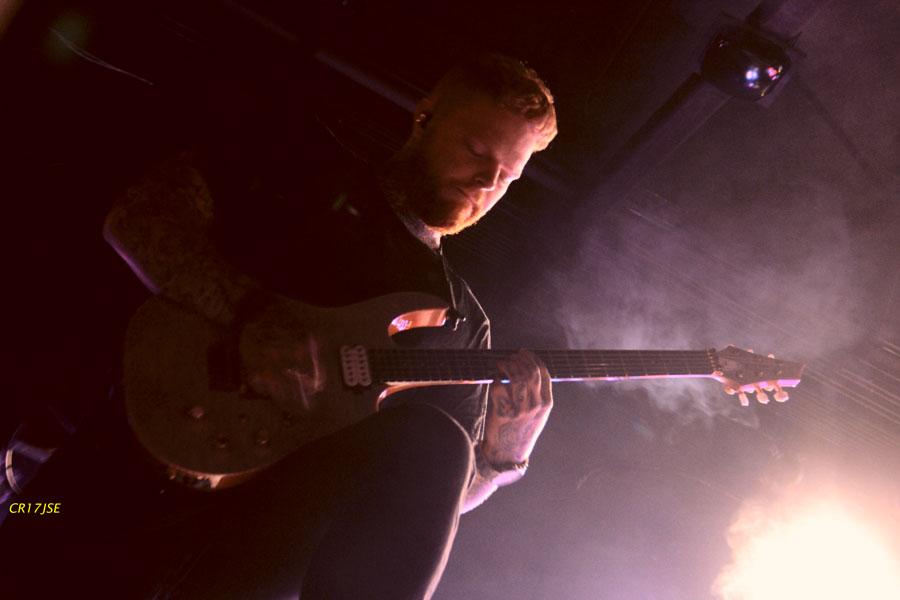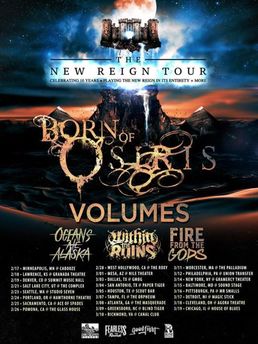 Born Of Osiris/Volumes/Oceans Ate Alaska/Within The Ruins/Fire From The Gods – Ace Of Spades, Sacramento, CA 2/17
By Jeffrey Easton
Born Of Osiris has been grinding it out for the past few years to finally get to the height of headlining and commanding thousands of fans to recognize the sheer talent that resides within their musical abilities. With their new record, The Eternal Reign, a rerecording of The New Reign from 2007, just dropping, they had a reason to be on stage and take out a diverse group of bands with them.
Opening up the night was Fire From The Gods, one of the newest and hottest bands to break out in the last few years. Led by AJ Channer, they have an explosive arsenal that will ignite any venue they enter. AJ uses the stage as a pulpit as he spews the sermons from the new record, Narrative. If there is a new breed of metal kicking up, they are definitely at the forefront of it. With the likes of Excuse Me, End Transmission and Pretenders boiling off the stage they could have gone on for another hour with how they were received, take note of their existence.
Next we had metal stalwarts Within The Ruins ready to devastate the stage and that they did. Churning out some sickening metal for over a decade, they had so much to bring to this tour and that they did. Tim Goergen took command of the stage while guitar slinger Joe Cocchi absolutely shredded through the set. They just dropped Halfway Human on eOne music and it needs to be listened to, loudly. From the opening of their set with Terminal to Calling Card, they had a massive pit shredding the floor and fans hitting the barricade. They threw in the new track Beautiful Agony and it was as well received as the older stuff, this band has no expiration date.
Oceans Ate Alaska have been through some changes and one of them is a new singer in the form of Jake Noakes so even though that chemistry is still gelling they still killed the stage. Having completed Warped 2016 and riding high on their Lost Isles release, it is nothing but up for them and not even a singer change can stop them. Jake fit right in and they blasted Ace Of Spades with Clocks, High Horse, To Catch A Flame as well as Vultures & Sharks to the screams of their fans. I want to hear a new album from them soon, they need it to keep that momentum building.
To make things different, Volumes enters and it's a different show. They have a different idea of heavy music and while Gus and newly minted singer Myke Terry exchange their vocal blows Diego Farias lays down some thick sickening guitar riffs. They are pure metalcore and you could Feel it as they blasted 91367, Left4dead, Edge Of The Earth and Wormholes to the few fans that were standing as most of Ace Of Spades was a massive pit. The last single, Feels Good, is a great indication of where they are going with their upcoming Fearless released album Different Animals and their faithful loved every note. They have their controversies but that's what makes them Volumes.
Closing out was out Born Of Osiris and they need no introduction, at all. Having carved out what they are all about over the last decade they have killed it on Warped, Rockstar Mayhem and countless other tours while they established their dominate sound. They aren't just another band, they are elite musicians and they feature Lee McKinney on guitar who has been featured at NAMM showcasing his abilities as well as David DaRocha slinging a massive bass sound. Culminating with a brilliant shredding metal tone, they own what they do and the fans that sell out their tours are a testament to that. As stated they rerecorded their EP The New Reign with a new track and it sounds even better now with their technical brilliance. They showcased it with playing it in its entirety with the new addition Glorious Day as well. The fans were eager for this and showed their appreciation loudly. After they shredded the rest of their set with Throw Me In The Jungle as well as Machine, Follow the Signs and Recreate amongst others. Nobody left Ace Of Spades not feeling what they just heard and if you miss this tour you are missing out on one of the better tours of the early 2017.
Official Born Of Osiris Site
Official Volumes Site
Official Oceans Ate Alaska Site
Official Within The Ruins Site
Official Fire From The Gods Site
---