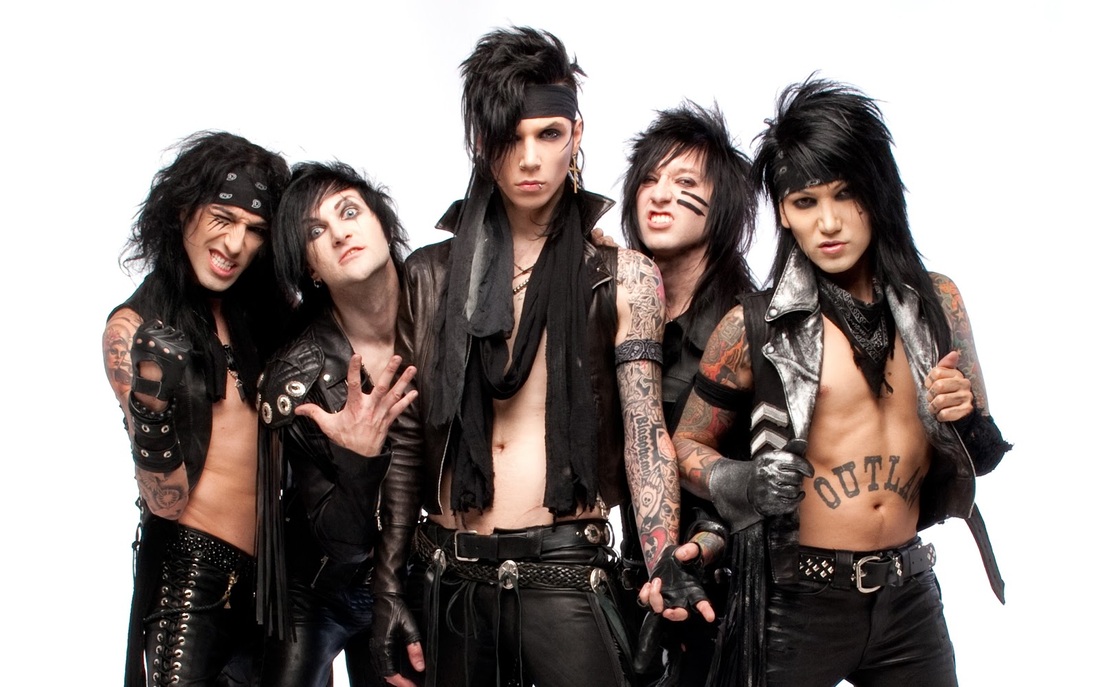 Like them or not, the Black Veil Brides are not going anywhere. Wretched And Devine: The Story Of The Wild Ones is the new album and it is a massive creative accomplishment for this still young metal band. On a recent stop in Sacramento, Andy Biersack, the enigmatic singer of the Black Veil Brides, took the time to sit down with Exiles and explain why the concept record was the route they took for their third offering.
An interview with Andy Biersack of the Black Veil Brides.
By Jeffrey Easton
Metal Exiles: It takes balls to do a concept record like Wretched And Devine three albums into a career. When were the first seeds for this kind of record planted?
Andy Biersack: We have always been that band that was interested in theatrics and doing things that are larger in life. In the past the bands image has been more theatrical but as we evolve the imagery has shifted more to building this story. Prior to making this record we had recorded six or seven songs for the follow up to Set The World On Fire but we were not really feeling anything for them. They were good songs but they were not all that exciting. So we did a tour of England while sitting on those songs and I still felt that they were not the best that we could do so throughout that tour I started compiling this short story called The Wild Ones which I started getting excited about. When we got back to L.A. we started working on the record again and decided that nothing was working with the songs that we had written, they weren't as exciting as this short story. So we scrapped the material, changed producers and started focusing on making this concept record which like you said it's our third record in and we have no experience making this kind of album. It was something that we were excited about and looking forward to doing so there was no real fear of the unknown.
Metal Exiles: I know this is a concept album but you can take most of the tracks and they are a reflection of the human struggle.
Andy: Certainly. The album is meant to be a parallel concept. Obviously it is a heightened reality; it is the stories of our past, our childhood and our growing up put into the context of a fairytale. This story is a parable told in a biblical sense about a group of people in a heightened reality. It is although a story that is indicative of our own lives and that was important to me. I did not want to write some story on a grand scale, some Tolkienesque album that had no way of relating to reality. Our lyrical content has always been so important to us but I still wanted to tell the story I wanted to tell and put it in a DC comics world.
Metal Exiles: How much of you is in Wretched And Devine?
Andy: Every lyric that I write is an extension of myself. I do not know to write songs about other things and that is not to say that people who do not write personal songs are bad lyricists, I just do not know how to do it. I can't write about something that was not a personal experience and I am not dogging someone like Ronnie James Dio who wrote all of that fantasy stuff because I enjoy that but it is just when I sit down and put pen to paper I always come out with something relating to me..
Metal Exiles: What was the bands reaction when you came up to them and said that you wanted to do a concept album?
Andy: Everybody got behind it so the only trepidation was how do we build this rock opera? I think most of that had to do with producing qualities and working with the new producer, John Feldman. We had to change our writing process and focusing on writing larger songs and not focusing on how fast we can shred and how many drum fills we can put in. The story itself the whole band was behind.
Metal Exiles: How hard was it to put together musically as well as lyrically?
Andy: I think because we were so conscious of it while we were writing it just fell together. We were writing parts as the story was progressing mentally so we did not have to go back in after the fact and put the puzzle pieces together. We really did have a cohesive story as we went along, we also had a board in the studio so we could write the song titles on and figure out how they would flow into one another.
Metal Exiles: How hard was John Feldman to work with considering the project?
Andy: He is the nicest taskmaster in the world. He has the biggest smile on his face so you do not realize he is working you so hard. He demands so much from you and rightly so but he did get the best performance from us. We would be there from 10 am until 4 in the morning then he would call you up with an idea and bring you back in. His vibe and the way he makes everybody so comfortable makes you forget that you have been working for almost 13 hours. It was the most intense thing we have ever gone through but it was worth it and I intend on working with him again.
Metal Exiles: F.E.A.R. is the nemesis on the record. Where exactly did this concept come from?
Andy: FEAR is to me it is like when you are in school or at home and you are really mad at your parents, your boss at work or your teacher or whoever it is. Sometimes you can build these people up in your mind into these horrible entities.
Metal Exiles: I have done that many times.
Andy: Yeah, exactly. Everyone has that in their life. Now imagine that embodiment becoming a real thing and F.E.A.R. is an amalgam of all that is awful, this one beacon of hate that shines on everything. When I was growing up I went to this religious school and they would use the religious end as a means of fear against people and not using it for the main purposes of religion. If you took a government entity and combined it with every nasty person you ever met and made it into this one bad guy, this one omnipotent presence over everything, that would be F.E.A.R.
Metal Exiles: I know you have a massive, dedicated fan base so how are they swallowing this idea of a concept album?
Andy: A lot of our fans, particularly the younger set, are into the creative writing, being lost outside their own world and I think this record will help serve as an escape for them. This story is a chance for our audience to escape and become a part of this and not think of the bullshit they have to deal with.
Metal Exiles: I know you made a mini movie of this but is there a chance for this to become a full blown feature?
Andy: I do not see a ceiling for it at all. I am having so much fun on tour playing these songs live that we are just going to keep going. This is the first time in my career that I am not thinking of the next record, I am living in this record and I am going to see how far we can go with it.
Metal Exiles: Will there be a tour where you guys play Wretched And Devine from front to back?
Andy: That is the plan and I would love to do that by the next touring cycle.
Metal Exiles: Your tour with William Control was a freakish bill, how did that come together?
Andy: William is on the record, he is the voice of F.E.A.R. and he was one of the first supporters back when I was very young and when he was in Aiden. I would also like to think that our audience is one that does not have to be spoon fed the same sort of bands on a touring package. You have these touring packages where they put 40 bands on the bill, it is all the same exact band and you have to stand there from 5 in the afternoon until Midnight watching the same thing over and over again and so when the headliner comes on it is just more of the same shit. The idea was to have a two band package with one band being completely different from BVB but in a lot of ways like in ethics, theatricality and ideas is a lot like we are. So when we hit the stage it is so vastly different the audience has had a complete show. It is more fun this way because I hate the bullshiit that comes with touring, the cliques ect. BVB is its own entity, we do not fit in with anybody else so we are out here just to be ourselves, have our friends out and that's it.
Metal Exiles: Speaking of, you are doing the WARPED tour again, why did you get back onto that?
Andy: Honestly the WARPED tour was an important thing for me growing up, like a lot of kids. It has been around so long it is a cultural institution; it is part of the cannon of Rock N Roll in America. I know people say give some crap about the changing of the tides musically and how things are different but Black Veil Brides belong on that tour and we are important to that tour and we are very grateful to Kevin Lyman and the rest of the WARPED tour for having us out. We do know that we are not the traditional WARPED Tour band but the people saw what we had when they took us out in 2011 and now that we are successful and draw a lot of people they want us back out again.
Metal Exiles: Last words for the fans:
Andy: As always I am appreciative because without them I am not sitting here talking to you so I am very upfront in thanking the audience.
So with that I know your interest is piqued and you want to go out and buy The Wretched And Devine. This album will top a lot of lists for best metal album of the year whether you like it or not.
Official BVB Facebook page
Buy Wretched And Devine!
Buy Wretched And Devine On Vinyl!
---