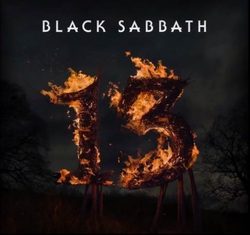 Black Sabbath – "13": A Metal Exiles Exclusive
By John Knowles
Its been 35 long years since the original members of Black Sabbath – Ozzy Osbourne, Tony Iommi, and Geezer Butler – have come together to write and record a full-length studio album. Following 1978's
Never Say Die
Black Sabbath carried on with various line-up changes throughout the next two decades. But with the arrival of June 2013, the wait for an album featuring the classic line-up is over; get ready for
13
! Of course, by now it is news to probably no one that Bill Ward decided not to be a part of this reunion for various reasons. But I say "classic" line-up in the sense that Ozzy Osbourne is featured on vocals, and this album is truly a return to the classic sound of Black Sabbath. Joining the band on drums is the very talented Brad Wilk (Rage Against the Machine). Also of great note is the albums producer, Rick Ruben, who I feel really helped the band truly reach their full potential.
Metal Exiles was in attendance at the first private listening session for
13
, and this album is eight tracks of vintage Sabbath perfection! The event was held at the Montalbán Theatre off of Hollywood Boulevard and Vine in Hollywood, California. This theatre is sponsored by Nike Sportswear and has a killer vibe and atmosphere. As I walked in I was greeted with the familiar sounds of classic Sabbath tunes like "Sweet Leaf" and "Children of the Grave." After helping myself to a complimentary beverage I waited patiently along side a room full of eager listeners to be let into the main theater. In no time the doors opened and I walked into a very intimate theater setting which could possibly sit around 200 guests in its floor section. The stage in front of the theatre opened up to reveal a large 50' screen displaying the new album artwork for
13.
I have to say, after getting an up close look of the album cover, it no longer appeared to be as simple as I'd originally thought. The burning image of the number 13 recalled lines from "War Pigs." The surrounding scenery of the burning 13 reminded me of the creepy mystique of Sabbath's self-titled first album.
Jack Osbourne was in attendance and walked on stage to welcome the audience, and introduce the album. One of the things he mentioned that really resonated with me as I listened to the record was the fact that Ozzy, Tony, and Geezer did not get together just for the sake of a reunion. They were not trying to put together songs that would make them seem relevant and cool to a young audience. It was three long-time friends, getting together in their hometown – Birmingham, England – to put together an album of the best songs they could come up with; three friends getting together to create something great for the world to hear. And when the opening notes of the first track, "End of the Beginning," played, I thought to myself, "this is unquestionably, classic Black Sabbath!"
Audience members were asked not to reveal too many specific details about each track, so some of the following will be kept very generalized. I can say without any hesitation with regards to the album as a whole that it contains a very familiar "feel." Fans who have missed the Ozzy-era especially will probably catch themselves with their fists in the air, and a smile on their faces as those familiar tones ring out. The band sounds incredibly tight. Granted Tony and Geezer have had quite a few years back together by now, but to hear their riffs alongside Ozzy's vocals is a long-awaited breath of fresh air. The songs and riffs sound fresh and new, but unmistakably like early Ozzy-era Sabbath, as opposed to Dio-era, or Tony Martin-era, etc. By track 2 – "God is Dead?," my personal favorite on the album – I'm reminded of just how genius a riff-writer Tony Iommi is. I've heard it said by many professional guitarists that Sabbath wrote all the metal riffs for all time during the 70's. Though there may be arguably some bit of truth to that, it is astonishing that Tony and Geezer can still present fans with new riffs and ideas.
Again, without being too specific about the individual songs, I heard many familiar traces of classic Sabbath songs throughout
13.
There were moments which sounded very much like "Black Sabbath," "NIB," "Planet Caravan," "Sweet Leaf," and "Children of the Grave." Lyrically, the album is everything you'd hope for in a Sabbath record. The lyrics are powerful, edgy, and thought-provoking. I would assume lyrical contributions were done mostly by Geezer. The man singing the lyrics, Ozzy Osbourne, gives an incredible performance. I have not heard Ozzy sound this good in years. He demonstrates a greater passion, feel, and range than even on his recent solo offerings.
This is an absolutely stellar release from the originators of Heavy Metal. It's amazing to me how the band after 35 years was able to write a batch of songs that would easily sound like a direct follow-up to
Paranoid
or
Master of Reality.
Fans of Black Sabbath will experience a truly memorable and rewarding album. This is not a collection of songs from a washed-up group of old men, clinging to a memory of greatness and trying to come up with anything to make a few bucks. This is an honest collection of amazing songs that will be able to hold its own against some of Black Sabbath's best work. This is a must own for all Sabbath fans.
Look for Black Sabbath's
13
to be released on Vertigo/Republic on June 11, 2013. Visit Black Sabbath's website to pre-order your copy in a number of unique and collectable formats.
Track Listing:
End of the Beginning (8:07)
God Is Dead? (8:54)
Loner (5:06)
Zeitgeist (4:28)
Age of Reason (7:02)
Live Forever (4:49)
Damaged Soul (7:43)
Dear Father (7:06)
Official Black Sabbath Site
---