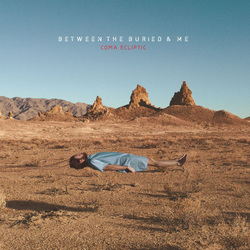 Between The Buried And Me are a bands band. Not only are their talents on par with the schooled artist, their writing abilities never cease to amaze me. Their newest album, Coma Ecliptic, is no different from this train of thought. The progression of thought on this album has no match and this album finds them sonically breaking more barriers. Are you ready to get inside the mind of a man who is trapped inside his own horror? Then you are ready for Coma Ecliptic.
An interview with Blake Richardson of Between The Buried And Me.
By Jeffrey Easton


Metal Exiles: You guys are going out with Animals As Leaders and that's really a three hour clinic. What are your thoughts on a run with them and what can your fans expect?
Blake Richardson: They are going to get a great show, period. I have known the guys in Animals for a long time so they are good friends and great to be around. The Contortionist are great friends of ours as well so this is just a great all around tour. Its great because we share a lot of the same fans so it's a win win for everybody.
Metal Exiles: This is a great tour, pretty much the NAMM Show in the road. The album you are dropping, Coma Ecliptic, is such a progression from Parallax II. Where do you guys keep going mentally to move so far past your older works?
Blake: We always try to draw from influences we have always had but we are always on the hunt for bands or artists that are great to keep us pushing further, it keeps us fresh.
Metal Exiles: The last album was a concept and Coma Ecliptic is a concept as well. When you guys sat down to write this did you know that you wanted another concept album?
Blake: We knew we wanted another concept. With Colors it was musically conceptual but with the Parallax albums we really got into the concept pieces and we really liked that direction. With Coma we wanted to do the same thing so we mapped out the record and started the idea of a guy in a coma and going through different lives. We matched the music to get the feel of this character in his coma and lyrically it came out great.
Metal Exiles: Considering what the main character is going through this is probably one of the more disturbing things you guys have done. It could be frightening to be in a coma and you see all of these things that you know aren't real so it can go different ways mentally. What was the seed to make this happen?
Blake: Tommy came up with the idea but we have all been fascinated with them and it was just an interesting idea to make this into a record.
Metal Exiles: What were your thoughts on making this album as you were adding your parts?
Blake: I go in and add what the song needs but for me with every record I do I find out more about me as a player. I try to add what is fitting and try not to overplay anything, what is right for the song, part and mood.
Metal Exiles: You being an accomplished drummer, how do you hold back your talents while recording?
Blake: It's a tough thing to do but it's a challenge for any musician because you just want to go on there and shred balls the whole time. I am not Blake Richardson solo album, I am making a BTBAM album and my job is to create a beat for what is created. There are were open areas of the songs that I did get creative with, have some freedom and let loose.
Metal Exiles: What were your thoughts afterward after watching the progression of the victim?
Blake: The thing I took away from it is that you need to find the good things in your life and not dwell on the negatives because the thing with this guy was that he got caught up with how bad his life was that all he did was spend time trying to make it great and all he did in the end was waste his time. You become old and your life is over, he never concentrated on what was actually good.
Metal Exiles: I noticed that there was a lot more cleaner vocals on this album. Was that for the concept of the album or where you guys are heading?
Blake: It was kind of both. We do not want anything to be to contrived musically and the parts just called for vocals that were cleaner. There is a lot of screaming on the record and we are still a heavy band but on this record it just called for clean singing and it's a combination of that and Tommy is just going in that direction anyway.
Metal Exiles: I feel that the people who follow you guys follow for the musicianship and it will not be like the kids who dump bands when they don't have a sound they like anymore.
Blake: A lot of bands go through that transition and some bands do it at the right pace and some do it drastically but at the end of the day it doesn't really matter how you make the transition. Look at Opeth, you can argue that the transition from Watershed to Heritage was pretty drastic but when people let it settle in they still loved Heritage.
Metal Exiles: To me Pale Communion was the better album of those two but remember they released Damnation over 10 years ago and that was a dark album and there wasn't a single harsh vocal on the record.
Blake: A lot of their fans seemingly forgot about Damnation so they were doing stuff like this years ago.
Metal Exiles: One of the cool things about Coma Ecliptic is that Metal Blade is putting it out on vinyl. Did you guys record this album with the vinyl pressing in mind?
Blake: Every time we do a new release are getting ready to lay out the art work the first thing we say is that will look great on vinyl. It's a creature comfort in a way and it sounds amazing. Its always great to have this nice big package and it complements the artwork so much better. We are very hip about putting everything on vinyl, that's just our thing.
Metal Exiles: You are confirmed of course to do the run with Animals As Leaders for the initial run but do you have more plans after that is completed?
Blake: We go to Europe for a few weeks with Haken after this trek and are currently planning a tour for later this fall.
If you miss them on the road or you do not pick up Coma Ecliptic, what kind of music freak are you? This will be one of the definitive albums of the year and a definite top ten album.
Official BTBAM Site
BUY Coma Ecliptic
BUY Coma Ecliptic ON Vinyl
Tour Dates
---