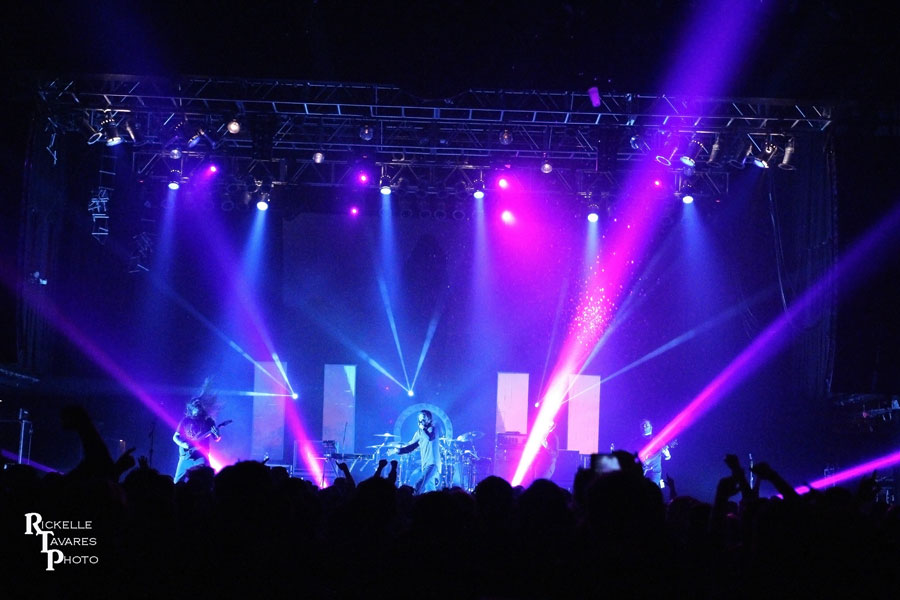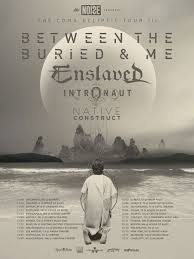 Between The Buried and Me/Enslaved/Intronaut/Native Construct - House Of Blues, Boston, MA 12/15
By Rickelle Tavares
Walking into The House of Blues I had no idea what to expect, I'm a fan of Between The Buried And Me but I've never been able to sit down and listen to any of the other bands in the lineup. To start off the night was Native Construct which are locals from Boston, as they were setting up on stage I was eager to hear what they had to in store for us. After 30 seconds into their performance I was literally jaw dropped, they produced a sound like nothing I've ever heard before. It was such an amazing mix of so many different sounds combined to make their own brand of music. Robert Eden's voice was pure perfection paired with some of the sickest guitar playing I've ever seen by their guitarist Myles Yang. Part of their performance included a track called "Passage" from their album Quiet World which seemed to get the night going. It was so amazing to see the reaction from the crowd as they all moved forward to get as close to the stage as possible to be a part of their show.
Next we had Intronaut, they came out swinging and played some entrancing music. I say entrancing because the minute they started playing every single person began to head bang in sync with the beat. They're a band that has nothing to prove to anyone, originally from California they started in 2005 with just a four track demo and by 2008 had signed with Century Media records. Just as fast as they were signed is as fast as their fan base grew, you couldn't even tell the difference in the crowd between who knew them prior to the show or not because everyone was going crazy for them. About a minute into their song "Fast Worms" from their new album The Direction Of Last Things the first pit for the night opened up, now this wasn't a normal 1st of the night average pit. It seemed as if two hundred people just decided to mosh all at once to this amazing song. I found myself staring at lead vocalist Sacha Dunable just watching him sing while strumming at his guitar, the entire band had such a great stage presence it was impossible to look away.
Enslaved, such a great band! They hail from Norway and had no problem letting us know they were there purely to play their amazing music and show us Americans a taste of what we've been missing. A few songs into their set they played a song called "Building With Fire" from In Times and not only did the pit get incredibly rowdy but the small section of standing space I had was gone and I was rushed up against the stage with everyone else screaming and singing along with Grutle Kjellson. Enslaved has been around since 1991 with 13 albums backing them including their newest album In Times. The stage presence for Enslaved was amazing, they are some really awesome guys that seem to love just having fun and playing music which is rare. During their set they announced they'd be playing a song called "the watcher" which before the announcement was being demanded from every corner of the venue. As they were playing you could just see how much they loved being on stage and preforming, every few songs guitarists would lean up against one another and just play side by side it was so cool to watch. For my first time seeing Enslaved I was instantly taken by their personalities and how their music seemed to reflect them perfectly.
The main act Between The Buried and Me could not have been anything less than perfect. As they came out on stage and started they were embraced with screams of excitement that seemed to get them as excited as we were. Tommy Giles came out and just jumped right on the keyboard and released that powerhouse sound you expect from Between The Buried and Me. Since 2000 this band has been consistently coming out with album after album of pure genius, including Coma Ecliptic. They played "Sun of Nothing" from the Colors album and hordes of crowd surfers hoping to just touch anyone in the band began coming up to the stage one after another, while the pits turned into a sea of chaos it was honestly magnificent to watch. The light display along with the energetic stage presence from the band all played a role in the amazing unforgettable performance the band put on. They took a moment to play us something from Coma Ecliptic, "Turn on the Darkness", which the soft start gave the entire room a second to breathe and just enjoy the show. You could slowly see the room begin to bob in sync to the beat again and it was just incredible to see just about everyone singing along and collectively enjoying the music together. Between The Buried And Me wasn't going to leave the night without giving a kick ass way to remember them, they played "Silent Flight Parliament" and finished things off with "Goodbye to Everything". It was almost bittersweet to see them finish their set because no matter how many songs they played after seeing them preform it left you with almost a fiendish feeing of wanting to see them over and over. I would without a doubt say this tour had the most incredible and consistent line up from start to finish, it was such an interesting combination of bands and sounds that paired so well together it made it an unforgettable night. If this tour is coming to you or if you have a chance to see any of these bands I urge you to do so, you will never forget or regret going.
Official Between The Buried And Me Site
Official Enslaved Site
Official Intronaut Site
Official Native Construct
---