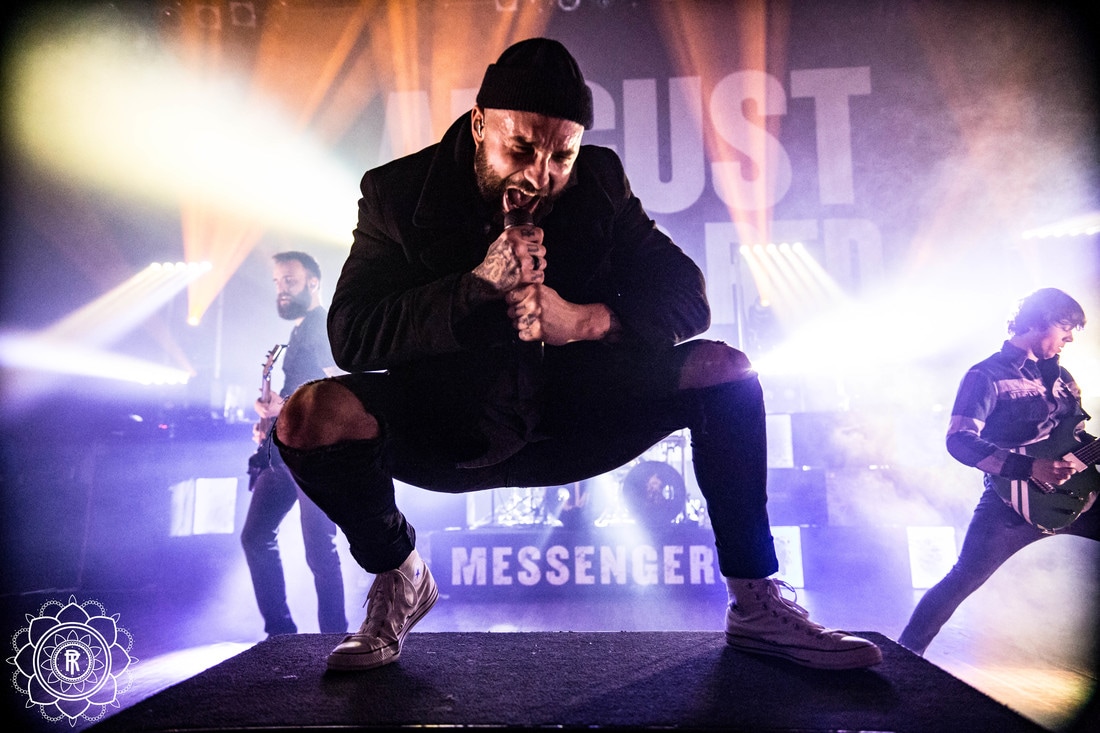 August Burns Red/Protest The Hero/In Hearts Wake/ '68 – Worcester Palladium, Worcester, MA 1/17
By Rickelle Tavares
The first snow storm of the year just so happened to fall on the same day as the August Burns Red 10 yr Messenger tour. That's one of the best albums they put out and it was reaching its 10-year anniversary, so what better way to celebrate that than a stacked tour. I'm not going to lie, the snow was terrible and it made a 45min drive into an hour and 45min, but that didn't stop me from going to the show. Normally under conditions like that you'd assume it would be a weak turn out, fortunately in New England we are wicked crazy and all braved the storm. I got to the venue early and it was crowded, I was almost floored at the number of people there early but also the amount of people that were there in general. The lineup for the night included '68, In Hearts Wake, Protest the Hero, and of course August Burns Red, so essentially if you weren't at the show you would be regretting it forever.
Now '68 I've seen before, they played a tour a while back and In Hearts Wake was on the same tour, I remember how mesmerized I was by both bands. '68 immediately took and demanded attention when they got on stage, all you see is a drum kit and a guy with a guitar, you're skeptical for a moment before they start. I'd say about thirty seconds into the first song people were already thrashing about and listening to the music. '68 is really cool cause it's fronted by two men and a ton of hype, not only are in perfect melodic harmony, they have some awesome songs and a great and growing fan base. They played a song called "You'll Miss Us" and it showed off their vocal and instrumental skills, which went hand in hand with the wild acrobatics tossed in there. It was a great way to open the show.
The fans waited patiently for In Hearts Wake to come out on stage, they're from Australia and have some of the most meaningful lyrics I've ever heard and their last album "Sky Dancer" was an extremely huge hit. I got a chance to see them few times and each time was better than the last, so once they came out on stage I was beyond stoked. The amount of heart they put into everything from their albums to their stage presence showed when they played. They played one of my favorite songs called "Divine" off their Earthwalker album, the response from the crowd was incredible so many people knew the words and were throwing down to it. They had great audience interaction, frontman Jake Taylor grabbed an inflatable crocodile and crowd surfed on it all the way back to the stage. Personally, what made their set for me was when they played "Healer", mid song there's a chorus line that chants "NO HATE NO FEAR" and everyone had their fists up just screaming it out. Its small moments like that that impact you and you walk away from the show always remembering those sick moments. Now Protest the Hero has been around since I was first getting into going to shows and listening to their genre, it was a huge comeback for them since they hadn't toured in a bit and you could feel the excitement. Protest has a long-standing reputation, they climbed their way to the top of the game and consistently produced hit after hit with ease. It was my first time being able to see them live and every time I had mentioned that to someone they got this crazy smile and just said "they're so good live, just wait". Once they got on stage I became aware as to why everyone was so baffled I hadn't seen them live yet. They opened with "Yellow Teeth" which is an incredible song for anyone who knows it. Immediately I started seeing people come flying towards the barricade and reaching out to high five or touch any band member they could reach. Protest came all the way from Canada to put on an awesome show and they did more than that. Everything from their lights to the poses they made on stage were just so perfectly precise it was hard to keep my eyes off them for more than a second. At one point the room went wild, and that's when they played "Bloodmeat" which was off one of their most popular albums, Fortress which was released in 2008. We are talking about a band that spans from all age groups and has a timeless sound that will still kick ass in any year. I was completely blown away from their set and it left me almost in agony waiting for ABR.
Ten years, it had been ten years since the release of the Messengers album in 2007. August Burns Red has been dominating the game, album after album, tour after tour, nothing stood in their way and they've rightfully earned their spot. I remember seeing the video the guys made to announce this tour and then seeing how hyped everyone on social media and my friends group got was just backing on how insanely huge their fan base has grown. The lights finally dimmed and their strobes started flashing, I gripped my camera so hard from excitement and they all came running out and opened with "Truth of a Liar". To say that things got unruly during the set is an understatement, I was watching grown men scurry out of the pits which seemed absolutely terrifying. Mid set a gigantic hole opened and the sea of people swayed and almost came over the barricades, the pits were growing more intense with each song and feeding directly off the bands energy. Once they got to "Black Sheep" I was almost certain that things should've slightly died down but it seems like things were still picking up pace, the security guards for sure were put to work that night. Literally everything was perfect, the banners, the strobes, the chemistry the band had on stage, it was such an incredible thing to witness and be a part of. It was a wild snow storm, just a few inches short of a state of emergency, you'd think the audience would be eager to get home right? Wrong, the guys were barely off the stage before the chants came and the most unbelievable drum solo stared. They just played hit after hit, they weren't going to send us home without a taste of why they dominate the scene. They played "White Washed" which is one of their heaviest songs that shows off all of Jakes vocal abilities, I kid you not, all hell broke loose. It was such a mind-blowing way to end things for the night! I have so much respect for every band that played, tours like that make me appreciate all the artist that work so hard to give us amazing unforgettable concerts.
August Burns Red Official Site
Protest The Hero Official Site
In Hearts Wake Official Site
'68 Official Site