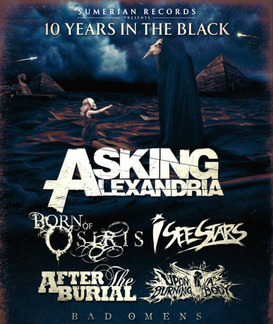 Asking Alexandria/Born Of Osiris/I See Stars/After The Burial/Upon A Burning Body - Worcester Palladium, Worcester, MA 11/16
By Rickelle Tavares
10 Years in The Black, 1 night to remember. Of all the stakes tours that rolled through the Palladium this was one for the books. The last time I saw Asking Alexandria was the Monster Outbreak tour in 2012 which was days after the passing of Mitch Lucker. If you went to that show, you will always remember it for a multitude of things. Tonight set the bar higher that it had before, each band brought its own brand of badass to the lineup and the night was for sure going to be crazy.
Upon A Burning Body took the stage by storm with their Texan style heavy metal, and hints of Latin flare. They have their own special brand of music and quite frankly they don't care if you like them or not, their music speaks for them as a band. Hit after hit keeps rolling out from them, and with the performance they put on that night everyone in the Palladium was feeling UABB. Horns up heads banging!
Immediately following with no moment to spare After The Burial ran out and put the room back into its normal state of chaos. One after another bodies came flying over the barricades, not even into the third song. Everything about ATB is just executed in perfection, from the lights to the flawless stage choreography it was all flawless. For every song, the pit stayed open and you could see the blows being laid from far away. It was my first time seeing them live and I was extremely impressed, I know how tough the crowd in Worcester can be to get moving but ATB had the entire venue going wild.
Just as everyone had a second to exhale, I See Stars ran out with their energy on full blast. It had to have been my 6-7th time seeing them and this is a band that never ever disappoints. Their album Treehouse was a huge success and they drew in hundreds at warped tour. It was insane what happened when Devin hit the stage, it's like his energy immediately flowed right into the crowd and everyone started jumping around and screaming out the lyrics. Personally I am a huge fan of ISS so I found it incredibly hard to shoot, I just wanted to be in the crowd screaming and jumping, that's the feeling I live for. When I want to put the camera down and be in the moment with everyone else, and ISS is such a fun band and they burst with energetic colorful excitement, you really can't help but love them. Towards the end of the set Devin jumped in the crowd and one after another people swam over the crowd to him just to sing with him.
Born of Osiris, I really wasn't sure what they were like or how they got down but after a dim flicker of lights and a heavy bass drop I was about to be educated. BOO is heavy, loud, and every other describing word you would use to define heavy metal perfection. I noticed one thing in particular was the unity in the venue, everyone from the pits to the stands were all singing along or had their hands up and heads thrashing. From the keyboard to the bass it was in full throttle the entire set, just being able to watch such an incredibly orchestrated performance.
The lights went out and the venue got quite, the crowd wasn't quite ready for what was about to happen. "WELCOME BACK, WELCOME BACK, WELCOME BACK!" Everyone in the venue chanted, awaiting Asking Alexandria's arrival, Danny was finally making his return and hitting the stage after a long hiatus with AA. Words cannot explain the excitement and apprehension that filled the room, you could hear the screams from the back of the room to the front of the barricades, it was almost deafening. Danny ran out on stage and it was just a sea of bodies jumping and screaming like wild, as soon as "Welcome" ended they jumped into "Dear Insanity"! When I was younger and I got to see AA I never payed attention to what was going on on the stage, my eyes were always looking around at everyone and I was screaming the lyrics out. Being in front of the barricades and watching the bands every move was beyond anything I could ever imagine. If you want to talk about love and respect then AA is the topic, they all had the most enormous smiles on their faces the entire set. Song into song Danny proved how incredible his vocals are, his voice and range are just the perfect fit for the band.
They played "American Average" and even I couldn't stop myself from running into the crowd to just enjoy the show, it's one of the most popular songs by them. It seemed so short lived, they walked off the stage but, Worcester wasn't having that, absolutely not. "ONE MORE SONG, ONE MORE SONG!" Over and over until they all ran out, still grinning ear to ear and announced they'd be playing "The Final Episode". As soon as the song started everyone, all of us chanted the intro " OH MY GOD", to say that moment was glorious is an understatement. It was literally living out a dream. I never thought Danny was coming back but he came back and he came back swinging, he executed every note flawlessly and sent everyone home with a reminder that AA is back and better than ever.
Official Asking Alexandria Site
Official Born Of Osiris Site
Official I See Stars Site
Official After The Burial Site
Official Upon A Burning Body Site
---