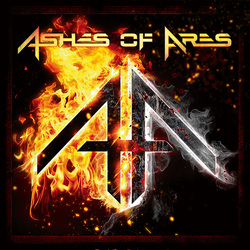 Ashes of Ares – S/T – Nuclear Blast
by John Knowles
The self-titled debut from Ashes of Ares is absolutely superb. This is heavy metal at its finest, folks. Now, let me begin by saying yes, its true, this band is comprised of former members of Iced Earth and Nevermore. But word up to everyone, this band is not Iced Earth, and this band is not Nevermore. This band is Ashes of Ares. After a memorable and exciting performance that left audience members stunned at this years' Rock Hard Festival, Ashes of Ares is poised to move forward as a dominating force in Heavy Metal. The band features the lead vocals of Matthew Barlow (ex. Iced Earth/ ex. Pyramaze), Freddy Vidales (ex. Iced Earth) as main songwriter and guitarist, and Van Williams (ex. Nevermore) on drums. This band is a partnership and collaboration formed out of a mutual respect for each other and heavy metal music. I had the opportunity to speak with Matt Barlow recently about the project, and the collaborative nature of this band was something he really wanted fans to understand. Formed after their respective departures from Iced Earth, members Matt Barlow and Freddy Vidales began demoing new material. Matt, who had had a long time friendship with Van Williams asked if he would be interested in joining the project, and once Van got a hold of the material and added his spark to it, Ashes of Ares was truly born.
The band's name is a picture of the duality between good and evil, and life and death. These are certainly dominating lyrical themes on the album. Fans can look at the name in a darker sense, meaning the wake of destruction and pain left by war and the evil that men do in general, or the name can be looked at in a more positive sense of Ares (and what he represents) more or less in ashes. I find this to be a really cool idea, and a poignant commentary on reality.
The album opens up with the song, "The Messenger", and its clear the band is wasting no time introducing their strengths and showcasing who they are. A haunting clean guitar melody is met with Matt Barlow's signature booming voice. His vocal approach offers the listener a clear warning of this messenger and the words he brings.
The opening also features some beautiful fretless bass work from Freddy. Then the full band comes in, and Van Williams dishes out some pummeling fills. The main riff of this song has a killer groove, and is produced exceptionally tight. Next the vocals come in and introduce Matt Barlow's signature falsetto followed by his dominating lower range.
Towards the end of the song you have an example of the masterful production of Jim Morris; his ability to layer vocals is unmatched by anybody in the business. This is followed by some of Van's best performing on the record. Van showcases some really impressive fills throughout the entire song that are often subtle but incredibly effective. As the song closes he momentarily switches things up and plays on the backbeat, producing an amazing and memorable feel. "The Messenger" is not only an amazing introduction to the album and band, but truly the stand out track on the album.
"Move the Chains" opens up with a very nice, almost Pantera-like groove, but very quickly evolves into its own. Matt Barlow has been credited with writing the bulk of this song's riffs, which definitely allows this track to differentiate itself from the others, which were primarily written by Freddy – the only other exception being "The Answer". In the chorus, the band triumphantly cries, "We've got to move the CHAINS!" and it's clear no one is messing around. "On Warrior's Wings" is a great power-ballad, if you will. A triumphal tribute to Matt's fallen brother on the force, but also a moving tribute to other's who has lost loved ones in service to their country. Lyrically, Matt makes use of plenty of emotion alongside bold assurance that the fallen are not truly gone. Producer Jim Morris does an amazing job at mixing the varying changes in dynamics, and captures one of Matt's greatest vocal performances on the record.
Track 4, "Punishment" opens up with a very cool bass lick from Freddy, and contributes to an amazing build overall. By the time the chorus repeats itself for the first time, you can bet that you'll find yourself singing along already. This track also features one of Freddy's best solos on the album, and is a true testament to the man's versatility as a musician. I also love the bridge that follows the guitar solo – this is signature Matt Barlow at full intensity, and it is just perfect. By track five, "This Is My Hell" I first picked up on the fact that many of the songs on this record open up with some sort of clean passage. Writing a quality and worthwhile clean melody is not always the easiest thing to do as a metal musician, but Freddy again proves his worth as a great songwriter.
"Dead Man's Plight" is the first song selected as a lyric video by the band, and this song definitely represents the album well. The track opens with some very nice layered vocals, where more voices are added on the repeats of the melody; this is a cool trick that no doubt can be credited to Mr. Morris. About mid way through the song the dynamics shift to a more subtle arrangement with a clean guitar and vocals very reminiscent of Iced Earth classics like "Iced Earth" or "The Reckoning". The best part about this stripped down segment is the part that follows, first the guitar solo kicks in, and then the same clean melody is run through again with heavy guitars and a full band.
"Chalice of Man" opens up with a very thrashy riff. This track features a noticeably faster tempo and a great groove. Again, giving credit where credit is due, Jim Morris steps things up in the chorus by layering a cool counterpart melody over the chorus in what is arguable one of the more memorable moments on the record. About mid way through, the song shifts gears to one of the most brutal moments on the album where Matt Barlow pulls off some death metal-like vocals – something fans have not quite heard him perform before. The sinister sound of this track is heightened by Barlow's amazing and convicting performance. This is definitely the heaviest song on the record, and is a welcomed feel following a number of more melodic, and even mid-tempo tracks.
"The Answer" is a self-proclaimed funeral song that Matt wanted to write in an attempt to pay tribute to our lost loved ones. Following a similar subject of death on the earlier track "On Warrior's Wings", "The Answer" takes on a slightly different approach. The lyrics are meant to be more inclusive, and less sorrowful than traditional funeral songs. This song is a send off to those who have passed, and a proclamation that we can let them go, and that we will be following behind shortly. Matt wrote the music to this track as well, but as a true testament to the collaborative nature of this record, it flows perfectly with the tracks before and after. This is arguably the most uplifting song any of these guys have produced, and one that should find itself one day at many metalhead's funerals.
"What I Am" is the 7-string thrasher on the record. It is a bold proclamation to those people who would wish to unfairly pass judgment on others. This song is followed by the album closer, "The One Eyed King", which continues the themes found on "Move the Chains." I love the legato style that Freddy incorporates in the opening. This song has another one of the more memorable and sing-along choruses on the album. As the final note rings out, I'm sure listeners will be left feeling hungry for more.
My first listen through proved to me that this is a very strong offering from some of my favorite musicians. However, on repeated listens this gem just got better and better. I knew from the beginning though that this project doesn't really sound just like Iced Earth or Nevermore, as so many have said already. Sure, there are trace elements from the band members previous tenure's, but honestly this is just great heavy metal, folks. And additionally, one of the best debut's I have ever heard. Ashes of Ares show tremendous promise, and the fact that almost a full year ago they were offered a slot at this year's ProgPower Festival proves this fact. As it turns out, they have been offered a slot just before the co-headliner for Friday night of the festival, which is not bad at all for a new band. Go support these guys and pick up your copy of Ashes of Ares debut record when it is released in the States on Nuclear Blast records, September 17th. You will not be disappointed!
Buy Ashes of Ares
Ashes of Ares Official Website
---