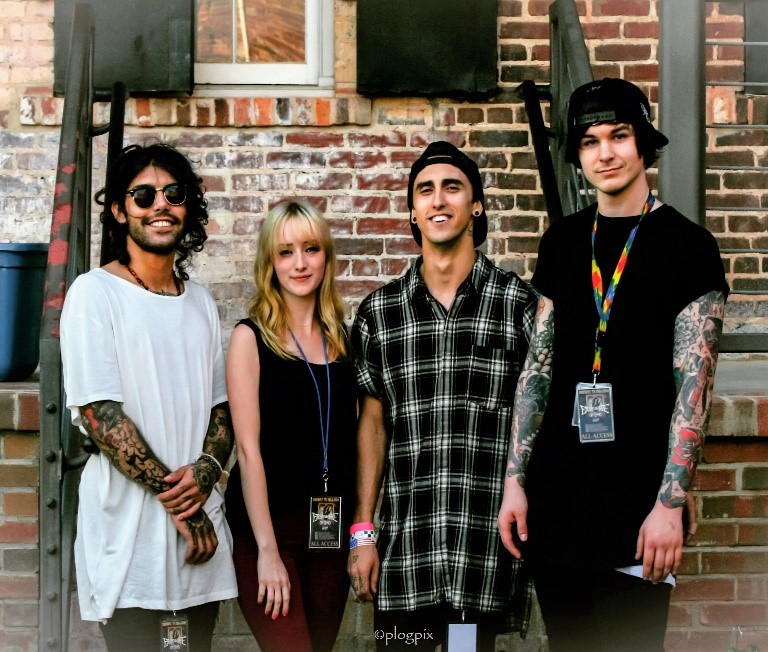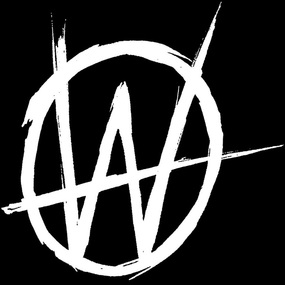 Here's a group of young refreshing talent who blow up the stage as they give a stellar live performance. American Wolves originates in Rhode Island and consists of four lively and entertaining members. They are Rod Pires/vocals and guitar, Rob Lundy/bass, Nicole Zell/guitar, and Tyler Blinn/drums. Though new to me at the time this interview was scheduled, I have learned much about them and have come to the conclusion that if it's a matter of heart and determination, American Wolves has it and is ready to prove it. They bring to the table a mixture of rock with its soaring guitar riffs and pop with its magnetic lyric and melody. After meeting the group, speaking with them and then watching them in concert, it was clear that they put emphasis on doing things the right way, at the right time, without pushing too soon because they desire longevity and strength as a band in todays' music industry. What started as the dreams of children for seemingly each member has now become a reality as they captivate crowds and strive for an unwavering fan base. Rod has an undeniable charisma that overwhelmingly dominates the stage as he belts out each song without restraint intriguing the fans and demanding their attention. Rob clearly has the bass under complete control as he jets back and forth across the stage as Tyler consumes himself in just the right beat on the drums. As you watch Nicole (Nikki), you see a very passionate musician as she caresses the guitar and plays with both power and finesse to produce a sound that highlights every note being sung and every drum beat being played. With smiles on their faces and music in their hearts, this band kicks ass in a big way. Get to know them. They won't disappoint.
An interview with American Wolves
By Leslie Elder Rogers
Metal Exiles: You guys have seemingly come from out of nowhere supporting this great tour? How did you guys get American Wolves off of the ground?
Rob: It started with myself and Rod. We were in a previous band together and decided we wanted to take a different direction. We were in a heavier band before and we wanted a change. We started fresh as American Wolves. We built the band behind the scenes for the last year. We recorded with Dan Korneff who has done Paramore, Pierce the Veil, Killswitch Engage, etc. Through the internet and through our manager, we found Tyler and Nikki and the first time we met and jammed together, it was crazy, like four pieces of a puzzle coming together.
Tyler: Yeah it's kind of crazy how it came together but it kind of did just come out of nowhere. We'd all been doing things on our own musically for all our lives pretty much but nothing really seemed to work, if you will, like it is now. It's really weird. There are too many coincidences that have happened in this band for it to be just like any other project. The way it came about and us being from all different parts of the country with Rod being from Brazil and all, and it's just crazy us all being here now, together and we've all done stuff before but now the chemistry is good. The first time we played the songs, like Rob said, it just locked. I mean yeah, American Wolves is still in its infancy and still just beginning.
Metal Exiles: So you all played before, so, Nikki and Tyler, were you both also in other bands before American Wolves?
Nikki: Rod and Rob had been in other bands together and Tyler had been in bands growing up but I was mainly doing solo projects.
Tyler: I grew up in Phoenix and she's from Philadelphia so we didn't know each other until the band. We hardly even spoke to each other before we met up and jammed for the first time.
Rob: Yeah, I thought his name was Chris before I met him. I thought our manager said his name was Chris.
Nikki: We were headed for the airport and Rob said "so we're picking up Chris today", and I was like, who's Chris?
Rob: We were picking him up from the airport literally a week after we had met Nikki. She had driven up from Pennsylvania and he was in South Carolina at the time. He flew in to Rhode Island and we had Chipotle and we were good to go from there.
Tyler: It was crazy though. We went down and set up our gear and were like I still didn't know Nikki or Rod, I mean, they knew each other a little. They asked if we wanted to do "Part of Me" and I was like "sure". We played through it and it was freaking sick and we all locked. We all smiled and it was like "wow, this is gonna be good", so we played through the other songs and it was good. From then on things have been running pretty smoothly. We encounter obstacles just like anybody does but no good thing has come from this band without some type of obstacle first. Something always seems to go wrong and the something great comes out of it.
Rob: Yeah, things always go wrong before they go really right for us. That's the way it always happens. It's all been happening very, very fast. That's why is seems like we came out of nowhere. With Rod and myself building the band behind the scenes, our manager finding Nikki and Tyler, recording the songs and getting everything locked in, and then shooting the video, finding the right PR, the right photos and all, we were really intentional about all of the things that we did.
Metal Exiles: There is a lot in a name, what is behind American Wolves?
Rod: The name just kind of stems from, well, we're a band that pays attention to every detail. We like to think of music as the feeling process and we wanted something that kind of reflected us as people. So we thought of the wolf, something that's fierce and always hungry for more. The wolf has that hunger to succeed and we thought that was cool and one day we were just shooting out band names and American Wolves was said and it was like "yeah, that's it". I know it's a good band name because I can say it to someone in a crowded, loud bar and they remember it. It's kind of funny too because I'm Brazilian so I'm South American and they're North American, so coincidentally, American Wolves is perfect. I won't take credit for naming the band. It was a collaborative effort.
Rob: He and I had lived together in Rhode Island and we'd been spit balling names against a wall and one day, that just came out. We thought about "The American Wolves" and were like, no, just "American Wolves". It takes a while to find something that fits just right but when you do, you just know.
Metal Exiles: What did you grow up listening to that moved you enough to make you pursue being in a band?
Rod: I would say the first band that really got me into music was Guns N Roses. I loved the rock star image of it and the glam. Then growing up I got into bands like Boys like Girls and All Time Low. Those were the bands that kind of shaped me and helped me get into this kind of niche'.
Tyler: Back in my younger days when I first started playing drums, my dad raised me on rock and heavy rock and my mom raised me on country. As I started to venture into my own taste of music, I listened to a lot of Blink 182 and Travis Barker heavily influenced me on the drums. I also listened to bands like Paramore and 30 Seconds to Mars which are big influences of mine. That's just in the rock realm but there's country and pop and hip hop and jazz. There's so much good music out there, it's hard to say. There's a little of everything. All of us have different tastes in music and we all have similar tastes in music and we're not afraid to bring every little bit to the band and keep it open and let it be what it will be.
Rob: When I was younger, I got my first guitar when I was 8 years old and my dad raised me on music he always listened to in the car like Goldfinger and Blink 182 so I'd say Blink 182 was heavily influential on me. He used to take me to all these concerts when I was younger and they stood out to me because they weren't afraid to have fun and they had that crude humor on stage. I was and 8-9 years old and realized I wanted to be up there doing that. I was definitely influenced by Tom Delong and Mark and Travis even though I don't play drums. There are other bands that influenced me like Armor for Sleep and Underoath, they kind of shaped me in my early teenage years but I like a bit of everything, heavier, lighter, everything on the spectrum.
Nikki: I started playing music, piano first because of Vanessa Carlton and then guitar because of Alanis Morissette and Michelle Branch and performing because of Gwen Stefani and Stevie Nicks. They're all amazing in their own rights but it was always the female rock chicks that really got to me. Not that I wanted to be like them, I just wanted to do this. It spoke to me and gave me that outlet, that avenue. I learned all their songs and then got to the point where I could write my own. So yeah, I was pretty much heavily influenced by a lot of the female musicians in the industry.
Metal Exiles: Part of Me is the perfect summer single, where did that come from and what meaning does it have to you?
Rod: Well, Part of Me is a song about overcoming the darkness in our lives and those moments of clarity that you sometimes have where you see yourself for who you are and you put the doubts aside and the fears aside. It stems from one of those moments of clarity and you're like "I'm worth this. I'm not giving up and I'm not gonna let it get the best of me", so that's basically where it came from.
Metal Exiles: Who does most of the song writing?
Rod: We all do as a collaborative effort.
Metal Exiles: You have a 5 track EP that is about to drop. What else can we expect from the album?
Rob: You can definitely expect tours, tours, and more tours because our main focus right now is getting out there and building that core fan base and continuing to play in front of people. That's what we love to do but aside from that we will be releasing more music. We have plenty of music that is unreleased that we perform live. Like Tyler said earlier, the band is in its infancy as far as what we have revealed to the public, but we have a whole arsenal of things prepared that we are systematically releasing. It seems like we came out of nowhere but it was all very calculated to appear that way.
Nikki: That's how it's going to be whether we release a full length or an EP. We take our time.
Rob: we're very intentional about how we do things. We didn't want to just come out with one song and that be it.
Tyler: It's weird when you take your time doing something, to the public eye, it's like it came out of nowhere but in reality it's just the opposite.
Metal Exiles: Dan Korneff has a great production rap sheet. What did you guys take from him in the studio that made the songs that much better?
Tyler: My first impression of Dan was that he was cool. We could joke with him. We could laugh with him. We could have a good time. It was not a very tense environment at all. We always called him Uncle Dan. He's an amazing producer who has worked with some great, successful bands and he really brought the sound out of us that we were going for but also that we didn't know we could achieve. It wouldn't have been possible without Dan. He's a master of his craft.
Metal Exiles: Get Scared and Escape the Fate are monstrous touring bands. What have you taken from them on this short trek?
Tyler: They're true professionals and have been at it a while. I think there's a lot we can learn from them. From little things like how they're always on time to then seeing how they interact when they perform and the way that they decide their set list and their encores and all the things that go into their shows. There's all these little things that only come in time and you see it when you watch them work and see them set up and it emanates from them that they have experience. You can take notes and you can learn but a lot of things just come from working hard and sticking with it over time. It's been cool getting to know them on this tour.
Rob: I think there's a reason why Escape the Fate has been able to overcome as many difficulties as they've encountered and come back full force so there's definitely something to be said for that. A lot of bands would've just thrown in the towel but they just keep coming back strong every time.
Metal Exiles: Have you ever heard of Macon before today?
Tyler: No, I was wondering if it was pronounced Mackin' or Makin' and they were like, it's pronounced like Bacon (with M).
Metal Exiles: So you've never heard of the great musicians that came from Macon?
Rob: I've heard that this venue had some history behind it.
Tyler: I'm sure we've heard of the musicians, we just haven't heard that they came from here.
Rob: Is REM from here?
Metal Exiles: Not technically from here, but they're from Athens and at least that's Georgia. We had a lot of blues and southern rock and are home to a lot of them. There's a lot of history here.
Metal Exiles: What's in store as far as touring and dropping the EP?
Rod: Well we don't have anything that we can really talk about just yet in terms of touring but we will be out there very shortly.
Rob: We're gonna be doing a lot with this band. We're not the kind of people that are gonna take breaks. We can stay on the road forever. It's just in our blood. Hearing everybody's stories and hearing how they relate to us and our music, you realize that it puts everything in perspective and you realize how important you could be to somebody. It's very warming. It feels good to know that you can make a positive impact because we were all a kid in the crowd at one time and it's nice to know that you may help them whether it's to get through a tough breakup or loss of a loved one or whatever.
Tyler: We're very excited to get out and meet everybody that enjoys the music that we put out on the internet and that have seen us before. We just like meeting people and we like to hang out with people. We just love to play.
Follow the band @ http://www.americanwolvesofficial.com
Facebook @ http://www.facebook.com/americanwolves
Twitter @ http://www.twitter.com/americanwlvs
Instagram @ http://www.instagram.com/americanwlvs
Watch their music video for "Part of Me" @
https://youtu.be/jSBcy7xCrPw
Buy now @
https://itunes.apple.com/us/album/part-of-me-single/id1090408745
---