Like a Storm/Black Stone Cherry/Alter Bridge - Northern Lights - Clifton Park, NY 5/11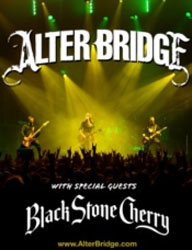 by Mary Richardson
Northern Lights is never short on good music. Wednesday night was no exception. The night kicked off with New Zealand rockers Like a Storm. Lead singer Chris Brooks opened up playing a didgeridoo (a Aboriginal tribal instrument) before rolling into "Chemical Infatuation", "Just Save Me" (from The End Of The Beginning) and "Last Try". Chris and his brothers Matt and Kent on guitar along with Thomas Karanasos on drums showed upstate NY a rockin time. Keep an ear to the radio for their new song "Never Surrender".
Black Stone Cherry took the stage second. I highly recommend checking out their new album "Between the Devil and the Deep Blue Sea" and one of the best songs from it, "White Trash Millionaire". Both are excellent. This Kentucky based band always gives the crowd a good show with a little Southern twist. Guitarist Ben Wells is just a ball of energy that bounced from one side of the stage to the other. John Fred Young has got to have the best head of hair for a drummer, it's a must see. It kind of reminded me of Animal from the Muppets. Meanwhile lead singer Chris Robertson kept the crowd singing along to "Blame It on the Boom, Boom" and "Rain Wizard" as well as the emotional "Lonely Train" and "Soulcreek".
The crowd was packed in tight as Alter Bridge took the stage. Lead singer Myles Kennedy always sounds good, and tonight was no exception. They tore through a list of songs that touched on all their albums. "Brand New Start", "Before Tomorrow Comes", "Ghosts of Days Gone By", "All Hope Is Gone" as well as "Slip To The Void". The band was very interactive with the crowd, and the crowd loved it. There was a little battle between the sides of the venue courtesy of Myles. I think the only losers there were folks who weren't prepared for how LOUD it got. Really kids holding your ears at a concert? Either come prepared to lose your hearing for a little bit or bring earplugs. They also played "Isolation" which has been getting a good deal of radio time on Q103. Myles, Mark, Brian and Scott rounded out the show's encore with "Rise Today" and "Isolation". Check out "AB III", you won't be disappointed.
If you get the chance to see any or all of these bands live.... DO IT!! They all put on a great show with even better music.
Like A Storm Official Site
Black Stone Cherry Official Site
Alter Bridge Official Site
---