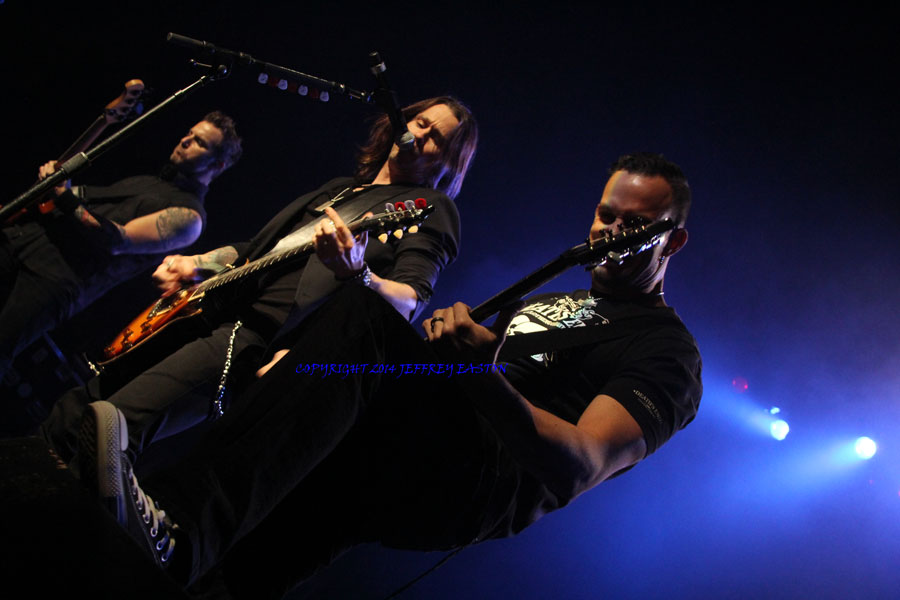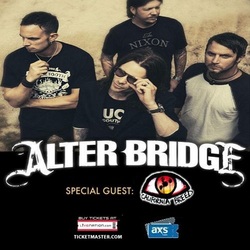 Alter Bridge/California Breed – The Warfield, San Francisco, CA 10/14
By Jeffrey Easton
This tour was where legend meets future legends. Glenn Hughes in my opinion is one of the distinct kings of rock, the elder statesman who has lived through it all and survived to teach another generation how to get off. With his new band California Breed he has yet another vehicle to go out with show off his massive skills. Paired on this tour with King Glenn is Alter Bridge, the backbone of Creed and a major assault vehicle in their own right. They are four albums deep in their career and with material they have released they too will be referred to as legends.
As a photographer I have shot many bands live but there was one elusive artist I had yet to capture, Glenn Hughes. As a fan I have his entire catalog, I respect his work and his vocal/bass prowess and his ability to write an instant classic. So this tour was a must have and the fact that Glenn was touring with his new guitar player Andrew Watt in the stunning band California Breed made it an amazing show. Kicking off the set was the scorching The Grey, a deft rocker that has a thick wall of guitars and Glenn's massive wail to set things right. To fully rep the debut California Breed album, that's what the band stuck too, despite Glenn's massive catalog and that was the right thing to do, to stick this album right in the fans face. The night rolled with the massive tracks Chemical Rain, Spit You Out and Scars as well as the intense singles Sweet Tea and The Way. What brought the crowd to their knees was the emotion filled All falls Down. If this doesn't move you consider yourself dead. Glenn still has the pipes and his wails that fill this track are soul movers. The set closed with the classic Deep Purple Anthem Burn and the house fell apart with screams. Burn to me is top five on the classic rock track scale and it was unreal to get to hear this with Andrew Watt chugging the riffs. From comments I have seen this tour has made a legion of rock freaks California Breed fans, well done Glenn.
To follow that you have to be a truly special band and Alter Bridge is always up to the task. Still touring on their massive fourth album Fortress, they have become a machine that churns out instantly memorable albums and Fortress is no different. Fortress is full of ultra heavy, riff filled juggernauts and they came to life in front of a packed Warfield. They wasted no time giving their fans the new stuff by cranking out an amped up Addicted To Pain and the fans were sold on the night. Not stopping there, Farther Than The Sun, Cry Of Achilles, Waters Rising and the title track was dealt to the massive roars the fans gave right back. They get better with every album and calling it Fortress was ideal considering the massive material it contains. Myles Kennedy was on, he is the perfect conduit between the band and the fans and his vocals could fire up a cemetery. Digging back into the older material Blackbird was tagged heavily with the immaculate Ties That bind as well as Come To Life, Brand New Start and the searing encore and show closer Rise Today. Mark Tremonti, what can I say about his abilities with 6 strings under his fingers. I have no idea why he is not mentioned in the same breath as other guitar greats, a truly underrated guitar slinger but after witnessing the realities of his playing live I was floored. Tonight was special, some of rocks best music right now was being blasted in the four walls of The Warfield and if you missed this tour you totally missed out.
Official Alter Bridge Site
Official California Breed Site
---