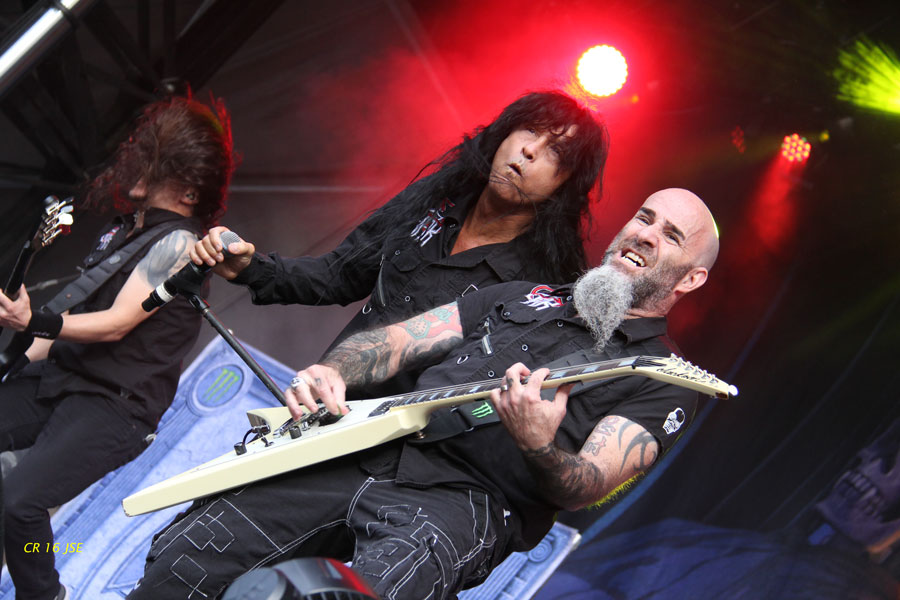 Aftershock 2016– Discovery Park, Sacramento, CA 10/16

By Jeffrey Easton

Aftershock descended on Sacramento once again and like the old saying goes it just gets better with age. This year it was back at Discovery park, had some amazing food trucks and the bands were better than ever. The lineups were stacked the likes of Anthrax, Ghost, Baroness, Meshuggah, Parkway Drive and Korn amongst others and with all that mixed in with the party that Aftershock is and you had another sell out weekend in Sacramento.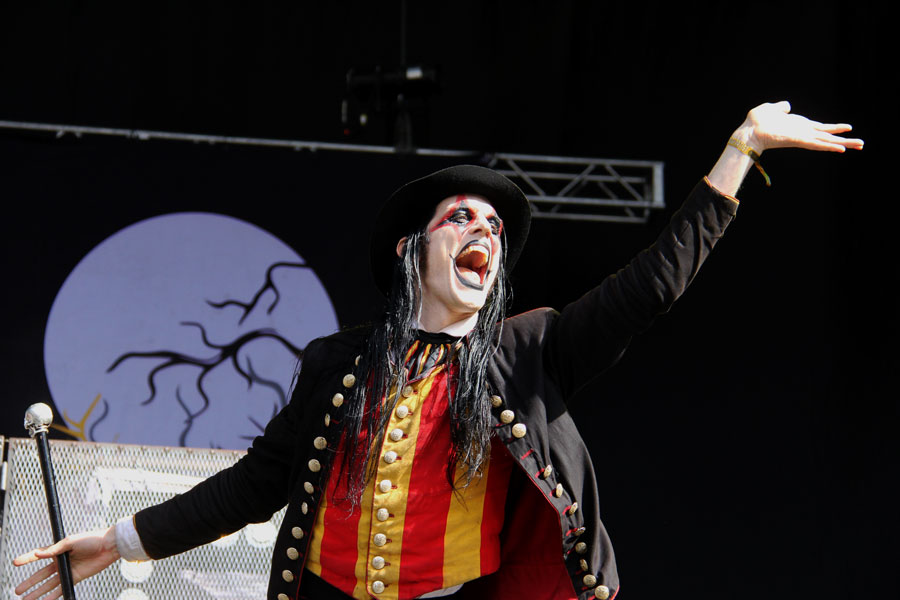 The day started early with a massive line to get in and everyone talking about who they wanted to see the most and also anticipating that first beer and autograph signing. Death Angel kicked off the Capital stage in an angry heavy way with their classic thrash. The Evil Divide is their new record and they threw out The Moth to a ravaged crowd that was already moshing hard to the older shit like Evil Priest and Thrown To The Wolves. Their new album is insanely good and their show shows they have elevated themselves to legendary status. The Capitol Stage kept raging as soon as Aeges fired up their amps and ripped out material from their new album Weightless. All Of Me drew cheers as well as the title track and I feel with their modern hard rock attack these guys are gonna be around for a long time. The main stages were aptly named Discovery and Monster and they were on fire.

Avatar were highly anticipated by me and apparently everyone else on the grounds were too. Feathers & Flesh is the new album from this Swedish freak show and their set was possibly the best overall at Aftershock. Johannes Eckerström came out in his freak clown attire and led the procession. Considering how they presented themselves, it was hard to not pay attention and get into what they are doing on stage. They kicked out the new stuff For The Swarm and The Eagle has Landed as well as Let It Burn and the appropriate Smells Like A Freakshow. Their stage was built of an arena and that's where they need to stay. Make sure you check them out, period.

Motionless In White set the Discovery stage on fire with the inferno that is their material. Chris Motionless and his evil horde roasted Devil's Night, Abigail, break out single Reincarnate as well as the new track 570. The fans are eagerly awaiting the new album and they keep dangling 570 just to keep them licking their chops. They never fail to put on a disturbing show and Ghost always keeps the fans guessing what horror persona he is going to show up in.

Baroness brought their eclectic downtuned doom to the Monster Stage and by now the grounds were covered with rock freaks and they were def into what Baroness was doing. Having just dropped their 4th full length album, Purple, they had nothing to prove as this has been their most successful album to date and they have legions of fans now. They peppered their set with what makes Purple so explosive: Kerosene, Try To Disappear, Morning Star and Shock Me. If you have yet to discover this amazing band you are seriously missing something in your musical life. The biggest part of the relevant metal world was on stage next and that's Anthrax. When people think of the roots of thrash, Anthrax has to be in that conversation. In fact, they are just as relevant now as they were in 1990 and the fact that Worship Music and For All Kings are two of the best metal albums to drop in the last 5 years proves that. Even though their set was short it still packed an amazing punch with Caught In A Mosh, the anthemic Caught In A Mosh and the newly released Breathing Lightning. Got The Time got the fans in a massive circle pit and Antisocial cemented that.

The heaviness didn't disappear with Discovery stages next act but it did get more technical. Meshuggah took the reins and galloped into darker territory and considering the depth and aggression of their new album, The Violent Sleep Of Reason, the stage was about to shred. These guys take technical ability in heavy music to a new level and as they plowed through Clockworks, Bleed, Demiurge and Future Breed Machines was plain to see that the fans took complete notice of how good this band really is. On a different tone, The Pretty Reckless started dropping their notes on the Monster Energy Stage and every person within earshot screamed for Taylor Momsen and her sinister troupe. The Pretty Reckless are now on their third album, Who You Selling For, and just like the past two, it's a heavy, grinding piece of work that showcases Taylor's sultry/angry vocals. Its hard to hold them up in any group sound wise and with today's market, that's not a bad thing. They kicked it off with the grinding Follow Me Down and Taylor had the fans wrapped around her finger. Going deeper in the set they delved into the sultry Take Me Down and the darker Going To Hell as well as the sick new track Living In The Storm. You need the new album, it is worth every penny you plunk down.

The day was coming to an end for the first day and evil was on the horizon and that evil was Slayer. Slayer have been releasing albums and touring for over 30 years and they never cease to amaze me with their relentless aggression and "who fucking cares" attitude. They have been out for Repentless for almost two years and the feeling you get from that album live only gets creepier as they shell it out from the stage. This set was built around hate and darkness with the sinister Repentless opening followed by The Antichrist, Mandatory Suicide, Hate Worldwide, War Ensemble, Dead Skin Mask and Hell Awaits among other dark jewels. Day one of the 2016 Aftershock was insane, now what do you have in store for the second day?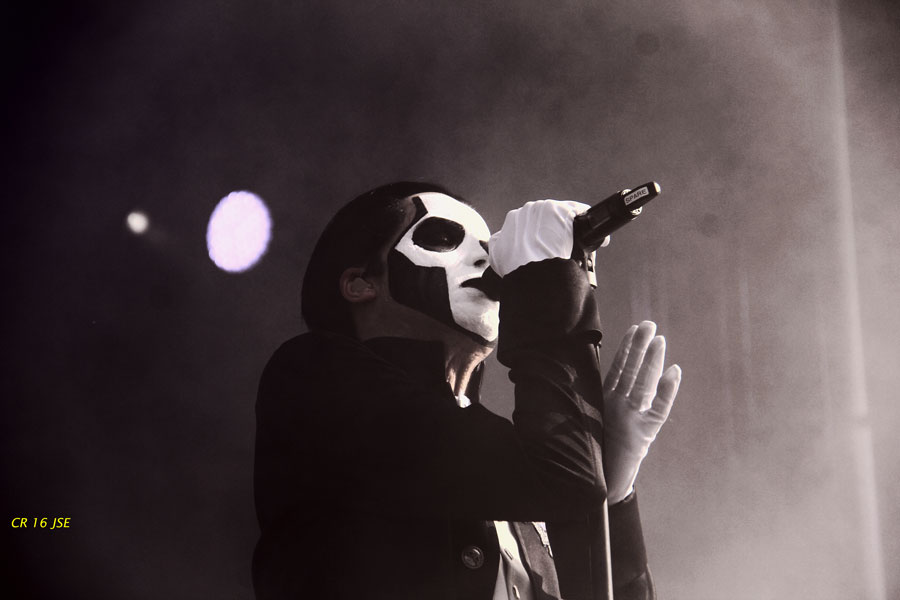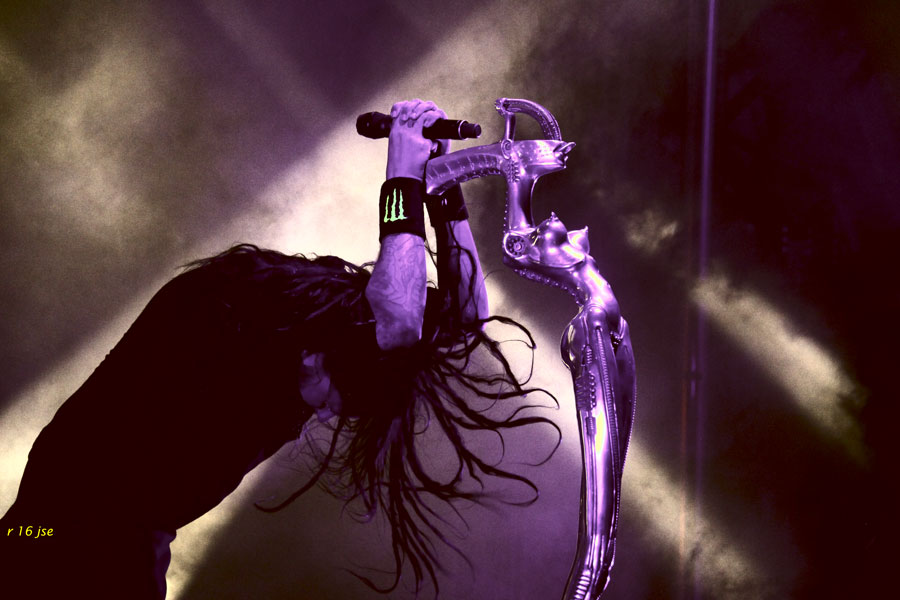 The second day kicked off hard and did not let up as this was the day that presented Ghost, KORN, Whitechapel, Parkway Drive and Zakk Sabbath to name some of the heavy weights… The atmosphere was very metal, booze was flowing and the stages were going off so let's get into it.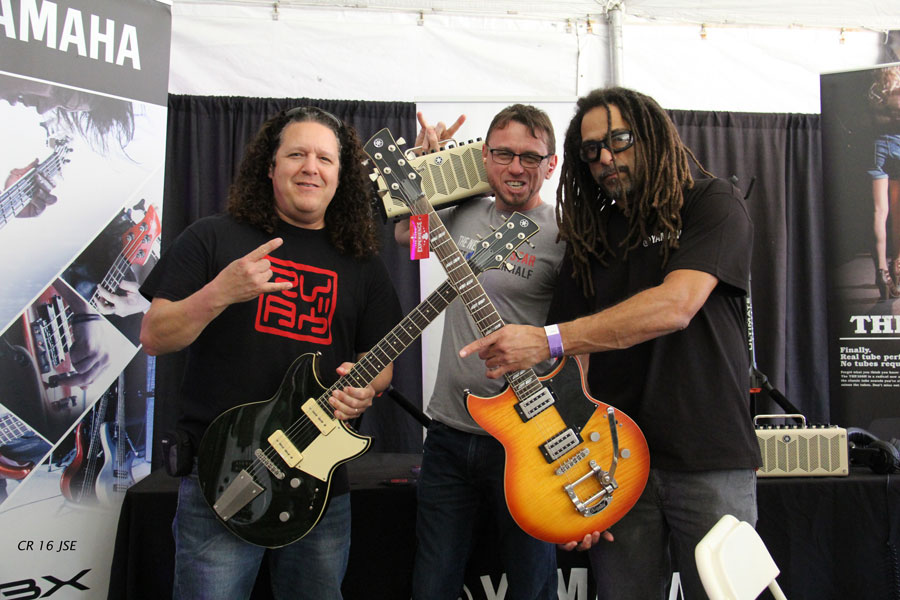 To step off the rails for a moment, one of the highlights of Aftershock is always what is happening on the grounds with the food, the cool merch and definitely the Music Experience and what was under that tent. A lot of music companies set up shop but what stood out was Yamaha and their collection. The Revstar guitar line and the THR amp are making headlines this year and rightly so. Revstar is going to change the face of electric guitars, you have to play it to understand the statement and if you do not have the THR practice amp yet and you play, there is something missing in your life. Also on the grounds was the Monster truck with free monsters for all of the Aftershock attendees and also hosting autograph signings, most notably Chevelle and Anthrax.
But let's get on with the show. Some Fear None opened up the Capital Stage and to me it was a mere dose of modern corporate rock that sounds like every other radio band out there and not a great band to put in front of the likes of Whitechapel and Suicide Silence. I'm not saying they were bad, they just sound like every other band dropping a track on satellite radio. The Capitol Stage however ignited when Whitechapel emerged and tore Sacramento a new one. Having just dropped their sixth album, Mark Of The Blade, they had more ammo in their machine gun and they opened fire hard. Mark Of The Blade's title track was the first salvo and went harder with Elitist Ones and the harshness of Let Me Burn. Whitechapel have never disappointed me live and this searing display of metal certainly topped the Capitol Stage this weekend. Back on the main stages Silver Snakes, The Mendenhall Experiment and Ignite were setting up the day for what was coming and that was Ghost.
Ghost have made a lot of headway in the last few years and with the release of Meliora they have gone over the top. Cirice won a Grammy and their tours have been huge so I feel as though their time has come. Whereas Cirice is huge, their melody really surfaces in the form of Square Hammer, the lead track from their Popestar EP. Aggressive but yet a pure melodic masterpiece and live it came across amazingly well. To me Ghost stole the entire event with their dark, brooding atmospheric show and the massive songs. Their future is huge, period. Parkway Drive have become a huge import from Australia and they have a massive legion of fans that made their stop at Aftershock memorable. Ire was a massive release for them in 2015 and they are still shredding America with their epic shows. The pit opened up under the pressure of Crushed and Carrion and with the Devils Calling and Bottom Feeder it became insanity. When they play people just go crazy and become animals but that is what metal wants and that's what metal gets.
Puscifer was an entity that I was wanting to see and it turns out I never want to see that again. Their stage show is, well, idiotic. I am sure they are going for abstract art and well, good for them, but from my point of view it is overdone and completely useless. I have respect for Maynard's music but his ideas for stage demonstrations leave a lot to be desired and takes away from what I wanted to hear. His other bands have their own stage ideas and thankfully they do not include what I saw today. Chevelle on the other hand went for a backdrop and the power that is their catalog. They have carved a niche for themselves in the rock arena and I do not see them stopping anytime soon. Thousands of the freaks at aftershock descended on Monster Stage to go all out for them and they gave back just as hard. The North Corridor just dropped and Door To Door Cannibals and Joyride from that seriously jumped off the stage and came to life during their performance. They focused on the singles for this outing and Hats Off To The Bull as well as The Clincher really got their fans off.
Closing out the Capitol Stage was Zakk Wylde and his Zakk Sabbath, his churning out of classic Sabbath tracks. I have been watching Zakk for years and he never fails to deliver a great show and this was no exception. Him transforming into Tony Iommi's riffs and making them his own was something to be witnessed. Children Of The Grave opened the affair and the fans went nuts but Zakk shredding is enough to drive the casual fan to distress. He played the known like War Pigs but diving deep with Supernaut and Snowblind was something I needed to hear and Into The Void, that did it for those screaming their lungs out. Zakk is an amazing guitar player and never fails to give his fans everything he has.
Aftershock 2016 was coming to a close but would never be forgotten, there were some amazing bands, a great weekend and some great things happening on the grounds of Discovery Park. Before it closed out, KORN had to light the grounds up with their off the wall rhythms and manic stage show. Just before the festival they dropped their new album, The Serinity Of Suffering and it is ballistic, possibly one of their best albums period. For openers, they went back to the early 2000's for Right Now and Here To Stay to get the crowd pumped up hard and primed them for the new stuff. Rotting In Vain has the signature KORN sound but came across with some insane riffs and aggressive singing from Johnathan Davis. If this is the direction for them then they have a long way ahead of them. The rest of the set was filled with pit creators like Coming Undone, Falling Away From Me and Insane. Fittingly enough the set closed with Freak On A Leash and that cemented their perfect set and a crazy crowd that had waited awhile to see them.
This was Aftershock's 4th year as a two day festival and now it is a fixture on the Sacramento music scene and its history and future will always be a part of the musical fabric of Sac Town.
Official Aftershock Website