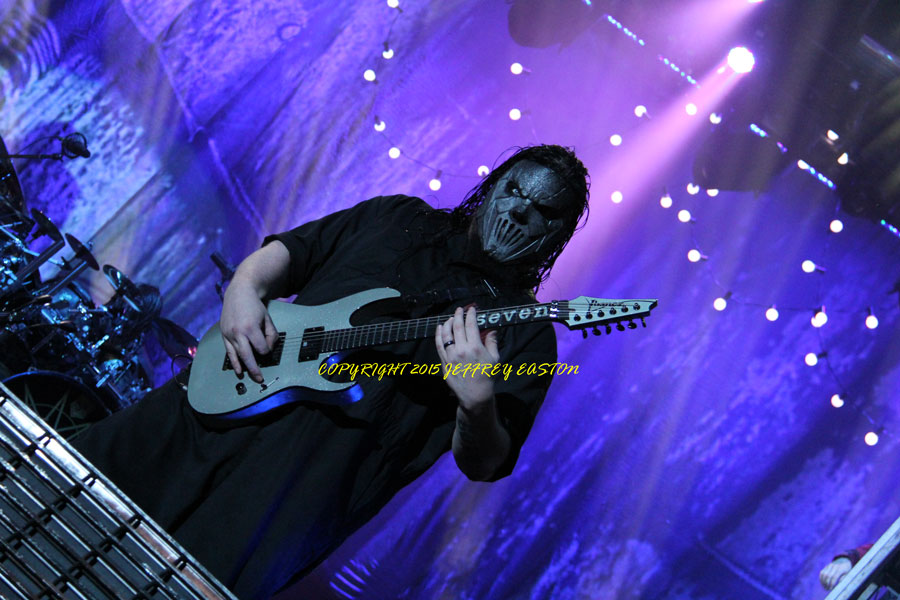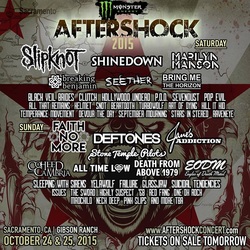 Aftershock 2015 - Gibson Ranch, Sacramento, CA 10/15


Aftershock came back to Sacramento for the 4th year in a row and with new digs at Gibson Ranch it got bigger, badder and became the must see festival of 2015. With headliners like Slipknot, Shinedown, Faith No More, Deftones and Coheed And Cambria you had the makings of a devastating weekend of mayhem and sweaty fans of the almighty rock n roll.
---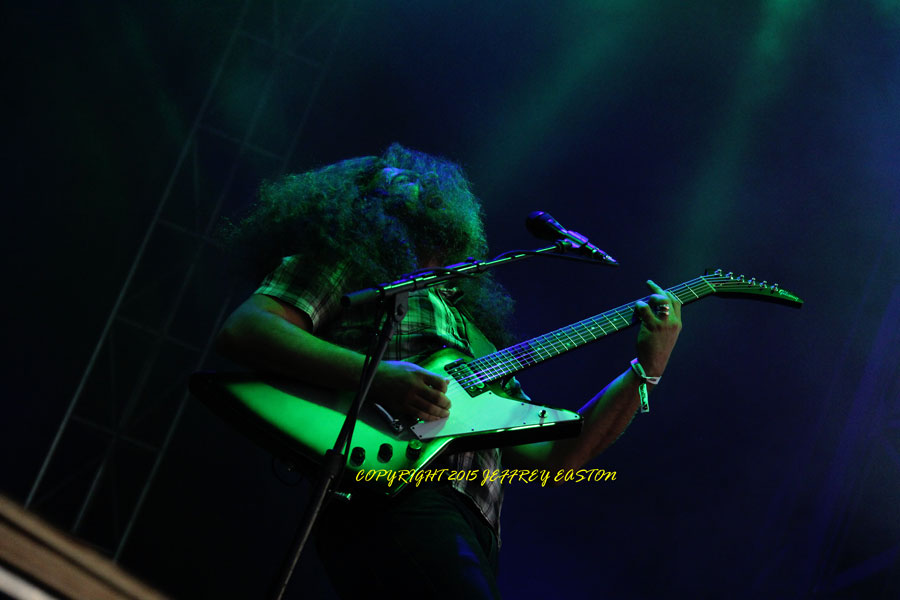 Aftershock 2015 Day One


Aftershock 2015 was a monster, two days of nothing but rock n roll spread out over Gibson Ranch and enough bands to Warp your mind. 2014 was amazing and Danny Wimmer had to go way out of his way to make this one even bigger and he succeeded in spades.

Kicking off day one was a vastly different array of bands from the British hard blues of RavenEye to the deep darkness of September Mourning. RavenEye are going to be huge, their hard blues swagger is just what the populace needs to get meaning back in their musical life and with their debut EP Breaking Out they will do just that. They got the Coors Light Stage going and keeping that fire lit was the sinister September Mourning. Their EP, Volume 1, is a stunning showcase of how deeply the mind can warp and live they dominated the stage and drew in every soul who dared come near their domain. Opening the Main Stages for the day were the long running rock outsiders Devour The Day, formerly known as Egypt Central, they reset themselves as DTD and have continued to build a massive following. Time And Pressure was reissued and is a testament to what great rock can sound like. Very heavy, they seriously get under your skin and live they slayed their fans. Red Sun Rising is another newer band from the Midwest that have slowly put together a following over a period of touring and a few albums. Their new album, Polyester Zeal made a huge impact on Aftershock and those who braved the early day were treated to star power in the making.

With the Coors Light Stage in full motion and the Monster Energy Main Stages cranking up Aftershock felt real, like a behemoth waking up and ready to roar. One of the early bands that the freaks showed up for was none other than Suicidal Tendencies. These L.A. legends were primed and ready and gave a primal show that will not be forgotten. It was a short six track outing but you can't bitch when you have been assaulted by You Can't Bring Me Down and Institutionalized. Saturday was chugging now, beer was flowing, the fans were streaming in and the likes of Snot, Turbowolf and Helmet were ravaging the crowds. The bands were not the only attraction on the grounds, you had wrestling from NXT, a massive array of food trucks from the Sac area and vendors like BluCigs, Sacramento Bee and the Sacramento Kings. There was something to do none stop at Gibson Ranch. Also there was the FUCK CANCER organization. Their prime focus is to eliminate cancer and help all those affect and you NEED to give to them. Go to their website linked below and buy some cool merch and see it go to a great cause. My focus however was the bands and Beartooth was def on my list to check out. Beartooth throws done hard live and they cremated the Coors Light Stage. The pit was massive and the band killed the audience with the massive album Disgusting. The album lives up to its name as their sound oozes pure hardcore that leaves you feeling disgusting after sweating and bleeding in the pit. Setting a different tone on the Monster Main Stage South was Pop Evil. Commercial hard rock has a poster child for today and that is exactly what Pop Evil is. Having just dropped their fifth album Up, they had a lot to give the crowd and that is exactly what they did. Leigh Kakaty was very vocal and kept the crowd engaged and they dropped it hard for them. One of the bigger stand outs early in the day was All That Remains, the long serving metal veterans that keep going and keep getting better. They had Main Stage East in total chaos as they delivered their new album The Order Of Things hard and shoved it down their fans throats. Phil Labonte is the buff personification of what a metal frontman should be and their set will go down as one of the best of Saturday.

The sun was setting on the first day but it was only getting hotter on stage with Black Veil Brides assaulting the stage for another round in Sacramento. BVB IV is their most successful album to date and they played like the rock stars they are. And going by the sound of the screams from every girl in eyeshot of Andy, their popularity is not going anywhere anytime soon. The highlight for me was In The End from Wretched And Devine. Wretched is an amazing piece of work and In The End is the showcase piece. One of the bands I was personally waiting on was Bring Me The Horizon, a UK band that have slowly become super stars in their own right. They have a swath of albums under their belt and there is no stopping them. Aftershock featuring them was a stroke of brilliance and I feel aside from Slipknot they had the biggest gathering of screaming fans. Dishing amongst others Drown and Happy Song they had Sacramento screaming till the last note. If you have yet to discover BMTH you are missing out. All the way Out on the Monster Main Stage East was Marilyn Manson, by himself in the sheer dark, awaiting the cues to bring hell to earth. And that he did and with the tones of Deep Six, the fans freaked out and Manson appeared like the devil out of the smoke filled stage. Manson does not age, does not lose fans and had Sacto in his grip as he dished is manic set. The strains of mObscene, Disposable Teens and The Dope Show filtered all throughout the countryside, there was no escape. Now the time was here, the last two bands, two polar opposite bands but still huge in their own right. Shinedown and Slipknot, two bands you would not expect to see on the same bill but yet it was very right.

Shinedown owned their set and the crowd was in awe of the visuals. Shinedown had massive doses of fire, fireworks, lights and most of all they had the power of their unrealistic catalog. They have yet to drop a bad album and Threat to Survival is no different and to blow the show open they dropped Cut the Chord on their fans and they were met with nothing but a massive roar. Fly From The Inside was my introduction to the band and that was the highlight of my stay with the band. Brent Smith was beyond personable and made all of the crowd greet the person next to them as he invited all of the photographers up to shake his hand. Their set went from heavy to personable in the blink of a note and they never swayed. Who says rock is dead, Shinedown proved it wasn't in 65 minutes. For the close of Saturday, Slipknot was there for that and they destroyed the stage in the time given. They have had personal changes and a death but that has not deterred them and they keep going, stronger than ever. .5: The Gray Chapter dropped like a hammer and it dropped harder on Sacto. Sarcastrophe kicked it open and Satan was out of the bag, there was no going back. The Devil In I, Killpop, Be Prepared For Hell and AOV, does it get any better? Darker? No and it was a sickening way to close out day one.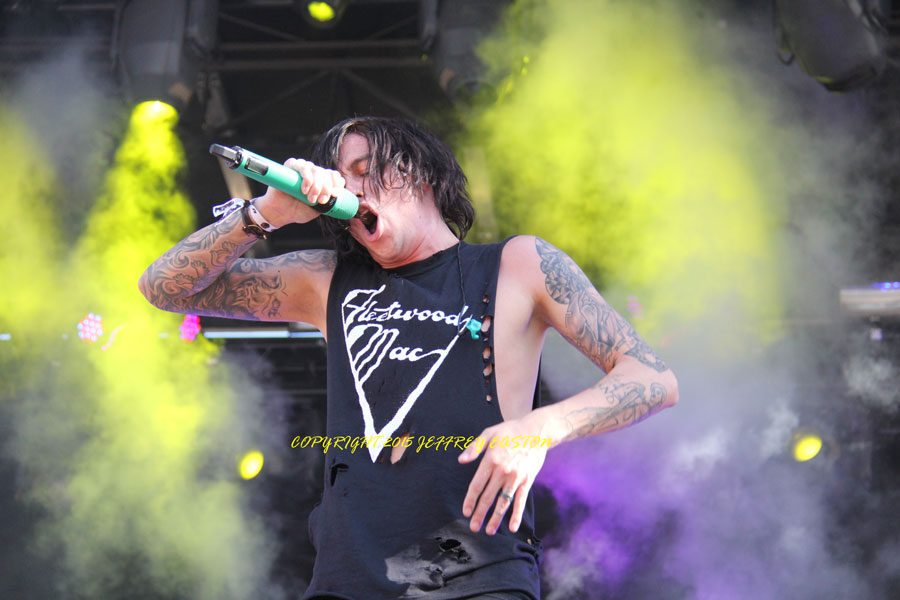 Aftershock 2015 Day Two
Day two, were you tired, did the alcohol ever lose affect or were you ready to kill it again with another dose of Aftershock 2015? The bands on tap were yet again massive and the headliners for tonight were sons of Sacramento, the Deftones, how can you go wrong?
It was early, the sun was bright but does that stop Aftershock? No it does not and The Pink Slips were ready to wake the fuck out of Sacramento. Duff McKagan's own daughter Grace McKagen fronts this electronically fueled band and they were in the early lead to make a name for themselves. Grace slinked across the stage as if she owned it and carried the crowd with her keeping them hooked on every note. Her debut is Say L'or Venus and it will keep you in your headphones. If Sacto wasn't awake before The Pink Slips went on they were now. One of the hottest imports from Japan right now is One Ok Rock and even though they have been around Japan for awhile they are finally catching on here and it is about time. They pack an hellacious amount of energy into their set and judging by the screams they had the attention of every female there. Check out their new album 35xxxv, well worth your attention. Dance Gavin Dance, they were the head scratcher as I feel they should have been mainstage and if you saw them on the Coors Light Stage you can count yourself lucky because next time they will be mainstage, count on it. The fans can attest to it, they packed it and were relentless as they plowed through Instant Gratification as well as their past catalog and made their presence felt.
One of the coolest things that has been part of Aftershock has been Crazy Dave's Music Experience and it grows every year. This year they had more artist signings that even include Corey Taylor from Slipknot (you can imagine that line) as well as guys from BVB, BMTH as well as Sevendust and more vendors like Affliction, ESP, PRS, Jackson Epiphone, amongst others. They were also tied into Keep Golf Metal which is something you need to check out. Golf isn't 1950 with the white guy in a polo, its people like you and I out there swinging a 9 iron with tattoos and that metal gear. Crazy Daves was like a mini NAMM in the middle of Aftershock and very much a highlight of my weekend.
By now the park was packed yet again and in time to catch the masters of doom, The Sword. To me, nobody right now is doing it better than them at downtuned goodness caught on vinyl and their new album, High Country, will attest to that. They can do so much, be so emotive and reach so many people with half the flash of other bands. Long Time hard rock stalwarts Sevendust greeted the crowd at Monster Energy Main Stage East with their Atlanta bred style and they had everybody worked up. They are out on the heels of their biggest album in the form of Kill The Flaw and Aftershock wanted a piece of them and they delivered. On the other side of the rock card are All Time Low, the current kings of pop punk and the purveyor of all jings female at Aftershock. Not only are All Time Low insanely popular and a great coup for Aftershock, they are also the biggest collector of woman's underwear as evidenced by what was landing in the photo pit. Their new album, Future Hearts, is out and well worth the money and the fans were with them for every note.
The day was coming to a close, only a few more bands but Aftershock was still in full swing, the party was still raging and alcohol was not in short supply. Stone Temple Pilots with Chester Bennington from Linkin Park fronting hit the stage and even though it wasn't Scott Weiland, Chester was convincing enough and delivered their catalog well. The fans are the ultimate decider and STP had them wrapped around their finger the whole set. One of the better oddities of Sunday was Eagles Of Death Metal, the group founded by Josh Homme of Kyuss/Queens Of The Stone Age fame and Jesse Hughes, one of the odder singer/guitarists out there. Zipper Down just dropped and begs your attention and if you have yet to see them, it will be significantly different from any other live band you have seen. They take everything from their past projects and throw it in the pot with an amazing beat and record it, no barriers. One of the Major stand outs of Day two of Aftershock was Coheed And Cambria. Their sound is unable to be categorized, you can never put a finger on what they are doing which is always a good thing when you are a band on the fringes. Their stage presence is awe inspiring and their songs draw you in, makes you as one with them. The Color Before The Sun just dropped and with it being their first non-concept album they had some new hurdles to jump n the live arena. Going outside your norm is never easy but they had Sacto on its ear and the attention of everyone was seemingly on them. Island and Here to Mars sounded insane live and visualizing them on the mainstage made the day all that much more intoxicating.
The end of Aftershock 2015 was near but not before a few more salvos went off in the form of Jane Addiction, Deftones and Aftershock closers Faith No More. This was where the different and the off the wall came in and none more so than Janes Addiction. Since they debuted with Nothing's Shocking in 1988 they have one way or another stayed way out of the norm no matter what the members were doing. That stayed the same when they hit the stage and their bizarre stage show took over. They played what the fans wanted: Jane Says, Been Caught Stealing, Ain't No Right and Mountain Song but it was the show that had people riveted. Imagine women and a weird atmosphere, that's all you need. The moment Sacto was waiting for, their native Sons, the Deftones, were on stage and on fire for their hometown. Even though they have not released an album in 3 years that did not matter as their catalog has stood the test of time and the fans just want to hear them, period. And by playing Diamond Eyes, Rocket Skates, Be Quiet And Drive as well as Change, Sacto had plenty to scream about. The band was on fire and they had a huge put to back up the aggression on stage. The end had come, Aftershock was about over but it was not going quietly as Alt freak legends Faith No More were hitting the stage and Aftershock went ape shit. A new album from these guys was needed, 1997 was a long time ago and what they deliver was needed and Sol Invictus was exactly what they had to release. They hit the stage to their first single in years, the aptly titled Motherfucker, and it was on. They had pits, they had people soaking it in and they had a massively loud crowd. They delivered the goods, Ashes To Ashes, Be Aggressive, Epic, their sickening cover of Easy as well as everybody's theme song, Midlife Crisis.
So it was done, Aftershock 2015 was over but not before it entertained a sold out festival crowd and put as much entertainment out there as humanly possible. This to me was by far the most diverse, well rounded, well put together festivals to date and I cant wait to see what Danny Wimmer has up his sleeve for 2016.
Official Aftershock Site
Monster Energy Drink
Crazy Dave's Music Experience
Fuck Cancer
Keep Golf Metal