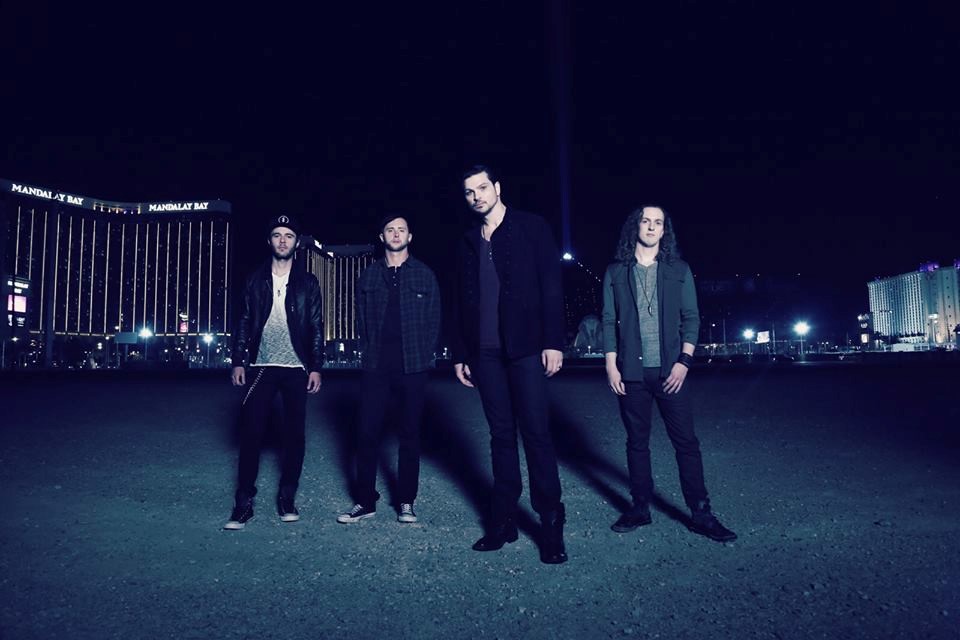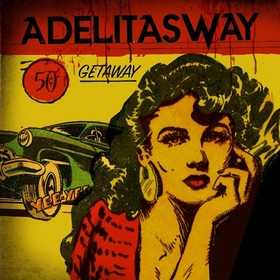 Rick, Tre', Robert and Andrew are back at it again and this time they are coming at us even harder with a vengeance because they have something to prove. After the insulting neglect by so many for their prior album,
Stuck
, this time they are ready to show what they've got in a big way. They are about to drop their new CD release
Getaway
on February 26th. Their current single, "Bad Reputation"
,
is already getting some hellacious air time and kicking some major ass. The fans are ready for the new music and are standing behind them 100% as they approach their 10 year anniversary with the upcoming CD release that is, in Rick's own words, a "game changer" for the band. As we spoke, it was clear that Rick was excited about the upcoming show tonight. His energy level was already exceptionally amplified. It is obvious why the fans are so loyal. Rick is a genuinely fun guy, full of passion for his music. He isn't letting a bad situation stop him from doing what he loves; from continuing to put out awesome music because that's just who he is…a FIGHTER. That's why this album and this tour are so important. It's the next step, a huge step in the journey that is steadily leading Adelitas Way on a path that can be nothing shy of limitless. I am now, and have always been a huge fan and the interview tonight made me understand even more why I am a fan. Everyone needs to give this band the chance they deserve. They have so much talent to share with the world.
Interview with Rick Dejesus – vocalist, Adelitas Way
By: Leslie Elder Rogers
Metal Exiles:
Your current tour kicked off just a few days ago. How is Adelitas Way being received so far and at this early stage, how has it been working with the other bands on tour with you?
Rick:
We toured with Through Fire when they were Emphatic and I like those guys. I've known Justin for a couple of years and he's a good song writer and you know I have a soft spot for people in this business who work hard and get a little bit of the short end of the stick on it. I feel like Justin deserved another opportunity. I think that Through Fire is going to do a good job. I don't want to bring out the same bands that everyone else brings out. You see a tour and it's the same fucking band on every tour, and it's the same damn band getting everyone's run. I listened to Failure Anthem and I liked what they were doing. I liked the sound of it and I'm happy to have them out. They've been great to us so it's been good. They've been very respectful. That's all we want man. If someone comes out on the road with us, just be respectful and we'll have a great time. People are going to enjoy the show. The show is very enjoyable. There's great vocalists, great bands, and great songs. We want our tour to be full of just great music.
Metal Exiles:
Considering the album hasn't dropped yet, what made you guys get back on the road aside from promoting the new album?
Rick
: The fans do. There's so many markets that we have to hit and people have been asking us to headline and come back. I mean, we've even headlined in some of these places before, like Atlanta. But there's a lot of markets that we have not headlined before and I think it's important to get back out there for the fans. You're setting up a record. We've got "Bad Reputation" out and we want people hear that. We want people to get behind it. You love it right? (Yes I do) People really love this song and we gotta get out there and have our faces out there and let people enjoy the song live and really just start setting up a promotion for the record. You know the record drops February 26th, and you wanna be ready. You want the world to know about a record when you release it. How do you that? Snowball effect; you're seeing it online, your presence is felt on radio, your presence is felt out in the markets in live shows. You hit it from every angle. I think we're in a different place. Coming off the
Stuck
album, "Drive" and "Undivided" were two of the best songs off that album and they didn't get any love, but unfortunately we're a product of one of those horror stories in the music business where you watch everyone you love get fired and you have a whole new team around and you don't know what to do. That was us, but I'd heard that story so many times that I kind of saw how the ending was gonna go and I used the time machine that was in front of me to just get out of it and do it and I did it accordingly. We were so anxious to step away from that and we were so excited to be free to release new music and we released the
Deserve This
EP and it had a great response from the audience but this time we're coming with a different animal. We've built a fantastic team. We've partnered up with Fuel Music. Our album is going to be in Best Buy everywhere. We have a great radio team and we're looking to just change the way things are done. That way when this happens to other bands; when their Virgin Records or their label or their anybody is starting to make them feel a certain way and they're not loving what they're doing anymore, or they're putting so much pressure on them that they feel like they might not have a job…you know what I mean, just how they try to crush you, then the bands can see that there is a light at the end of the tunnel. That's a new model. We're in the wild wild-west out here. You can do it anyway you want. You can do it with a different approach and I want to have so much success with this record that people will wonder "how the fuck did they do that". I want to see it.
Metal Exiles:
This is a great package of bands. You've touched on that but does it still excite you to take some diverse bands out with you and show them off to your fans?
Rick
: I think it's good to meet new people and I think it's having that comradery and being on the road together I got to talk to the guys and everyone wants the same thing. You want a music business in front of you that you have a shot in and that you feel like anything can happen. I think that in 2012-2013, the rock business was the most predictable it's ever been. It's become predictable. You know wat your song is gonna do. You know how everyone is going to react to it. I think, the signs I'm seeing from active rock radio and the rock scene is that in 2016, it's not predictable. Anything can happen again. I'm starting to feel that excitement of anything can happen and anything is possible. There's some changes in how everyone is doing everything and how fans are perceiving the shows. I think Spotify and streaming services are obviously hindering bands' sales but they're helping get more people out to the shows. I find our audiences are growing. Obviously it's difficult to tell when you're playing Tyler, Texas and Atlanta, Georgia, and things like that but you see it in the grand scheme and you step back and look at your tour. I think those streaming services ultimately help your fan base grow.
Metal Exiles:
The new album is going to be entitled
Getaway
and its first single "Bad Reputation", has been released and is getting a lot of radio play. Was that title a good jumping point for the attitude of the album and is this a good indication of what is instore for us for the rest of the album?
Rick
: No. I think you're getting it with that song. I think that if I just gave you an album full of the same thing, you'd compare it to an album that sounds just like everything else. It has a lot of different emotions. It has some of that, it has some really meaningful things; to me and my life. I wrote a song called "Good Die Young" that's a little memory/homage to people that I've lost that never got to see me do this. They never got to see me play music and didn't even know that I was in a band. I want them to know that I'm still thinking of them. I lost them too young so there's some emotion there. I mean, there's a little bit of that attitude. It's in me. I'm that kind of guy so "Bad Reputation"; it has a taste of that, but it's not all that. We tried a lot of different things on this record and I'm very proud of it.
Metal Exiles:
When you guys start writing, do you ever have that chip of continuing to prove yourselves or do you feel comfortable with your station in the rock world?
Rick
: No, you always want to prove yourself. You're always a song away from doing something great in this business and you're always a song away from the other end too. You put one bad song out and everyone is done with you. You put one great song out and you're on top of the world again. That's kind of what's exciting and what's frustrating about this business at the same time. Luckily for me, I will always bet on the songs I'm capable of writing so I do come in with a chip on my shoulder in a sense of where everybody wants that hit song. Everybody wants something that's gonna change the game for them and I'm never gonna shy away from it. I'm good at writing those kinds of songs because it's in my blood. I want those hits man.
Metal Exiles:
You guys did your EP last year on your own and now you are doing a full blown LP now. What did you guys learn from that first release without a label and how are you applying it to the full length?
Rick
: Our mentality on the first release was very for the fans and for ourselves. We wanted to get new music out. We felt enslaved at a certain point by the record company with them not really allowing us to do our jobs. They were keeping us kind of, well really, off the road, our record not out. So we were anxious to put something out for the fans and for ourselves, songs that we love. But what I did learn is that you need a great team and bands always ask me how you do these things; how are you doing this and how are you doing that. The bottom line is it's through people that you trust, you can work with and that you can expand the horizons with; people that are forward thinking. We always need forward thinking people. So what I learned from the EP release to this is that you can't do everything yourself. You need to have great people around you. There is a reason that record companies do handle it a certain way. They have a ton of people who know they've gotta work on your project. If you have that going for you but with more forwarding thinking people, then you'll have a lot of success.
Metal Exiles:
You had such an overwhelming reaction to your Pledge drive so what do you have planned for the release of the new album?
Rick
: To jump on the Pledge Music, I wouldn't advise that for other bands. It was something we tried personally because it was a trendy thing to do. It did look like it worked but the greatest thing about Pledge Music is to see the fans come together. That was the greatest thing about Pledge, seeing our fans give us the power to be bold and do everything we like. If we feel a certain way, we just fucking do it because we know we have this army of fans and we know they support us. With that being said, this will be the only Pledge campaign I'll be doing. It's just too much for me to handle. It was all on me. I'd write 300 written lyric sheets. Pledge just kind of says "we've got this money when you're ready". Sixteen hours in the kitchen some days just doing Pledge stuff and feeling like I didn't make a dime. Those days are gone. So I'll just say the best thing about the Pledge is the fans.
Metal Exiles:
Considering you have a family will there be extensive touring for this album or a focus on big festivals?
Rick
: We want to play big festivals and there will be wise touring. We will take tours that matter. We will take tours that will affect our career. We will take tours that are strategically planned and they will benefit us. We won't just be out there open-assed touring. You won't see us out with Saliva anytime soon; you know what I mean? I'm just being honest. We're gonna tour wisely and we're gonna tour smart. I think it'll make the people in the country and out of the country happy. Out of the country man, they want us. In the UK, they are dying for us to come over there and it's because they've been a little bit left out in a sense. I think if you tour wisely and in a manner to where people can appreciate when you come through the market, things will look a little better. I don't want to be tour sluts where people think that they can just see us any Wednesday or Friday of the week. I want it to be a big deal when we come into town.
Metal Exiles:
Now, 10 years into the career of Adelitas Way, what are your thoughts on how your music has progressed over the years?
Rick
: We've tried some things, you know? You try things and you learn. You learn the game. You learn what works and what doesn't work. You gotta be bold. If you keep doing the same thing, you'll never grow. We've tried to grow. I've been hit with some of my best songs in the middle of nothing, just "bing", and there it is; driving my car, running, not even thinking about writing a song and the chorus just comes to me. You never know how the songs are gonna come about. When I sit and think about where I am in this business and the people that always talk about Home School Valedictorian, and what all we accomplished with that, I feel very comfortable now and I feel like I'm still very capable of making a masterpiece in this game; a record that really, really changes everything for us.
Metal Exiles:
Who designed your album cover art in that retro style for the new CD,
Getaway
?
Rick
: Some jerk off. I don't know. No, no. Kidding. We have a great team and Tony was really big on helping us with all of the art work. We had a great art guy, Hayden, who came in and listened to what we were kind of talking about and felt the vision out. I feel like it was one of those things that just naturally came about through the good energy that we had while we were starting this thing. It felt great. We went through art work for the album and our art director listened to what we were talking about and things we were saying and before I knew it there was an image in front of me that I thought was just lights out. It was a slam dunk. That was it. Same with the album cover itself; slam dunk, that's it. You just know. You know when you see something. I don't want to be one of those bands that's directing my own music videos and drawing my own art and doing everything myself. I don't. There are professionals for that. There are great teams for that. There are people that can get your vision out there. You tell them what you want and they'll get it even better than you imagined and that's what happened here.
Metal Exiles:
For those of us who don't know the story, who is your sweet Adelita?
Rick
: You might have to do some googling. It's a long story. The details are really long and you can read the details of it but the gest of it is that I was in L.A. for a meeting. I went to the Roosevelt Hotel where they were putting me up. We couldn't check in until 3 and we were there at 8 in the morning so my friends were like "Well, let's go to the beach. It's only an hour away". Before I know it, I'm sleeping on the ride and then I wake up and we are in Tijuana, Mexico. My friend is a knucklehead. He wanted to get some of whatever you go to the store and get…you know, you can buy whatever drugs you want from like a CVS there. We got arrested by the cops. They stole our money. When they were stealing our money, I was shoving whatever money I had in my shoes. I went into a bar called Adelitas and it was a whorehouse. I was about 18 years old when we were in the whorehouse, and a girl came up to me, she was about my age. I started talking to her. She was asking me all kinds of questions and being all flirty in the beginning but then I kind of broke her wall down. I said "Look we're the same age, what are you doing", and she just told me how tough her life was and why she was doing what she was doing. Her story touched me and I realized after we left that I'd met a girl who obviously had a more difficult life than me. I mean, at that time, I was struggling as a musician. I was kicking around Vegas, trying to get a show. I was living out of my car and trying to do anything I could. That's really the life, right? You feel bad for yourself sometimes when you're going through that kind of struggle but after meeting this girl, I didn't feel bad for myself. I'm just glad I'm not a prostitute in Tijuana. The whole story was very emotional to me. I left there and I had a glimmer of appreciation for the life I had and what I was pursuing and it really gave me some drive and I named the band after it.
Metal Exiles:
You recently announced that you are holding a lip-syncing contest for people lip-syncing to "Bad Reputation" where 30 winners will win the opportunity to be in the video for the song. How has the response been to this so far?
Rick
: Yep! People are shy. People are nervous. I wanna see the video. People are wanting to know where the videos are being posted. We're just looking to get the videos up online or on emailed to us. We want our fans to be a part of something big that we're doing. "Bad Reputation", I think is going to change the game for us. It already is. It's changing the landscape for us and we want our fans to be involved in that every step of the way. I think what else is more fun than having them put their take on "Bad Reputation"?
Metal Exiles:
I've been watching the Loudwire voting for the most anticipated new release for February 2016 and you guys seem to be leading the vote pretty heavily with Lacey Sturm following behind you. How do you feel about that?
Rick
: You get better press with it. Anytime you get the most anticipated release it is humbling, no matter where it comes from. We have a great army of fans out there that can't wait for this album to come out and it shows on every front. Loudwire is just another avenue that they're telling us they love us. That's not the only avenue, if it was I'd be like "yeah…you know", but there's a million avenues. They're showing us they love us by playing the song, buying the song, doing the Loudwire, Big Uns on Octane, coming to the shows, etc. There's a million avenues that people are showing us they love us and it feels really good.
Metal Exiles:
Of all the songs you've done, what is your personal favorite?
Rick
: I like "Drive" and "Bad Reputation". One day there's gonna be somebody else's voice on "Drive" and it's gonna be a smash fuckin' hit and I'm gonna be like "heh, I wrote that song". Apparently I couldn't sing it, but I wrote it (laughing). Maybe when Florida Georgia line covers it, it'll be fine. It was like I was in monopoly, they sent me to jail and I was just sitting in jail when that song came out (not literally). It is a great song.
Adelitas Way website@
http://www.adelitaswaymusic.com
Follow on Facebook @
https://www.facebook.com/adelitasway
Follow on Twitter @
https://twitter.com/adelitasway
Adelitas Way/Pledge Music site @
http://www.pledgemusic.com/projects/adelitasway
Bad Reputation - Single by Adelitas Way out now!! -
https://itun.es/us/ZoVq_
Preorder the new album,
Getaway
on Amazon @
http://amzn.to/1JYhVRC
---